Introduction
We are the largest provider of activity based breaks in the UK, and send over 150,000 customers away on stag weekends, hen parties, activity breaks, corporate events and team building days each year.
The key to keeping ahead of the game is being able to predict what are likely to be the latest trends that influence our market; before they actually happen. To do this we need to keep a very close eye on the market, and look at how a current trend could predict the success or failure of current or future bookings. For us, the destinations we send people to are the heart of the whole experience, and the activities we offer are complementary and an extension of the location itself.
As you may expect with a company such as ours, seaside locations are vitally important - be that for providing a high-end cultural experience for a corporate event, or a lively night out for a stag weekend.
A couple of the hottest topics surrounding local economies at the moment are the 'decline of the British high street' and the 'deterioration of traditional seaside towns'. However, during our research, we noticed that a number of these towns are successfully reinventing themselves, and with a bit of vision are using their historic and natural heritage to transform themselves into highly desirable places not just to visit, but to live and work.
Traditionally, seaside resorts have been associated with low paying, seasonal tourism-based employment, which has often been cited as the root cause of socio-economic problems. However, some towns are now hotbeds for culture, art, media, and high tech businesses, providing employment opportunities and salaries you'd usually associate with the most fashionable parts of London.
Some of these towns are now often referred to as'Shoreditch on Sea', following in the footsteps of this once derelict area of London, now known for its cutting edge culture and high tech startups. The stretch of coast running from the South-East to Bournemouth is now referred to as'Silicon Beach'as it has become so attractive to tech startups. This is steading expanding outwards, as technology makes it possible to run these businesses from any location, and lifestyle and environment have become an increasingly important factor in where they locate.
Here we take a look at 8 seaside towns that are rejuvenating themselves in different ways and analyse the things that appear as common denominators of success in their revival.
Part 1 - 8 Seaside towns undergoing transformation
We take a look at how Margate, Hastings, Weymouth, Folkestone, Exmouth, Newquay, North Shields and Bournemouth are trying to turn a corner and rejuvenate their towns
Margate sculpture - Antony Gormley
Margate - A focus on creative and arts
Not all that long ago Margate was a drab seaside town rejected by even the bucket-and-spade brigade. In a sad story echoed across England, the already struggling high street was devastated by the opening of an out-of-town shopping centre; pubs and restaurants were closing, and the future of this once thriving seaside resort looked grim.
Fast forward ten years to the latest edition of the Rough Guide to England and this North Kent town is lauded for its "irresistible energy" and its "vintage shopping and fabulous art gallery".
So how exactly did this revival happen? And why has Margate's regeneration been covered everywhere from the BBC to the New York Times?
TheTurner Contemporaryopened in a big glass box on the seafront in 2011 and hosts all sorts of exciting historic and contemporary exhibitions, not least by local girl Tracy Emin, who was also commissioned to create the artwork over the visitor centre entrance. Here her declaration to the town "I Never Stopped Loving You" blazes in neon green.
Riding in the slipstream of the Turner Contemporary's national profile, an entire "Creative Quarter" has emerged, with collaborative artist-led spaces likeCrate,Resortand thePie Factorysupporting local artists, and many of the town's independent shops now have an artistic feel.
In a recent article the journalist Jimi Famurewa sums up Margate's transformation : "In lieu of a permanent move, more and more weekend visitors are taking advantage of Margate's recent influx of acclaimed new restaurants, chic cafes, superior homeware stores, on-trend boutiques and more. In fact, with its fixie bikes, cobbled streets, Noma-ish foraged cuisine and design-first ethos,it almost feels like a pocket of Copenhagenthat just happens to be a 90-minute train ride from London."
It just shows how far this town has come, that it was recently named by The Times, as one of the best 15 places to live in the country. That's quite some transformation from somewhere that even the bucket-and-spade brigade were turning their backs on; just a decade ago!
References:
Margate named one of best places to live in Britain by The Sunday Times(Kent Online)
Forget Cornwall, move to the Kent Riviera (that's Thanet to you and me)(The Telegraph)
11 reasons Margate is obviously one of the best places in the UK(Kent Online)
36 Hours in Margate(The Telegraph)
Margate is well on the road to becoming London 2.0(Timeout)
Sea and be seen: the insider's guide to Margate(The Guardian)
Margate and Folkestone ranked among coolest places to live in Britain, according to The Times(Kent Online)
How the East Kent coast became the new Shoreditch(The Telegraph)
How Margate Became The New Hipster's Paradise(Esquire)
Coastal towns get trendy but will it help the locals?(The Guardian)
A shore thing: how art is helping to regenerate the English seaside
How Margate Got Cool(Rough Guides)
Margate isn't Shoreditch-on-Sea - it's where I call home(Inews)
Bournemouth - The new tech and startup hotspot
Over the decade, Bournemouth has undertaken an astonishing transformation, from a fusty retirement town; to a place that is so revolutionised that it is able to attract top talent away from London, with its thriving digital economy and relaxed coastal culture.
A recent report byTech Nationstates thatBournemouthand Poole have a greater proportion of high-growth businesses than its counterparts anywhere in the country. The sector employs 15,763 people and is worth a staggering £352 million a year to the local economy!
Tech Nation, which works with digital economies around the country, highlights the three main reasons why the Bournemouth area has become so attractive to digital companies:
Helpful tech community
Appealing area
Access to talent
This may give some hope to a lot of seaside towns that have been wondering how to revive their economies - they already have the attraction of the area (provided they haven't ruined their towns with too much with poor historical planning!).
Seaside towns should take heart from the fact that their coastal locations (and thereby transport links) which have always had problems being able to attract bricks and mortar businesses, may well now be the very thing that allows them to thrive in the new digital economy.
In recent years, the very heavy reliance of coastal locations on the tourist industry, which is notoriously low-paid, fickle and stuck in a perpetual business cycle determined by the seasons, has been heavily blamed for a lot of the problems in seaside towns. While previously it was difficult for the towns to break the mould, this is no longer the case asthe opportunity now exists to balance their economies with high-paying digital jobs, that are not dependent on tourist business cycles.
Having a beach on hand is an attraction for the young teams who work for tech startups, as are the low overheads of being on the south coast rather than in London.
References
Bournemouth and Poole's digital firms are top for high growth, says Tech Nation report(Business Dorset)
Tech scene drives demand for Bournemouth town-centre living(The FT)
Bournemouth beats London as UK's fastest-growing digital economy(The Telegraph)
Forget Silicon Valley, Bournemouth has found its mojo(The Guardian)
Bournemouth is the second fastest growing area for start-ups in the UK(Bournemouth Echo)
These are the UK's 17 fastest growing cities for tech jobs (spoiler - London's missed the top spot)(City AM)
Bournemouth and Poole - Tech Nation Stats
Tech Nation - Powering the Digital Economy(Tech City UK)
Newquay - From anti-social behaviour capital to foodie heaven
An article written in 2010 interviewed the residents of Newquay about how the towns 'party capital' reputation, was damaging its attraction to other types of tourists and causing misery to the local community:-
"The teenage invasion is a terrible problem for this town. I'm constantly being verbally abused, and they're kids, and not from round here. They get drunk, they make noise and it stops other people from coming to Newquay."Tracy Parkyn, 46, shop worker
"We'd had plenty ofstag dosandhen parties, but I was unprepared for 16-year-olds on my doorstep. We had one group who made a big nuisance of themselves, made a lot of noise, and disturbed the neighbours. Things had to change – now we insist that where it's a group of under-18s, the parents have to make the booking."Andy Weir, 36, Fistral beach bunkhouse owner
"The teenage invasion is a pain. You come to work in the morning not knowing whether you'll find vomit or urine in your shop doorway – it's a horrible way to live."Sarah Almond, 29, shop worker
How Newquay has changed
This theme was so consistent and depressing that the community decided they must do something - and that's exactly what they did. What many outside of Cornwall don't realise is that over the past few years, Newquay has been quietly undergoing a major transformation.
The key to getting things off the ground was a crackdown on the antisocial behaviour that was tarnishing the town's reputation, including a ban on street drinking, offensive fancy dress costumes and a restriction on opening hours and happy hour drinks offers. With the reduction in antisocial behaviour that followed, many new local business opened up to take advantage of the towns stunning location, Cornish providence and popularity for water-based outdoor activities.
Crowdfunder, the Newquay Community Orchard, the Newquay Forest School and Fifteen Cornwall are just some of the social enterprises which have popped up in the town recently, in addition to a range of innovative new businesses across the food, café and bar sectors.
Gordon Seabright, who is a director at the Eden Project and the Newquay Community Orchard, says he has seen the town transform in just two years. "Cornwall has never had help from London," he says, "and especially now, after Brexit, we going to have to sort it for ourselves. Economically, we are going to have to stand on our own two feet."
Jess Ratty of the Newquay-based social enterprise Crowdfunder UK – an online platform that asks the public to inject cash into a proposed venture – says Newquay's strong sense of community also plays a key role.
"I thinkNewquayhas gone back to its roots; there is such a strong community here," she said. "Newquay feels more wholesome that it has done in many years. People are proud of Newquay, and even the people that only visit and don't live here feel like they own a part of the town; they take it away with them.
"Technology has also enabled businesses to become successful despite being based in such a remote part of the country."
"Cornwall's more connected than it's ever been; the broadband is good and if we can surf in our lunch break, that's all the better," Jess said. "We have something that nowhere else in the world can offer; the connectivity plus the lifestyle."
References
Newquay the cornish town that is shacking of its party past(The Independent)
The secrets behind Newquay's reinvention that are putting the town back in the national spotlight(Cornwall Live)
Newquay high street - the former stag party town that's reinventing itself(Cornwall Live)
It's official, Fistral Beach is the UK's best beach for activities!(Fistral Beach)
Mankini ban helps improve Newquay's image(The BBC)
'Revolting' mankinis banned in Newquay(The Telegraph)
Newquay credits mankini ban with drop in antisocial behaviour(The Guardian)
Hastings old town's independent shops are key to its regeneration
Hastings new pier was funded by the community
Hastings - Arts and Historic Old Town
Hastings has had it pretty bad, and in 2014 was officially Britain's 3rd most deprived seaside town (after Blackpool and Clacton!). Almost a quarter of its old people and a nearly third of its children were living in poverty, and life expectancy was four years shorter than it is in Lewes.
From such a low base it was always going to be a challenge to turn Hastings into a vibrant and thriving resort. Smart thinking, clever re-branding and a clear focus on how to regenerate the town have, however, led to a very rapid transformation, and Hastings is now being described as one of the coolest places in the south coast.
Key to the transformation has been the fact that, although in need of some big amounts of TLC, Hastings is blessed with a very attractive old town that has become the centre of the regeneration, a very strong community spirit (epitomised by thecommunity funded new pier, which replaced the one that burnt down in 2010), and a local council that has a clear vision on how to regenerate the town alongside the community.
The council's vision is outlined as follows:
Our vision is for the renaissance of Hastings, with culture at the heart of its identity and regeneration, delivering long term economic and social benefits for all.
By 2021, Hastings will be a highly desirable place to live, work, visit and invest.
Live: A town where the opportunities to experience and enjoy our rich culture are embedded into the lifestyle and where cultural activities can be accessed by all - as both audience and participant.
Work: A place where creative and cultural businesses and practitioners thrive; where workspace is affordable, of high quality and fit for purpose; with opportunities to develop skills, network and access peer-to-peer support.
Visit: A highly desirable place that attracts UK and overseas tourists year-round to a high quality cultural offer, supported by high quality food and accommodation.
Invest: A place that has a reputation for innovative cultural activity, that attracts and welcomes cultural and social investment, and which supports the wider economy.**
To a large extent Hastings seems to be well on track to achieving it vision, and the whole town is benefiting from a truly resurgent old town, where the benefits of incoming talent are spreading its success slowly out into the wider area.
In 2018 Hastings' old town was awarded the prize of"Best Walking Neighbourhood"by the Uk's ramblers association, it's pier has won theStirling prize for the UK's best new building, and amajor £500 million harbour plan for the seafronthas been unveiled - not bad for a place that only a few years ago was the 3rd most deprived seaside town in Britain!
Resources
Hastings Old Town crowned Britain's Best Walking Neighbourhood(The Ramblers Association)
Why Hastings Is The Shoreditch Of Sussex And The UK's New Art Hotspot(Culture Trip)
Hastings Culture-Led Regeneration Strategy 2016-21(Hastings Council)
The tide is on the turn for Hastings(The Telegraph)
An insider's guide to Hastings(Conde Naste)
Hastings Pier: Regeneration for the people, by the people(The Independent)
Folkestone's Creative Quarter
Folkestone Antony Gormley Art
Folkstone - A model for seaside town regeneration
Folkestone is a place that once had it all, lost it, and is now getting it all back - plus a lot more besides.
At the beginning of the 20th century, Folkestone was a thriving port, but the introduction of container shipping saw that fall off a cliff, as the work moved off to Felixstowe and Tilbury. It was also a holiday destination, frequented by high society and even royalty, but as with almost all British seaside resorts, the advent of package foreign travel damaged that irreparably in the later end of the last century.
The final nail in Folkstones prosperity coffin came from with the opening of the Channel Tunnel, which put pay to a previously prosperous cross channel ferry service in around the late 90's.
In 2003 Folkestone's theme park, with its rollercoaster, log flume, dodgems and Rotunda, was put up for sale, and by 2007 the site was completely demolished bringing Folkestone's 'kiss me quick' seaside culture to a dramatic end.
While many towns would have just accepted their fate of terminal decline, Folkestone has done nothing of the sort and instead of trying to recreate the past, they have approached the regeneration from a forward perspective looking at what it has culturally and how the digital revolution may be taken advantage of by coastal towns.
At the same time as the last remnants of the theme park were being flattened, a Creative Foundation was established, and purchased 80 buildings, many of which were in an advanced state of decay, in an area of the town that was to become the seed of Folkestone's 'Creative Quarter'. The idea was to let these underused and semi-derelict buildings as studio space and apartments for arts and media-based industries. It became an almost instant success and theFolkestone Triennial, an art exhibition established in 2008, has seen many international artists contribute, was bringing in well over 100,000 visitors just a couple of years after launch.
As an investment into performing arts, culture and visitor attraction,The Quarterhouse, a new theatre / performance space for 250 seating and 500 standing, was opened in 2009 and promptly won a number of architectural awards.
The"Folkestone Artworks", followed soon after and is currently the UK's largest urban contemporary art exhibition. It's free and open 24 hours a day, 365 days a year, sited outdoors around the town and harbour with artworks popping up in both scenic and surprising locations. The changing exhibition currently consists of 84 artworks by 43 artists – including Tracey Emin, Antony Gormley and Yoko Ono.
Folkestone's Digital Future
One of the things that the Creative Foundation is trying to address is the migration of aspirational young people to London and other cutting edge towns, by investing in projects that might persuade the younger generation of the town's citizens to stay and make their lives there. Not content just to keep the town future go-getters and entrepreneurs from leaving town, Folkestone is also heavily investing in encouraging new digital companies into the town, and even pulling many away from London with 'Future Folkestone'.
Future Folkestone, is another initiative Creative Foundation project based at a landmark building complex, accommodating the growing demand for digital and tech companies seeking to make the move to Folkestone. So far, companies such as Cognitive Media, The View and Sleeping Giant Media, have moved in and join an ever-growing community of mid-size businesses. Units atThe Glassworkscan accommodate from 5 to 20+ staff, with additional shared breakout spaces and meeting rooms.
To help the next generation The Creative Foundation is also providing coding clubs, work placements, mentoring schemes and competitions to help support, inspire and create opportunities for talented students, which may then fulfil the staffing requirements of the digital companies it is attracting.
With the establishment of these digital companies, a whole host of supporting companies are now establishing themselves in the area such as copywriters, web developers, media agencies and filmmakers, which has led to a vibrant, innovative and interesting creative tech community.
The Harbour Arm
The creative quarter is by no means the only thing that has seen a rejuvenation in Folkestone, and an interesting unique conversion of redundant historical buildings are being given a new lease of life across town and drawing in high spending tourists interested in arts, history, culture and fine food. An example of this can be found at the 'Harbour Arm'. Originally the railway terminal for the Folkestone- Boulogne Ferry and the departure point for soldiers on their way to the Western Front, the Arm still embraces the town's working fishing harbour, becoming a pivotal point in the town's future and its historical past.
Small, independent businesses along the pier give it its unique flavour, and its reputation is growing as restoration continues along the platform, across the railway bridge and beyond, with the addition of an onsite bakery and brewery with other seasonal events.
References
Folkestone Harbour and Seafront Development(Official Website)
Folkestone's Creative Quarter(Official Website)
Future Folkestone - the Digital Initiative(Official Website)
Folkestone Creative Foundation(Official Website)
Harbour Arm(Official Website)
Margate and Folkestone ranked among coolest places to live in Britain, according to The Times(Kent Live)
English seaside towns will transform "like Brooklyn" says artist Bob and Roberta Smith(Dezeen)
10 year challenge: Folkestone seafront's dramatic transformation over one decade in pictures(Kent Live)
A place by the sea with an abundance of art and creativity – Folkestone, Kent's secret investment hotspot…(Miles and Barr)
British coastline has been reborn - and it beats the Costa Brava, says Ros Wynne-Jones(The Mirror)
Seaside towns on the radar of ambitious developers seeking new boutique hotel sites(Boutique Hotelier)
Kent seaside town of Folkestone beats destinations in Sweden and Australia to reach Guardian's top 40 of holiday hotspots(Kent Online)
Exmouth's regeneration plan is based around its amazing watersports facilities.
Wayne Hemingway is behind the design
Exmouth - Watersports based Regeneration
Exmouth was suffering the same fate as almost all other traditional seaside towns, with tourism dropping from around 800,000 visitors in 2004 to 500,000 in 2014, and the average visitor spend in Exmouth is half that of other Devon towns.
By 2015, Exmouth's former Fun Park on the town's seafront was a derelict remnant to the town's 'kiss me quick' past. Plans were quickly drawn up to redevelop the area, but the initial plans were largely derided by the locals as something akin to a 1990s entertainment complex, which was not befitting of the area, and was also out of tune with today's trends or the needs of the town.
A Save Exmouth Seafront' group was set up to fight the plans, and were finally listened to. To help develop a plan more acceptable to the community, Red or Dead founder Wayne Hemingway's "Hemingway Design", was brought in and undertookextensive consultation with the residentsto ensure that they were on board with the new plan.
Wayne Hemingway seems to be getting a bit of a name for himself in the seaside town regeneration scene and has now worked with authorities in Exmouth, Boscombe, Bognor Regis, Margate, Morecambe, Lowestoft and Weston-Super-Mare to help them regenerate their towns.
At the heart of this newly designed plan, is a rapidly increasing trend towards healthy living and fitness within the surroundings of a beautiful natural environment.
At the core of the £18 million scheme is what will be one of thebest water sports centres in the country, that is being built by a not-for-profit and environmentally sustainable developers 'Grenadier Estates' in conjunction with a group of local business savvy water sports enthusiasts. The aim of the scheme is to get more local people involved in watersports and the health benefits it provides, at the same time as attracting more visitors to the town, and in particular visitors that have a high average spend.
Grenadier Estates describes the project as: - "The proposed not-for-profit scheme includes training and changing facilities alongside an outdoor events space and eateries, and is intended to enhance Exmouth's waterfront, water sports heritage and leisure amenities. Offering immediate beach access, the venue is expected to provide high quality services throughout the year."
To show the ambitions of the scheme, 2 Michelin star award-winning chefMichael Cainesis opening arestaurant with a bar and café area at the centre, when the centre is due to open in 2020.
Michael's plans include a range of offers to suit all tastes, from a casual dining restaurant complete with an upstairs terrace, to a dog-friendly cafe offering a lighter menu and serving homemade ice-creams, local coffee and healthy takeaway snacks.
References:
Exmouth Watersports Center(Official Scheme Website)
Major Exmouth watersports centre given go ahead(Official Statements by the developers Grenadier Estates)
Award winning chef Michael Caines to open Exmouth seafront restaurant(Exmouth Journal)
New Exmouth water Sports Centre operator announced(The Exeter Daily)
Council appoints 'Dreamland' team to breathe new life into Exmouth seafront(Devon Live)
HemingwayDesign seafront consultants appointment rubber-stamped by EDDC(Exmouth Journal)
Can the man who revived Margate with Dreamland overhaul Exmouth?(The Telegraph)
Super fresh fish is a huge selling point
Fish Quay is still an active fishing port
Fishermans mission statue
Fish Quay has become a popular place to live
North Shields - Fish Quay
Turning a fishing heritage into a thriving community
'Fish Quay' is a fantastic success story. The area has a history steeped in the fishing industry, dating dating back at least to the 13th century, and it's a testament to creative thinking that fishing is still at the heart of the areas regeneration.
North Shields fishing industry, like the whole of the UK, saw a rapid decline in the later half of the last century and the Fish Quay area, was left a shell of its former self and many of its buildings were abandoned.
Creative thinking
Its testament to the creative thinking and ambition of the local community, that they had the foresight to see that the remaining fishing activities could be central to the areas regeneration in a way similar to where we have seen markets in London (think Borough, Maltby St, Portobello, Camden, Spitalfields, Greenwich) turn from pure work places associated with working class and decline, to centres at the heart of highly desirable areas to live, work and socialise.
Now traditional seafood businesses operate alongside newer businesses including marketing and public relations companies. The great variety of successful businesses operating on the Fish Quay has created a bustling day time economy, where the traditional and modern sit comfortably alongside each other. There is a vibrant social scene on the Fish Quay with a wide range of places to eat, from traditional fish restaurants to stylish brasseries.
Community and council working together
Much of the developments success has been put down to acommunity-led documentthat continues to help shape the Fish Quay area, and in doing so achieved European recognition. This Neighbourhood Plan Supplementary Planning Document (SPD) is one of 12 case studies within a European research guide and was one of the country's first and produced by a community group consisting of local residents, businesses and land owners. It was adopted by North Tyneside Council and is now a fundamental part of the Fish Quay's planning framework to help shape successful regeneration.Click here to read the document.
Todays quay balances the working fishing industry along with a number of eateries and drinking establishments, an eclectic mix of small to medium sized businesses and an ever increasing number of local residents, which all makes the area the perfect place for a day out. Sample fresh fish and chips, fine dining in one of the many restaurants or simply sit back and take in a colourful slice of modern, Quay life.
Fish Quay hasn't lost it roots though, and the Fishermen's Mission, along with an array of wet fish shops and processors, is a powerful reminder that the Fish Quay is still a working environment. It has its own character, as well as a personality that is conveyed not only by the sights but by the smells of the sea, the fish frier and the many restaurants, and the sounds of the boats' engines throbbing and gulls crying overhead. Positive changes to the street-scene and an increase in the number and variety of new food and drink businesses has facilitated al fresco dining, when the weather permits, which all adds to the atmosphere.
The area thrives because of its strong community spirit, which is clearly visible in one of the latest developments on the Fish Quay has been the opening of the Old Low Light - a heritage attraction run by volunteers celebrating the history and heritage of the Quay, alongside 'Fiddler's Green' - a memorial to the areas lost fishermen.
Local quality and community spirit
Key to the areas success and 'brand' is its strong emphasis on business that are local, unique, and work together with other local business to enhance the areas uniqueness and community feel.You won't find any national chains in Fish Quay, and that is seen as key to the areas success.
The Staith House
Among the many businesses that exemplify this ethos isThe Staith House, where self-sufficiency and quality best local produce are at the centre of this award winning gastro pubs success. The owner, John Calton's (a former Master Chef finalist) has put Fish Quay and The Staith House on the culinary map and have graced pages of Hardens, The Good Food and Good Pub Guides and the Michelin Guide, as well as having recently been singled out by Sawdays as a special place to eat. Just announced is its place among theTop 50 Gastropubs. It also claimed runner-up in two of the Observer Food Monthly categories: Best Sunday Lunch and Best Restaurant.
Amazing growth results
The area's regeneration initiatives clearly have something going for them, as while the vast majority of seaside communities economies have lagged behind the rest of the country, the North Tyneside area has had thethird highest growth of all coastal communities in the UK. Not only that, its economy has grown around 40% more than the whole UK average - a pretty remarkable result for a community located in an area well outside the influence of London.
References:
Fish Quay(Official Fish Quay Website)
2001 Regeneration Study - The character of Fish Quay, Tynemouth(Willie Miller Urban Design)
North Shields Fish Quay Neighbourhood Plan Supplementary Planning Document 2013(produced by the North Shields Fish Quay Neighbourhood Plan Group for North Tyneside Council)
North Tyneside one of the fastest-growing coastal communities in Britain, report says(North Tyneside Council)
European spotlight on Fish Quay regeneration(Capita Property)
The Staith House, North Shields, pub review: 'ingenuity in netfuls'(The Telegraph)
Weymouth beach on a sunny day
Weymouth's Punch and Judy
Weymouth - Keeping it 'Kiss Me Quick'
Weymouth is something of a conundrum. Out of all the seaside towns we have looked at, we think this has the greatest potential, but so far has lagged behind the other towns on the south coast on ideas for regeneration.
As a quick outline of the inherent potential of the town it has:
A beach often known as the English 'Bay of Naples' and voted best in the UK in 2017.
The 3rd most sunshine hours in the British Isles
Four nature reserves - two right in the middle of the town and two on the edge.
One of the most attractive harbours in Europe (recently used as the film set for D Day).
A Georgian seafront described as the best preserved on the south coast.
A location, right in the centre of the UK's only natural world heritage site (The Jurassic Coast).
Situated in the middle of and surrounded on all sides by an Area of Outstanding Natural Beauty (which is currently being looked at as becoming a national park)
Some of the best waters for sailing and other water sports in the UK (Hosting the 2012 Olympics)
A fort and two castles (if you count the one on Portland)
The 3rd largest man-made harbour in the world.
One of the largest remaining active fishing fleets in England.
20 miles of in town cycle track
An extensive history dating back to Roman times.
A pedestrianised and attractive old town shopping centre (provided you look above the ground level)
A famous live music scene (most town centre pubs have live music during the evening some point)
Festivals galore, including, Folk festivals, the largest seafood festival in the UK, Victorian and military weekends, and many music festivals.
Given the above you may be excused for thinking that Weymouth would be an exception to the seaside decline, and out of all the resorts we studied, it probably has best all-around potential. Weymouth is possibly unique in the fact that it has all the key attributes of history, architecture, scenery, gastronomy and culture that have been the foundation of the regeneration plans of other resorts, as well as both a stunning beach and harbour.
However, scratch the surface and its hidden problems rise to the surface. Back in 2011,The Telegraphwrote"Weymouth's pedestrianised shopping zone, full of mostly unremarkable souvenir shops and nondescript high street chains, and whose slightly depressed air appears to be a magnet for lager can-wielding vagrants.".
Unfortunately, since then things don't seem to have improved much, and in 2018 well over3000 crimes were 'reported' in the town centre(about 10% up on the previous year, and 66% of those were for either anti-social behaviour or violence).Four in ten people earn less than the voluntary living wage, the highest levels in the country, and Weymouth and Portland also rank theworst in the country for social mobility.
Playing the numbers game
Weymouth seems to be following a different path to the other towns in the study, with its regeneration strategy seemingly aimed at the budget end of the travel market and playing the numbers game. While other towns were using culture as a central focus to drive regeneration,Weymouth's council were trying to demolish their Pavillionto make way for the building of budget hotel chains, andseafront laserswere added to the Georgian Esplanade in an attempt 'modernise' the town.
Blackpool of the south?
Weymouth's current regeneration plans focus on several large prime development areas, in around the centre of town. All these sites are large and have direct access to either the harbour or sea, and are therefore highly desirable areas for any potential development. The jewel in the crown of these areas is 'the peninsula', which is quite likely the most prime piece of large development land on the south coast. As a piece of land about 8 acres in size that forms almost an island splitting the sea from the harbour, its reminiscent of a small 'Sandbanks'.
This area of land is planned to be Weymouth's answer to Blackpool's Pleasure Beach, with budget hotels, chain restaurants and various 'activity zones'.
The idea of taking onBlackpoolon at its own game is a tactic not confined to Weymouth, and inGreat Yarmouth, a town with a similar crime and social problems, an almost identical plan to Weymouth Peninsula is taking shape.'The Edge' Great Yarmouthis being developed as a mini Las Vegas bypleasure beach mogul Albert Jones, and will feature an 81-bed Premier Inn with a 6,000 sq ft Beefeater restaurant, 5 other branded restaurants and a 'Mega Casino'.
Targeting the budget end of the market as a 'traditional resort', may have some merits, although a recentstudy by the National Coastal Tourism Academyshows that out of all the type of seaside resort they studied the 'traditional resort' was only popular with young families and the 'lively resort' was not popular with any age group - even the young. By far the most 'popular' types of resort across the spectrum of ages was the 'harbour towns' and the 'coastal retreats', where cultural activities, local shops, traditional events, scenery and walks, were all things that we highlighted as being key reasons to visit.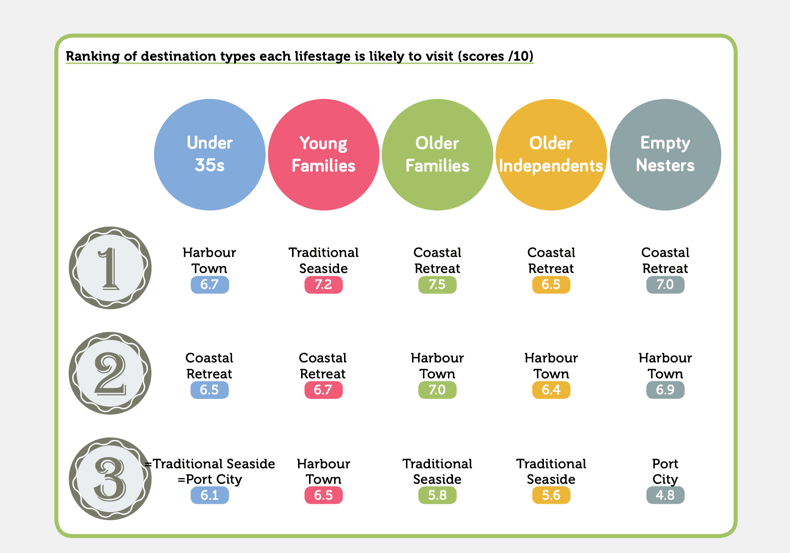 Weymouth seems to have struggled with developing a cohesive identity and 'brand' which has been key to the regeneration of other towns in the study, and it may well be that this is partly due to the fact that Weymouth has all the attributes that are needed to position itself as almost any of the different types of resort category asdefined in the report. Historically Weymouth was two separate towns, and it seems that this is still evident today as and today it still can feel that way with the 'brash and budget' beach side, sitting shoulder to shoulder with the more genteel and relaxed harbour side.
One other significant consideration from the report is that the age demographic with the least disposable income were the 'young families', so targetting this demographic may not only produce limited income when they do visit but also restrict the season to school holidays.
The changing millennial market
While targetting the budget end of the tourist market and pitching itself as a 'lively resort' / 'traditional resort' may be a legitimate tactic, it seems one which could have limited appeal and longevity. The Millenial market is much more health conscious than previous generations, and as an experience provider, we are well aware of the rapidly changing trends away from 'run of the mill', and that they are more willing tospend their money on unique and quality experiencesthan previous generations. It is, therefore, no surprise to us that the 'lively resort' was the least liked category of all the resort types defined - and even amongst the young, almost double those surveyed disliked this sort of resort as liked it. What is also interesting, that the 'harbour town' category was liked by the under 35's twice as much as the 'lively resort'.
As the Millenial Generation gets older, and develop in young families, the 'kiss me quick' seaside resort is likely to struggle to attract tourism and will find itself in a descending spiral of undercutting, and underachieving.
While saying this, we do understand that there is still a large number of people where the 'lively resort' has an appeal, particularly amongst stag and hen parties looking for a 'traditional experience'. As we send over 100,000 of people on stag and hen weekends each year, we also know that their local spend can contribute significantly to the local economy. However, even the traditional 'booze centric' style stag and hen do is on the decline and being supplanted by the search for evermore unusual and unique experiences.
As an aside to the chances of success, it should also be considered if the regeneration will enhance the lives of residents outside of pure financial income. Blackpool may get around 18 million visitors per year, but it isthe most unhealthy place in England, thehas the most depressed citizens in the UKand claims themost lives through heroin overdosein the country. Weymouth may have its problems, but that doesn't sound like something many people would aspire to, even if it did bring in more visitors.
"Be careful what you wish for, lest it come true!" (old Chinese proverb)
References:
Weymouth Peninsula plans approved(Wessex FM)
Sun, sand and inequality: why the British seaside towns are losing out(The Guardian)
Half of Millennials would rather save for holidays than a house(The Independent)
An Updated Look At Why Millennials Value Experiences Over Owning Things(Forbes)
Why Millennials are Choosing Experiences Over Things(Under 30 Experiences)
Millennials are prioritizing 'experiences' over stuff(CNBC)
Seafront lasers to remain in place(Dorset Echo)
Olympic sailing events saw visitor drop to Weymouth and Portland(BBC News)
Coastal visitor numbers 'down a third' in 10 years(BBC News)
Painted houses on Weymouth harbour
Part 2 - The key to successful regeneration
An in-depth look at the things that are working to help regenerate these once depressed towns into modern successful resorts with successful industry outside the tourist sector.
Local Independent Shops
One thing that seems consistent with all the towns (not just seaside ones) that have 'turned the corner' and are getting back to being thriving towns, is that they all have increased the number of independent high street shops.
One place that has undergone such a transformation that it is being heralded as a model for the rest of the UK is Altrincham.
Just eight years ago, Altrincham had the highest number of shop vacancies in the UK, but now it's now enjoying a long-awaited revival, and since 2010, shop vacancies are down by three quarters, and footfall has increased by over 25%.
So what's behind Altrincham's amazing revival? Well, most have been crediting the ambitious regeneration of the town's old market into a new leisure and eating-out venue for turning around the town's fortunes.
Five years ago, Nick Johnson, took over the ailing Altrincham Market and populated it with a carefully curated line up of small-time food and drink traders and now turns over £5m a year. On a general weekday, communal tables in the food hall are full with all kinds of diners from school children eating pizza lunches to retirees sharing a bottle of wine, as well as young families and office workers.
Johnson "curates" the market with outlets handpicked for quality and with an emphasis on giving new businesses a chance. Unlike the high street where occupants face leases and business rates that are payable regardless of their trading performance, Johnson charges a percentage of their turnover. It means less risk for the business and no need for failing businesses to linger on waiting for a lease to expire before eventually quitting and leaving a void.
"I see this as a model for how you could restore the high street," he said. "The only way to do it is to bring in the quality goods that you can't buy online and reward customers with an experience that you don't get sitting lonely, ordering on your computer screen."
The model for the market has been so successful that Johnson has created a mirror of the model atMackie Mayorin the centre ofManchester, and the model has been taken up by nearby Macclesfield. The Cheshire town is trying to harness the national foodie obsession to claw back the social purpose of its centre. Thecouncil is poised to approve plans for a communal food hallin a redundant cinema in an effort to turn the heart of the former weaving town into a place where people congregate again.
Professor Cathy Parker, a Macclesfield resident and academic at the Manchester Metropolitan University's business school who studies town centres, saidgood markets had been shown to raise footfall by almost a third when they are operating.
"People need town centres to thrive for their sense of identity," she said. "We like to feel we have put down roots. If it is all boarded up shops, what is that saying about us? It is a visual indication of failure. If all of our towns are struggling, it is not surprising there is national angst."
References:
From ghost town to boom town - how Altrincham became the place to be(Manchester Evening News)
"Is this the secret to High Street success?"(BBC)
UK market towns embrace foodie wave to revive ailing centres(The Guardian)
OFM awards best market: Altrincham(The Guardian)
Altrincham Market(Tripadvisor)
Altrincham Market(Official Website)
Altrincham Market(Facebook)
Quality produce at Altrincham Market
Altrincham Market exterior
Local retailers keep money in the local economy
The idea that a focus on local retailers can lead to more prosperous towns, seems to make perfect sense. There have been many studies on how different types of business recycle money back into to the local economy and it is universally conclusive that independent local retailers retain far more money in the local economy than national chains. Put simply, this means £1 spent in a local independent store, is likely to circulate much more locally and help other local business, instead of being spent in a national chain store - where that £1 is filtered off to help the economy of wherever the head office may be!
TheIndependent Retailer websitestates: "Stats show that for every £1 spent with a local, independent business, between 50p-70p circulates back into that local economy", while "Shopping online or out-of-town may save a little time or a little money, but for every £1 spent only 5p trickles back into the local economy."
The Standard states"Evidence shows that for every £10 spent in an independent shop, £25 is generated for the local economy, compared to £14 spent in multinationals.". WhileUK small business websitestates "Research shows that £10 spent with a local independent shop means up to an additional £50 goes back into the local economy."
The largest and most official study in this area was by the theFederation of Small Businesses, which found "The research shows that for every £1 spent with a small or medium-sized business (SME) 63p was re-spent in the local area compared to 40p in every £1 spent with a larger business".
While the number varies, the evidence is irrefutable - local business help other local businesses thrive and the local economy prosper. In Ventnor, Sandra O'Toole, who runs one of the town's more recent foodie additions explains: "Another key element to which she ascribes the town's upswing is small business rate relief. The little shops and bars in Ventnor pay nothing, which means tiny startups can flourish in the main shopping area, perched high above the esplanade's cascading gardens and pebbly beach."
References
Six reasons to shop small and local(Wire UK)
Key Studies: Why Local Matters(Institute for local self reliance)
Shop local first(San Fransisco local owned merchants alliance)
What happens when you shop local(Independant Westand)
The Multiplier Effect of Local Independent Businesses(American Independent Business Alliance)
Buying In to Buying Local(Fix Blog)
Why buying local is worth every cent(Huffington Post)
15 Reasons to shop locally(Small Business)
Local Currency - Keeping Money 100% Local
This policy of focussing on supporting local businesses to develop a good local economy has been repeated across the country with much success. However, in some places they have taken this one step further and even created their own local currency, includingTotnes,Lewes,BrixtonandBristol. Hull has its own local digital currency that can be earned from volunteering and used to pay council tax. Kingston, Birmingham and Liverpool have schemes underway, and theLake District has just launch the Lake District Pound.
An innovative new scheme to help independent shops in Norfolk fight back against multinational chains is set to be launched. The project, a first of its kind in the county, has created a digital high street where shoppers can browse and buy from local shops via a single website, and collect their purchases from in-store or at out-of-hours collection points.
Breckland Council is funding the project for three years as part of its ongoing Market Town Initiativeto support businesses in Swaffham, Dereham, Thetford, Watton and Attleborough.
Breckland Council leader William Nunn said: "This is a fantastic initiative which will be a game-changer for our local independent shops. The council has committed to subsidising the first 200 independent businesses that sign up to the project and we've had a wide range join already, from butchers and bakeries to cafes, craft stores and clothes shops – and many more too. This is about so much more than a new website though, this is about encouraging a culture of supporting our independent shops and pulling together to protect our high streets."
Given the evidence that local independent business are good for the local economy, it seems obvious that councils could help their areas, by supporting local independent retailers over national chains. This in turn would lead to a chain effect where council income from businesses should increase as a result of the better local economy, and then more council money can be used for local schemes, which in turn will further boost the economy.
In the case of seaside towns reliant on holiday customers, it would seem that this effect can be even more effective, given that:
1/. Our own studies have shown that holidaymakers see local independent shops and restaurants as the most important things affecting their choice of holiday destination. In effect they become a draw to the town in their own right.
2/. Holidaymakers will spend their money on more interesting, unusual and local produce, than if they were not on holiday.
In effect creating a strong presence of interesting local independent shops, not only has all the benefits it would in a non-holiday town, but it also acts as a draw, to bring in more tourists to the town in general. Of special significance here is that the tourists attracted to an area by local independent retailers, also have a profile of high disposable incomes.
References:
Bristol pound is just one example of what local currencies can achieve(The Guardian)
Do local currencies actually work?(The Long and Short)
From the Lake District to east London: which areas have local currencies?(The Telegraph)
Brixton Pound – The local currency with its own cash machine(Business Advice)
Local currencies: The wasted opportunities(Resilience)
Art and Culture Lead Regeneration
A lot of work and government support has gone into figuring out how to positively promote regeneration in coastal areas. While there is no "one size fits all" solution, many towns are starting to reinvent themselves, investing as much in being good places to live and work, as tourist destinations.
Art-led regeneration is now a well-established route to change, and Margate and East Kent have been leading the way over the past few years, with theTurner Contemporary Art Gallery, opening in 2011. Since then it has welcomed well over 3 million people and provided more than £50 million for the local economy.
Initially funded by Kent County Council and the Arts Council, this is a case of an iconic building acting as a catalyst for renewal. Designed by award-winning architect David Chipperfield, the gallery made the list of the top 21 buildings representing the UK in British Airways' Highlife magazine.
The domino effect
This initial government-funded initiative has since led to significant private investment in Margate, with shops, restaurants and hotels all opening to profit from the regeneration effect. This was pushed further with the re-opening of the Wayne Hemingway-branded Dreamland last summer.
And other local attractions have upped their game too. The amazingQuex Park in Birchington, with its Edwardian Mansion and events programme, and thePowell-Cotton Museum, which contains an amazing collection of taxidermy, have both become standout destinations in their own right.
Margate's model of two (or more) attractions with the power to draw people into the locality supported by a range of high-quality hotels, restaurants and businesses is certainly a persuasive one.
Following suit
Other parts of the UK have embraced this public arts-led approach in their own way.
Around the coast from Margate, Folkestone has promoted itsArts Triennialfor a number of years with both temporary and permanent art concentrated in a small locality. The development of restaurants and businesses around the harbour draws people to the Cultural Quarter. Unlike Margate with its iconic building-led revival, Folkestone has focused on a core problem and come up with a defined plan within a small area of town.
Further afield,Tate St Ivesis drawing large numbers of visitors. Even in Blackpool where, 15 years ago, The Great Promenade Show was established as a permanent outdoor public art gallery with 10 permanent installations spread over 2 km, we can see tourism returning to deprived areas. Overseas, places like the Guggenheim in Bilbao remain a testament to the positive effect that arts-led regeneration can have.
Startups are moving to the coast
Lifestyle is a huge attraction to tech startups
Silicon Beach - Why tech startups moving to the coast
Silicon Beach describes a long strip of the south coast, and is primarily used to describeBrighton, Bournemouth and Poole. According to Forbes,Brighton now has the highest density of digital companies of anywhere in the UK. Bournemouth & Poole, meanwhile, have together registered the fastest growth in the UK in terms of the number of new digital companies registering – the figures are up by more than 200 per cent on three years ago!
So what's causing this drive of business to the coast? Coastal communities, while benefiting from the position as a desirable place to live and visit, have always generally been less appealing to traditional businesses that rely on physical products, as due to their location they will always suffer from poorer transport links, and all the issues caused by a seasonal business cycle and customer footfall.
However, most tech-based startups don't need good transport links, warehouses, stock, or in some cases even offices, and a global business can be run with just a decent internet connection. What is therefore desirable and indeed critical to a lot of traditional bricks and mortar businesses, is not relevant to these new age businesses.
This difference in needs means that these new tech businesses can thrive in locations where traditional bricks and mortar businesses would never consider locating. Indeed the things that hamper traditional bricks and mortar companies from thriving in seaside towns can be the very things that help tech and other similar businesses to thrive.
Given that many of the constraints on the location of these modern tech businesses are far less than traditional businesses, the types of employees these businesses need to attract are those who value the 'creative' importance of their work and flexible working conditions, meaning the work/life environment moves up to be one of the most important considerations to business location.
From understanding this, it doesn't take a long leap to understand why these coastal resorts are enjoying the benefits of a boom supplied by these tech industries. It's also not just Brighton, Bournemouth and Poole, which are now booming,Cornwall has seen a 3 fold increase in high-tech startups in the last year alone, and Truro, Redruth, Plymouth and Exeter, have all seen staggering growth in this area, with high tech startups in just these locations contributed over£500 million to the local economies in the past year!. Falmouth has even created "Falmouth Launch Pad" to help fund and develop new tech startups in the local area, and Torbay has just launched a public and private sector partnership to createSilicon Bay!. This is also not a phenomenon unique to the UK, and it is being repeated across the globe with it being reported as atrend occurring in the US for many years.
If a place fulfils a need for a high quality of lifestyle, then it is likely to appeal to start-ups. Furthermore, as these places are less appealing to traditional bricks and mortar businesses, there is far less competition in terms of office space. We should also consider the nature of the 'seaside resort' that has always led to a lot of entrepreneurship, with many small businesses built to service the needs of the tourist industry, with a 'striver' mentality and close community feel - all of which appeals to these tech startups.
References:
Forget Silicon Valley, Bournemouth has found its mojo(The Guardian)
Silicon Beach - Britains fastest growing tech hub(Forbes)
Silicon Beach - Britains unlikely new tech hub(The Telegraph)
Boom in high tech businesses in Cornwall as number of start-ups triples(Software Cornwall)
Tech firms are putting Devon and Cornwall on the global map(Cornwall Live)
Plan to turn Torbay into 'Silicon Bay'(Devon Live)
Why popular tourist towns are becoming silicon valley copycats
Why has Brighton become the hub for the UK's digital industry
1 in 5 London tech employees are considering a move out of the city(Business Matters)
Capital groans: UK tech industry is thriving outside of London(PCR Online)
Beyond Silicon Roundabout: Why tech startups are moving out of London(MB Magazine)
So long, London: why startups are choosing to leave the capital(The Guardian)
Studies of successful resorts, from Whitstable to Whitby (which increased visitor numbers by 150 per cent between 1996 and 2005), attribute their success largely to investing in public areas and heritage buildings, good leadership and – above all – a strong community spirit.
Further Reading and Research Papers