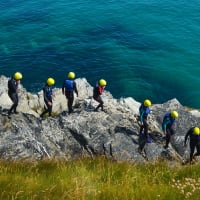 Corporate events and team building days
Choose from 1000s of fun, engaging and inspiring company events that deliver results
Full event management
Everything done for you,
from start to finish
Something for everyone
Largest range of activities,
themes & entertainment ideas
Network of corporate venues
Easily find the perfect
venue at the best rates.

100's of Virtual Events
It takes extra creativity and engaging activities to build a strong team virtually, so we offer a number of interactive games, workshops and conference software designed to motivate, engage, inspire and excite.
Join the hundreds of forward-thinking companies that use Chillisauce every year
We have decades of experience helping to put together a wide range of corporate events, parties, entertainment and team building experiences including,Team building days,Incentive Travel,Product Launches,Meetings and Conferences,Bespoke events,Christmas and Summer Parties,Themed Packages,EntertainmentandLeadership Off Site Events.













BBC News tackled the Extreme Ninja course
BBC News tackled the Extreme Ninja course
Nike brought global teams together
Every corporate and team building event is different and special. Every event and corporate itinerary has its own distinct audience, tone, personality and set of business objectives. Our specialist events team will creating your perfect event from beginning to end, building lasting memories and achieving your business goals. Read more aboutour services..
What we do?
As a Top 10 UK Events Agency we're passionate about creating a unique experience designed to help you and your business achieve a specific set of objectives. We believe there is no better way to inspire and motivate your team than to invest in their personal as well as professional development.
Our events build confidence, strengthen resolve and develop personality far beyond the realms of the workplace. Qualities like these will help your team gel together, foster that elusive team spirit and create renewed energy and focus for work on which greater productivity relies.

Help promote staff morale and productivity
Blending activities, entertainment and energisers with your events has been demonstrated to:
✓ Encourage engagement
✓ Build a constructive environment
✓ Break down barriers to communication
✓ Promote positive relationships between staff
✓ Reward staff for a job well done
✓ Aid on-boarding
All of which also in turn aids:
✓ Recruitment
✓ Staff Retention
✓ Productivity and Staff Wellness
How we make your corporate event or team building day special?
We don't stick to set formulas but instead use our expert knowledge to build bespoke events to meet your needs.
Our team of specialist Event Managers are experienced in creating a unique, bespoke event and will work with you to create a programme that works. So whatever your requirements, be there specific needs around logistics, objective, budget or location you can rely on us to build the event to fit. Furthermore, we're always launching new and often unique activities ensuring there is something for everyone!

Full event management
We take control of the entire event organisation process from start to finish, ensuring that everything is done for you and executed with precision and attention to detail.
✓ Largest range of activities, themes & entertainment ideas
✓ Network of venues throughout the UK and Europe
✓ Easily find the perfect venue at the best rates
For many global customers we're also the go-to Londondestination management companyfor oversees customers looking for a well established event manager based here on the ground.
About our team building services
Below are just some of the examples of team building solutions we typically offer:
✓ Concept and message
✓ Invitation – design and collateral
✓ Venue sourcing and management
✓ On-site management and logistics
✓ Theming – venue, catering, infrastructure and staff
✓ Facilitation services
✓ Site design and layout
✓ Theming
✓ Health and safety assessment and monitoring
✓ Support Staff
✓ Daytime & Evening activities and entertainment

Some more examples of our events
Chillisauce have been leading the way in Corporate Events for almost 20 years. Organising learning days, experiences, staff parties and team building events for clients across all sectors of industry. We have booked events for all the below leading companies, just click on each business to read their case study and find out more about what we can do for you:
✓Nike
✓Warner Bros
✓Gregory Adams Davidson
✓JWT
✓Airbus
✓IMI Mobile