BBQ season is nearly upon us...
...yet we know surprisingly little about the nations favourite summer pastime. Where does our love of cooking with coals come from? What's the best quick recipe to chuck on the grill and impress your friends? Where are the tastiest BBQ pop-ups in the country for those of us too lazy to do the cooking ourselves?
We decided to answer all of these important questions and more by quizzing 1,000 Brits across the country on their BBQ-ing habits, and to show for it we have the first Official BBQ Survey.
We know our official BBQ survey wouldn't be complete without the views of the best BBQ experts, so we've also grilled British BBQ Champion Andy Annat, who once cooked for the Queen's 80th birthday, on useful BBQ recipes and hacks, and foodie and co-editor of About Time Magazine – Alicia Grimshaw, who shares her go-to BBQ food with us.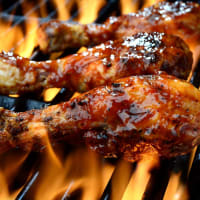 Save the Date: BBQ Holiday
Britain's weather isn't always kind to BBQ-ers, but here's hoping that the month of May brings some sunshine, as Monday 25th May is officially the most popular day of the year to have a BBQ. Don't worry if your grill-skills aren't quite ready, the 8th August and 11th July follow closely behind as popular days to host a BBQ as is the 12th September, oddly enough…perhaps we're clinging on to those last rays of summer before winter really sets in!
Hosting a proper dinner party can be a bit of a stressful affair: co-ordinating tablecloths and napkins, laying out the right cutlery and condiments, and carefully curating the perfect seating plan. What is it about cooking outside that makes us throw caution to the (hopefully not too chilly) wind and eat with our hands, swig beer out of plastic cups, and slather absolutely everything in tomato sauce?
What do you use a BBQ for?
We asked both men and women what they use BBQs for, revealing that both sexes relish the BBQ as an excuse to show some summery skin. But, whilst the girls are relaxing over one-too-many Pimms, the men will be busy competing over who can flip the best burger!

Women
Excuse for a party outside
Pimms
Excuse to show some skin

Men
Excuse to get their guns out
Reason to show off
Excuse to show off their masculinity
It seems women are the real worriers when it comes to BBQs, fearing not just food poisoning but also burning their meat(23%), getting too tipsy(6%), breaking a nail(2%), and setting their hair or body on fire(1%). Men take it mostly in their stride; only really worrying about burning the food(23%), or running out of beer(15%).
With all these worries, its no wonder65%of the people we surveyed described themselves as feeling under-confident in their BBQ skills.20%would describe themselves as adequate, presumably, these are the people who manage to just about walk the line between undercooked food poisoning and burgers that resemble charcoal. Just 15% of those surveyed said they were confident in their BBQ skills.
BBQ to the Next Level – Top 10 Do's/Dont's
According to About Time Magazine's Alicia Grimshaw, BBQs are best kept simple, "Summer is all about BBQ'S. If there's a slight bit of sun, my Mum will be marinating meat like nobody's business, along with putting on a fine cold spread of salads, coleslaw and garlic bread. I don't think you can go wrong with a good old-fashioned burger, and I might be biased having lived in Lincolnshire but a barbecued Lincolnshire sausage is the one.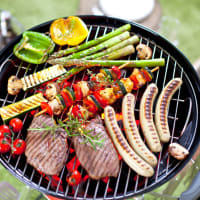 Our Top 10 Do's and Don'ts to keep your BBQ simple and tasty…
Do:Use a meat thermometer to make sure your dishes are cooked all the way through!
Don't:Overwhelm yourself by doing too many dishes. Repeat after me: You are not Jamie Oliver
Do:Take the pressure of yourself by asking your guests to contribute a cold dish.
Don't:Clean your BBQ after use…may seem counterintuitive but leaving that old meat grease on the grill will actually protect it from rust!
Do:Clean your BBQ before use…you'll need to scrub off all the muck you left on there last time!
Don't:Be afraid to make unusual meat choices. Try swapping pork ribs for lamb ones, slathered in a delicious minty yoghurt dip.
Do:Use herbs such as rosemary as edible skewers.
Don't:Limit BBQs to the evening- you haven't lived until you've eaten a bacon sarnie hot off the barbecue!
Do:Cook directly on the embers- corn on the cob is particularly delicious.
Don't:Worry so much about everything being perfectly presented that you forget the main point of a BBQ; to get drunk outside with your mates, and enjoy the (rare) sunny English summer!
Top Tips From The Official Brittish BBQ Champion
With summer just around the corner, and too many people rating their BBQ skills as distinctly underwhelming, we decided to grill BBQ British champion Andy Annat on his top tips to gets a BBQ sizzling. From humble beginnings as a butcher in Yorkshire, Andy has taken the grilling world by storm and now competes in BBQ championships all over the world.
Below are Andy's answers to some BBQ questions you tweeted us with earlier this week- these great pointers will make sure we all make the most of the BBQ-ing weather this summer:
What makes a good BBQ? Do you have any top tips to get the home BBQ spot on?
It is important that you buy a BBQ with a lid. This opens up a great deal of cooking opportunities; roasting, hot smoking, cold smoking, baking, grilling, What ever you can cook in your in your home, you can cook in a closed BBQ giving new & unique flavours and making eating a great outdoor social occasion. I have a saying "if you're looking, you're not cooking" – so keep the lid down!

Charcoal or gas? This is a lifestyle thing! My personal preference is charcoal although if we had the good weather like we can do in the Summer; I would be doing a lot more outdoor cooking and may prefer the convenience of the gas alternative. Charcoal & gas BBQ's both have the ability to cook almost anything; pizza, large fish, whole goat leg, breads, chocolate brownies & superb vegetables, this is just to name a few; the possibilities are endless.

Make it a social occasion. Outdoor cooking is the perfect way to entertain a crowd in a fun and informal way. The climate in Summer lends itself perfectly to this. So why don't you invite your friends, family or business associates for a BBQ party.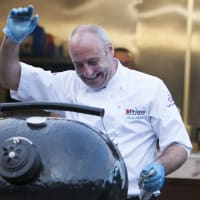 What basic things are essential?
Long tongs– for turning the food on the grill and lifting the food onto the plate. Avoid using a fork for this, as it will pierce the meat & loose those delicious juices.
Temperature probe– you'll always find one in my pocket. I often hear of food been dry, particularly chicken breast. This is because it is over cooked and has lost all its moisture. If you test the temperature of the meat, you can make sure it is firstly safe to eat & secondly taken off the grill before it is overdone.
Spray can– I use a spray can and fill it with apple juice. This is sprayed onto the meat as it is being cooked. The juice helps keep the meat moist & also the natural sugar will start to caramelise.
Chimney starter– This is one of the best BBQ accessories for use with a charcoal BBQ. The coal is put into the cylindrical chimney starter with a fire lighter underneath & "hey presto!" In 20 minutes you have hot charcoal ready for cooking. Additional charcoal can be lit throughout the day and added to your BBQ without having to stop cooking. Using a chimney starter is a safe way to light your charcoal without the use of chemical accelerants.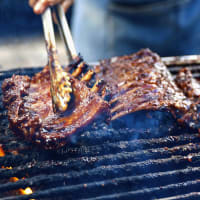 In a city filled with apartments, how can one still enjoy barbecuing?
Barbecue all over the world is becoming fun, funky & fashionable and with the smaller type grills such as the Go anywhere, Smokey Joe and Q100 grills from Weber, it means that BBQ can now be enjoyed from large elaborate gardens to inner city apartments with a balcony.
Top 4 London Spaces for BBQs
Inspired by Andy's tips but still not convinced you could host a BBQ from your flat? Fear not- London has loads of great outdoor spots where you can show off your BBQ skills:

Highbury Fields
Islington took action against restrictions on outdoor cooking in London last year. Given that a lot of people living in Islington don't have a garden, everyone can now enjoy a summer BBQ with family and friends on Highbury Fields, provided they clean up after themselves and remember to use a stand to protect the grass!

Wandsworth Park
Wandsworth Park has also embraced the BBQ, setting up three BBQ stations for locals to enjoy the summer sunshine and a few beers with friends.

London Fields
Bask in the glorious sunshine in the leafy green London Fields Park in Hackney. This park is one of London's best, holding a Green Flag award for being among the best green spaces in the country, and so BBQs are restricted to a small but beautiful designated area.

Fred Wells Garden
Fred Wells Garden has one designated BBQ station, allowing visitors to enjoy their lovely surroundings whilst firing up the grill. The garden is in Battersea enabling members of the public to use disposable barbecues while outside enjoying the summer sunshine.
The Top 5 BBQ Street Eats
If all that grilling and sizzling sounds like a bit too much work, we've also chosen our best BBQ pop-ups across London so you can enjoy the great flavours and sunshine with none of the hassle of scrubbing the BBQ clean afterwards! Happy days!

Smokestak
Thanks to vendors such as Smokestak, who operate in the culinary renowned Dalston Yard and the Model Market in Lewisham, you can access high quality BBQ dishes all year round. These dishes are delivered using a genuinely state of the art meat wagon, which enables the Smokestak to implement high-tech food production techniques and create a superb quality of cuisine. Drawing culinary influence from the Deep South in the U.S, the Smokstak has a reassuring simple menu that allows the individual dish

BBQ Lab
Dr. BBQ Matt Harris, has elevated simple and rustic street food to a refined and delicate art. He has launched the BBQ Lab and appears regularly at culinary hot-spot Granary Square in Kings Cross. Fusing classic American low and slow cuisine with a passion for engineering, you can enjoy culinary delights such as 53-hour pulled pork, 77-hour cooked beef ribs and an array of delicious pickles, slaws and sides. We can particularly recommend Matt's smoked hanger steaks.

BBQ Dreamz
Bringing a Filipino twist to the British BBQ, BBQ Dreamz pairs its tender pulled pork with jasmine rice and pickled cucumber & papaya salad, and infuses its ox-heart skewers with lemon grass. You'll fall for their unique combinations of European dishes, BBQ classics, and Filipino flavours. BBQ Dreamz is brought to the streets of London by KERB, a company dedicated to promoting a network of the best mobile food vans in the country.

Pitt Cue
Not one for our veggie friends, Pitt Cue is all meat: grilled chicken, messy ribs, and beef brisket: the flesh of your choice is paired with root beer beans or crunchy red cabbage and parsley coleslaw putting a fresh twist on American classics. With a new permanent base, they bring southern style meat dishes to the heart of Soho, turning hipsters into cowboys with their tantalising seared ribs, smothered in sticky BBQ sauce, cooked to perfection so the meat just falls off the bone.

Busan BBQ
The 'Amerikorean Dream' is something for all us to aspire to, as the desire to fuse eastern and western cuisine has driven culinary innovators for generations. Few have scaled such heady heights, however, but Busan BBQ is part of this select and successful brand of eateries. A vendor with a strong presence at Broadgate Exchange Square and the popular Street Feast at Dalston Yard, Busan BBQ has everything from classic Korean fried chicken to the creative named 'Massive Monster Sandwich'
Top 3 BBQ Festivals in the World
If you just can't get enough of the BBQ street food, then head to a BBQ festival and prepare to be dazzled by the sheer variety of BBQ styles on show:

Grill Stock
The Grill Stock Festival takes Manchester and Bristol by storm each year with amazing food washed down with a great music line-up. Test your stamina with hot-dog and chilli eating competitions. Or indulge in equally delicious but less competitive American favourites.

Meatopia
The clue is in the title: this one is not for the veggies. Taking place in London every September, the festival originated in America and promotes deliciously cooked, ethically sourced meat. Chefs from all over the world flock to Tobacco Dock to prepare their favourite meat from snout to tail, and visitors can expect to be entertained by great music and a range of artisanal wines, beers, and spirits as well!

The Big Feastival
The Big Feastival is brought to you by Jamie Oliver, one of the biggest names in UK cooking. With its setting in an idyllic country farm, and an emphasis on local produce and up-and-coming street vendors and music acts, The Big Festival has a friendly, summery, chilled-out vibe and plenty of cooking demonstrations, competitions, and activities to keep everyone happy.
After a long and rainy winter, BBQ season is finally upon us! So, whether you do it in your back garden or at a national festival, fire up the coals, pour yourself a tall glass of Pimms, and tuck into some delicious outdoor treats!