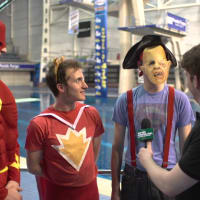 Yes, this is exactly the same activity that you and your friends used to get up to back in the day when you had about 10 minutes left in the pool and didn't mind getting chucked out, only this time it's serious. The annual Water Bombing Championships at Ponds Forge International Sports Centre in Sheffield was originally dreamt up as a way of raising money for the Macmillan Trust and now 8 years later is a prime date in the British Sporting Calendar. It started off as teams from just South Yorkshire but now there will be teams from as far afield as Derbyshire and Nottinghamshire.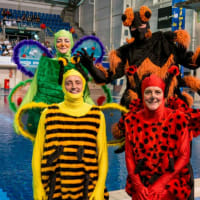 Each team is tasked with raising a minimum of £300 for the charity and prizes are awarded for best water bombing team, best team member and most stylish entry. All teams must wear fancy dress and you're reminded that all competitors must be able to swim in fancy dress – good luck testing that one out at the local pool. And most importantly all competitors are eligible for a pie and peas supper after the event. How Northern and Water Bomberish.
If you don't fancy taking part then spectators are welcome and for a measly £2 you'll almost certainly enjoy the best live entertainment you'll have seen in weeks, and if you're in any doubt the larger people can be winners too just check out the attached film.