When to Visit Edinburgh
Edinburgh plays host to cold crisp winters and cold crisp summers. Only joking - but don't expect heatstroke in the Scottish capital anytime soon.

Spring
Spring tends to be Edinburgh's driest time of year and the city bursts into riots of colour as the brutal Scottish winter vanishes. Although Edinburgh locals will tell you to 'never cast a clout until May is out' (don't leave without a jacket before summer), spring in Scotland comes with a whole lot of sun, just with a wee chill in the air.

Summer
Laugh all you want about summer in Scotland but it can get as hot as London and hit 30 degrees. The summer months are the best to explore the capital with the sun staying out until 9pm most evenings meaning more time for Edinburgh's beer-gardens. Edinburghers love their 'taps aff' weather and the Meadows is the place to relax in the Scottish sunshine - just maybe keep an umbrella in your back pocket if you head to any Summer Sessions concerts or the massively popular Fringe in August (where the city's population more than doubles).

Autumn
Summer is short-lived in Edinburgh and from September temperatures drop back to anything between 8 and 14 degrees. Princes Street Garden's luscious green views change to fiery reds and burnt oranges, a perfect setting for Guy Fawkes night. Flight prices are at their lowest in autumn as the city relaxes after the Fringe and waits for Christmas celebrations.

Winter
In what feels like Edinburgh's longest season, the capital comes alive. Christmas markets flood the streets as the city prepares for its legendary Hogmanay parties, and it comes as no surprise for those who visit why the Scottish capital is a top winter destination. Just remember to wear a jacket and keep your fingers crossed for snow - the average temperature in December is just 1 degree.

Attractions
Cobbled streets, cosy pubs and locals full of fiery banter: bonny Edinburgh offers nothing short of a braw time.
For the best views of Auld Reekie, explore the mighty fortress of Edinburgh Castle (where for centuries the Scots fended off invaders) or climb 250 muddy metres to the glorious peak of Arthur's Seat. Next, head underground to discover Edinburgh's infamous dark side, from the Real Mary King's Close (a maze of subterranean streets where plague victims were buried) to the Blair Street Underground Vaults (a network of underground passages used by gravediggers Burke and Hare). If all that spook has got you thirsty, a tour of The Scotch Whisky Experience is a must. Time your stag right and you can join the 'Flower of Scotland'-singing rugby crowds at BT Murrayfield Stadium.
Edinburgh Nightlife
Edinburgh might not have the latest curfews but locals know to party efficiently - with locals starting their evenings out from the second they clock off work on a weekday, to kicking off proceedings in the afternoon at weekends. Pubs and bars shut at 11pm and clubs carry on until 3am with a 5am license during the Fringe (all of August) and over the Christmas period. This isn't London, you're never in a club queue for more than twenty minutes - just check ahead if they're okay with stag dos.
There's a simple rule for the capital - Old Town for grungy sweaty dancing, New Town (namely George Street and the streets that branch off of it) for swish clubs and cava. No your eyes do not deceive you, those really are Edinburgh's taxi prices - getting home after a big night in the Scottish capital never costs more than a tenner and your hotel will never really be that far away, making it easy to take that one person home and head back out if need be.
Need a bite on the way home? There's only one or two late-night locations (namely 24 hour pie shops) so do your research if you're expecting to need a post-party 'scran'.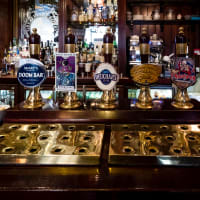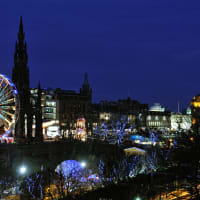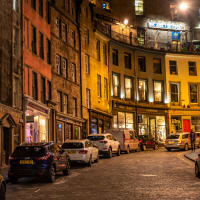 Getting Around Edinburgh
You're in luck when it comes to exploring Edinburgh as most of it can be done by foot. The twisty, winding streets of the city are wasted on tour buses and the two-tier city just isn't experienced the same way by car.
BusFor slightly longer journeys, or for when the day-after has left everyone a little too delicate to walk, hop on a Lothian bus. A one-way journey of any distance is just £1.70 and the buses recently started taking contactless card payments. Easy.
TramEdinburgh's tram service exists mainly to take visitors from the centre to the airport but can be used to get from the east to west ends of the centre - however at £6 for a single get the bus instead (and seriously, don't bring up the trams to the locals, you'll be hard pushed to find someone who thinks that they were a good idea).
TaxiYou can easily book an Uber from anywhere in the city but know that you're even cheaper and just as quick using a local taxi company (Capital or City Cabs rule the roost), especially during peak times. Prices are super affordable, with fares not often going above a tenner in the small city.
How to stay safe in Edinburgh
Edinburgh has been voted one of the world's safest cities due to its low crime rate but it's still worth having your wits about you. The Western end of Princes Street and anywhere there's clubs can get rowdy after closing time and taking shortcuts home through parks in the capital are an absolute no-go at night. For the sake of a fiver - grab a cab.
Note that Scotland has slightly stricter drinking laws than the rest of the UK, the most notable being you cannot purchase alcohol from a shop after 10pm until 12pm the following day - so get those pre drinks in early laddies!
Scottish slang: The Scots are known for their quick wit and gift of the gab - master these essential phrases to give your hosts a wee surprise.
Collie Buckie:Piggy pack, e.g: 'the stag's pure steaming, gee him a collie buckie'Braw:Good, brilliant, fantastic. Also see: barryBoaby:Penis. Also see: tadgerBoak:To throw up. Also see: whiteyChebs:BreastsKen:To know, e.g: 'ken what a mean, pal?'Neebs:Friend. Also see: palScran:FoodSteaming:Drunk. Also see: reekingTidy:Someone exceptionally good-looking, e.g: 'that lass is pure tidy'Yaldi:An expression of pure joy, 'e.g: £2 pints? Yaldi!'