Brighton has a vibrant, hedonistic vibe that attracts stags and anyone looking to have a non-stop yet chilled out weekend getaway. It's a city of clubbing, beachfront bars and seaside fun, perfect for stag weekends. It's easily accessible and close to London but with a cultural scene that rivals the capital.
Worshippers of stag fun and sun flock to Brighton from the cold reaches of Britain's cities, casting off their suits and ties to embrace the bohemian atmosphere. The party vibe makes it a stag do favourite from the fairy-lit beer gardens lighting the path down The Lanes, to the heaving basement ballrooms of Kemptown.
Being so compact, nights in Brighton are not unlike village fetes gone rogue: with neighbours, friends and grooms-to-be clinking glasses and dancing in the moonlight, and unsurprisingly making Brighton one of our most popular UK stag destinations.
Despite its size, this seaside city packs in plenty to do. A stroll straight down from the rail station will bring you to the shores of Brighton Beach, fringed by bars and people topping their tans. Treat yourself to some chips in newspaper wrapping and make your way to the Royal Pavilion, built for King George IV to support his playboy lifestyle. Soak up the sea air along Brighton Pier and the Marina before winding back down North Laine and getting a round in. Do as the locals do and let your hair down: the stag party never stops here.
Here are the highlights and details on how you can book your idealBrighton stag dowith the help of our stag experts.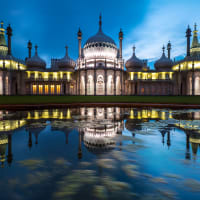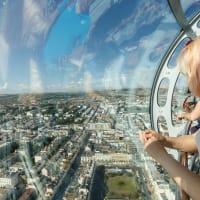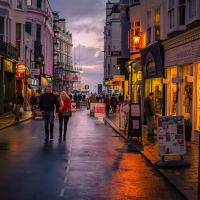 Welcome to Brighton
For a UK stag weekend by the sea!


Brighton * Hove Stag Nightlife
Don't let the cutesy seaside vibe fool you: Brighton's nightlife runs on pure hedonism, with a long-regarded reputation as a party town. Restaurants stay open late and many clubs much, much later, with some keeping it pumping until 7am. Drinks come cheaper than in neighbouring London, topped up with a welcome abundance of happy hour offers. The vibe is relaxed, meaning little room for pretension or strict dress codes.
Brighton is bursting with quality nightlife spots, world-class DJs and some of the biggest names in the party industry calling this seaside city home. Head to West Street for a rowdy atmosphere and some of the biggest clubs likePRYZMand popular late-night party chainsWalkaboutandRevolution. There's also the beachfront bars, quirky craft beer pubs in the Lanes and brilliantcomedy clubs.

Brighton Stag drinks with a view
In Brighton, drinking isn't exclusively a nighttime thing. With tons ofbeachfront bars and drinking spotson the pier, day drinking isn't frowned upon, it's the perfect way to spend an afternoon. After all, what could be better than enjoying a nice cold beer on a summer's day looking out onto the beach?

When to Visit Brighton & Hove
There's nothing quite like a summer's day in Brighton for a stag weekend, as temperatures soar and people sunbathe along its stretch of beach. June to August means festival season, with happy partygoers dancing away at Kemptown Carnival and Brighton Pride. You'll catch a taste of this festival spirit in spring (March to May), with the promise of sunshine teasing people out of bars and into beer gardens and the beachfront. In the colder months, the town still has plenty to offer: crisp walks in Preston Park, shows at the Theatre Royal and cosy pubs hidden in the twisting alleyways ofThe Lanes.

Explore the beach and sights
A trip to Brighton isn't complete without a walk along the iconic pebbled beach, getting fish and chips or testing your luck in Brighton Palace Pier's Dome arcade, full of fun games including air hockey and basketball. Head up to the new i360 for spectacular views of the sea and city or have a peek at the unique and exotic Royal Pavillion. Brighton has tons of fun festivals to experience throughout the year, so be sure to see if anything is on. Check out our guide toBrighton's top attractionsto really make the most of your time.
Hot Tips
How to Safe In Brighton & Hove
As a compact, friendly place full of free-loving cheer, it should come as no surprise that Brighton is one of the safest cities in the UK. Common sense applies - no walking alone late at night, keep valuables safe - but you'll find your experience here should be, for the most part, worry-free. The biggest danger to consider is the beach. Swimming in the ocean at night is a big no-no as no lifeguards are around, while red flags on the beach mean it is unsafe to enter the sea.
Where's the Sand?
Many hop off the train at Brighton to find their hopes of a British Miami experience dashed at the sight of miles of pebbled beach. This rocky shore doesn't stop summer sun chasers from laying down a towel and cracking open a tinny, but for those looking for a more postcard-perfect version of seaside should head for Yellowave Beach Sports. This beach sports centre was built for the 2012 London Olympics, but stripped off the list of official venues at the last minute. The Big Smoke's loss is Brighton's gain, with six sandy volleyball courts ready to hire for your Baywatch-esque pleasure.
Getting Around Brighton & Hove
Brighton is practically fun-sized, making it easy to navigate on foot. Many of the most popular drinking and entertainment hotspots are snug together in Kemptown and The Lanes, but should you and your stag party require to venture further there are plenty of options.
Buses
For a cheap and convenient transit, Brighton has a well-running bus network. Cash is not accepted, but you can pay with contactless. If you plan on hopping about the town, a one-day ticket may just be the answer. More information about routes can be found here.
Taxis
Brighton's taxicab drivers are well-versed in ferrying tipsy travellers after a night on the town, so expect to have options even in the wee hours. Head for the main taxi rank at Brighton railway station and look for the white and turquoise cars. Alternatively, Uber or Bolt works a charm.
Choose Brighton for yourstag weekendand you'll be getting ready to party in no time. From exhilarating daytime activities and fantastic restaurants to unrivalled clubbing and beachfront bars, this seaside resort is sure to surprise you and we're here to help you create a stag do you won't forget.