A lively city that is all about the sea, shopping and partying. Easy to get around on foot, you can experience everything from its seaside traditions and waterfront venues to the modern city centre and buzzing nightlife scene during your weekend away.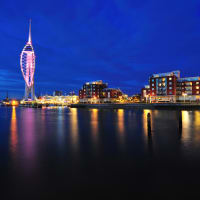 If you're looking for drinks and dancing, Gunwharf Quays is your destination. With restaurants open until late and the bars open even later, the shopping outlet comes alive at night until the early hours. Guildhall Walk and Palmerston are also popular options when it comes to partying in the city.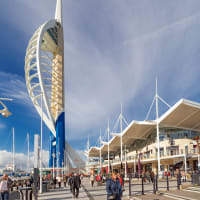 The city is a shopper's paradise, with loads of wonderful stores, markets, boutiques and one-of-a-kind finds. If you like high-end shopping, Gunwharf Quays will be sure to provide you with everything you need, with over 90 designer retail outlet stores with discounted prices.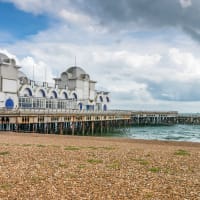 Just a mile out of the city is Southsea beach and pier. Complete with busy promenade, the area has a ton of bars, pubs and restaurants for you to enjoy from the familiar venues to the local favourites.
Portsmouth, modern and lively
####Your guide to a stag weekend on England's fun-loving south coast
Portsmouth's an easy city to understand. There's the totally modern centre, rebuilt completely after the Second World War and home to the University of Portsmouth campus and more shopping than anyone has time for. You want Old Portsmouth for harbourfront buildings, little boats and the city's massive cathedral. Southsea's the place for traditional seaside frolics. And then there's the sea. It's everywhere and what Portsmouth hasn't done to make its waterfront spectacular obviously wasn't worth doing.
####Portsmouth at a glance:
On the English Channel between Southampton and Brighton and England's only island city
Home to Lord Nelson's HMS Victory from the Battle of Trafalgar, which is docked in the city, as is Queen Victoria's favourite ship, HMS Warrior
Home to the biggest amusement park on the south coast
Buzzing with watersports and other activities perfect to add some thrills and spills to your weekend
A university city with a young, vibrant population that likes to party
####Local knowledge:
City Centre – where the city goes shopping Shopping's such a big thing in Portsmouth the city even has a festival dedicated to the art of rampant consumerism. But don't worry if you miss the official celebrations, buying stuff is a year-round pastime in Portsmouth and the city centre is the focus for top brand names, department stores and many, many malls.
Old Portsmouth – the city's romantic, seafaring side Seen from the top of the Spinnaker Tower, Old Portsmouth looks like it fell out of a picture book. Up close it's pretty much the same with cobbled streets, old churches, a pretty little harbour, historic homes and quaint coming at you from every side. This is a glimpse of the city from back in the day when women fluttered hankies on the quayside and real men voyaged for years on nothing but weevily biscuits and rum. It's also the area for great bars with amazing views, excellent restaurants and good cafés.
Southsea – all the fun of the fair and the rest Famous for its Victorian pier and the big, bold funfair, Southsea is just as well known for even more shopping. You won't find the big high street names here, small and specialist is the Southsea signature. And it goes without saying that this is the place for ice cream, paddling and bracing walks on the beach.
Dockyard – for boats, submarines and big, big battleships Portsmouth's regenerated Dockyard is one of the city's finest achievements. Even if you just wander about and look at the boats, it's amazing. The stunning Mary Rose Museum is here, so is Nelson's Trafalgar battleship, HMS Victory, and, if you want a bit of 'crow's nest' action, the Spinnaker Tower awaits you.
####Best pubs in Portsmouth:
The Wellington, High Street A little slice of real ale history in the heart of Old Portsmouth, pubs don't come more traditional than The Wellington. Staff are lovely and the ale selection is second to none. www.wellingtonoldportsmouth.co.uk
The White Swan, Guildhall Walk Impressive 100-year-old Tudor-style building, as authentic inside and out as its great range of cask ales and beers. But the real draw here is the brewing done on site in huge silver vats of delicious alchemy – follows the traditions of the original Brickwood Brewery so a must for beer history buffs. www.brewhouseandkitchen.com
The Bridge Tavern, East Street One of Portsmouth's outstanding pubs for real ale and seaside atmosphere. The views are amazing and the crowd ranges from students to local old timers.
www.bridge-tavern-portsmouth.co.uk
The Leopold Tavern, Albert Road Portsmouth's best real ale pub with 10 cask ale pumps and more than enough bottles to keep anyone happy. Bright, fresh interior with squashy leather chairs to lounge about in and a big back garden if the sun's out. www.leopoldtavern.co.uk
Spice Island Inn, Bath Square One of the best beer gardens in the city and an iconic Portsmouth pub – not least because of its romantic name. Overlooking the harbour and great to get lost in for hours with the help of an incredible ale selection and excellent home cooking.
Bar 38, Boulevard Building Famous for its 2-4-1 Happy Hour and all-day cut price cocktails, Bar 38 is big and boisterous and has brilliant views. Great for groups and very welcoming to stag parties, especially if you make the effort to dress up. www.bar38.co.uk
Fin's Bar, Palmerston Road Southsea staple for everything from monster fry-ups to bespoke cocktails. Great place for kickstarting the evening of recharging your batteries. www.finsbar.co.uk
Yellow Kite Café Champagne Bar, Southsea Castle Could it be more exclusive than 'Friday nights, summer only'? This excellent idea is loved by everyone so pitch up early to bag a seat with a sunset view. Fantastic DJs and the location is incredible. www.yellowkite.org.uk
####Best clubs in Portsmouth:
Tiger Tiger, Gunwharf Quays Cocktail lounge come club, Tiger Tiger has some of Portsmouth's best nights out bar none. Fantastic cocktails, good music and a young, lively crowd. Monday and Thursday are student nights and the retro disco dancefloor is great any night. Big on events and themes, they do everything from cocktail making parties to club nights and comedy. www.tigertiger.co.uk/portsmouth/
The Barn, Milton Road Part pub, part live music club, this is where to hear raw, new, local talent before anyone else does. Atmosphere's easy going and it's a good place for a few beers and some music critic moments.
Liquid & Envy, Stanhope Road Classic clubbing right in the city centre. Big crowds, incredible DJs and fantastic light shows. Once a month, the 'Big Night Out' is always worth checking out. www.liquidclubs.com/portsmouth/
The Admiral Drake, Kingston Crescent Might be more pub than club but it's also home to some of the city's best live music events and a bit of a local noise for fun nights. www.theadmiraldrake.co.uk
Pop World, King Henry I Street Retro cocktails, classic shots and pure disco sounds are what makes Pop World one of Portsmouth's best known and best loved nights out. www.popworldportsmouth.co.uk
####Food: eat like a local:
A huge, international port and one of the most historic and visited cities in the UK, Portsmouth isn't short on variety when it comes to eating options. Tradition demands you try fish'n'chips because it's the seaside. Home-cooked pub grub and real ale are what true sailors put under their belts round these parts. And then there's everything else on the menu, from tapas to French rural, just take your pick.
Barnaby's (http://www.barnabysinsouthsea.co.uk) on Osborne Road offers classic English cooking with a Mediterranean twist. Informal, friendly and the food is superb. Great place for a party and only too happy to help.
Nicholson's Tapas Bar (http://www.nicholsonsrestaurant.co.uk) on Albert Road serves up tapas and wine and half-price Sangria on Tuesdays, Nicholson's is understandably loved locally. Always up for a party and a good place to start the night because it's surrounded by plenty of great bars.
El Nico (http://www.elnico.co.uk) on High Street is a Grade II-listed building overlooking the cathedral in Old Portsmouth. It's gorgeous, gracious and elegant and serves the city's best seafood.
For a relaxed, beachy atmosphere and amazing views of the Spinnaker Tower Abarbistro (http://www.abarbistro.co.uk) on White Hart Road is perfect for lunch or dinner. Fresh, locally caught fish is their speciality and the sunny terrace and private garden are lovely in summer.
Pie & Vinyl (http://www.pieandvinyl.co.uk) on Castle Road is a Southsea favourite serving up every imaginable variation on the traditional homemade British pie. Live music is an added attraction and it takes pride in its vegetarian, vegan and gluten-free options.
####Getting about:
Portsmouth's reputation is a lot bigger than its acreage so getting about on foot is just fine for most places.