Finally tying the knot and don't see the point unless your wedding ceremony is different to all the rest? Fed up with looking at frilly wedding favour boxes that will match well with your pre-selected gold colour waistcoat trim?
Organising a wedding can be stressful affair due to the exacting amounts of attention to detail that it requires. Everything – from finding the venue for the ceremony, cake tasting sessions, finding the appropriate outfit – is all essential to make the day special and to ensure your future wife finally has her fairy-tale wedding.
Truth be told, wedding planning is something of an adventure in itself – and you might just be the couple searching far and wide for something new. While the chances of your fiancé allowing you to have full control of the wedding arrangements are very slim, if you're one of the lucky ones, we've put together some ideas for more unusual places to say "I do."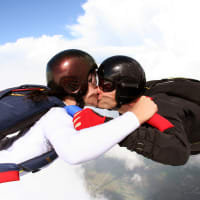 Imagining the adrenaline rush you would feel hurtling through the air, hand in hand with your loved one, as you exchange your vows while free-falling at 120 mph thousands of feet high up in the air.
Another option is for you to be registered by an airborne preacher on board prior jumping. Once the wedding vows are exchanged you will jump off the plane together to start your exciting life together as a husband and wife.
Others might choose to have a wedding taking place on the ground, followed by skydiving. Then again, you always have the option of landing on the ground surrounded by your friends and family. Really, there are quite a few options available here – depending on what you feel works for you.
Don't worry if you and your fiancée have never been skydiving before. You'll have the opportunity of jumping tandem alongside a certified instructor. There are quite a few skydiving places in the UK, Europe and the rest of the world, and the only thing limiting your creativity in this regard is your wallet.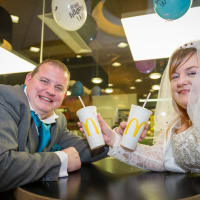 Okay, so we admit you'd need a very special relationship (not to mention some exceptional negotiating skills) to get this idea off the ground. This wedding idea sounds fun, affordable, low key and easy to organise, doesn't it? Still, we maintain, happy meals are not just for children and will fill the day with a lot of excitement.
Your fiancée will undoubtedly be resentful towards this idea to start with – but we're sure she might just come around to the idea. This venue – if it can really be called that – will make you both feel like children reliving the glory days again. Choosing to go for Happy Meal wedding means more fun, great burgers and less stress. You needn't worry about number of people attending and all the catering arrangements.
Either you'll go down in history as probably the greatest negotiator on the planet, or the whole idea of you being involved in any part of the wedding preparations will be swiftly dropped – ultimately leaving you to concentrate on organising the stag do. Win win!
The Top of Mount Everest Wedding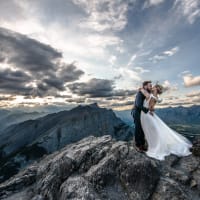 Are you a fan of hiking and a great lover of heights? If mountains are your thing then getting married at the top of Mount Everest would be an ideal option for you and your fiancée.
To do this you would both need to take part in a serious and difficult climb up to the top of tallest mountain in the world. Climbing Mount Everest will test your relationship and determination to make it to the top, together, through thick and thin. What better way to start a life together by taking on one of the greatest challenges known to man. Not only is this wedding idea manly and sporty, but would also be one of the most exciting things for the both of you that you will ever do.
Imagine the stunning wedding pictures and videos you will have to show your children. It could be just two of you going on this journey of a lifetime or you could make it into a larger event by inviting your friends to join.
The Oktoberfest Wedding in Germany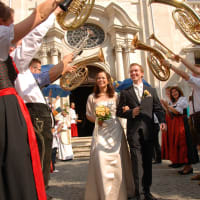 Imagine celebrating your special day together with all your best friends drinking German beer. Oktoberfest is the world's largest beer festival taking place annually in Munich, Germany. It is a 16-day festival taking place in late September with more than 6 million people attending it from all around the world.
It is free to attend the Oktoberfest – however, if you wanted to get seats booked you need to act fast and get your booking in before February. After this time there won't be any seats left (that's how well attended the festival is).
And while you're at it, why not invite your guests to wear traditional Bavarian outfits to make the experience even more genuine? We're convinced they'll love the whole authentically German experience.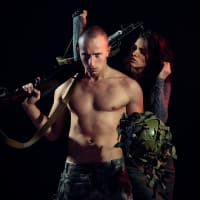 First, split your guest into two teams and play against each other. Who wouldn't relish the thought of taking out the father of the bride with a well-aimed shot to an area not protected by body armour? Do beware, however, that the bride's father may have organised ambush for the man soon to take his little princess from him.
The choice of the venue means that there won't be a need for wearing suits and formalwear. Instead, you could ask everyone to wear full combat dress and after the fun and games change to full military splendour 'Officer and a Gentleman' style.
Rent the whole place out for a few hours or the whole day and decorate it. Your guests will never forget this experience – we guarantee it.