The venue is booked, your suit is sorted, thestag weekendis in the diary and the honeymoon is beckoning. But before you get too distracted by the promise of beers by the pool and sex on the beach, there is one more thing you must do. It's time to get yourself some marital bling with men's wedding rings.
To take the pain out of the process, here is a guide to the materials you could consider for your wedding band. And it's not all about twinkle and sparkle, it's about making a sensible buying decision. So, what do you need to consider? Well, there's durability (it needs to last a lifetime), comfort (because you're going to be wearing it for a lifetime) and less obviously, ease of maintenance (because life's too short to polish a ring).
And try to be open to new possibilities. There is more to men's wedding rings than gold, platinum and silver. It's true; these precious materials hold secure positions in the metal royalty due to their intrinsic value, quality and prestigious reputation. But the newcomers are gaining ground. As you will see from the guide prices below, the more unusual materials are usually kinder on the wedding budget.
Talking of budgets, for every material we have provided a guide price for a standard, traditional 4mm band in a size N. All prices are based on quotes from WeddingRings-Direct.com in May 2018.
It's the king of the precious metals. Hard-wearing, expensive and reassuringly weighty. It makes a manly ring. Not only is its bright, white colour easy to match with watchstraps and other silver coloured jewellery, it's also one of the hardest metals. A platinum wedding ring will endure a lifetime of wear and tear. But you do have to pay for the privilege of adorning your left hand with platinum. So the question is can your budget take the splurge?
What's the damage? £470.33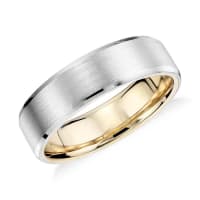 Gold (9, 18 and 22 carat)
The most blingtastic of the metals, traditional yellow gold is experiencing a fashion revival. After waning in popularity in the past decade due to a common preference for white metals, gold is fighting back with a vengeance. You have 9, 18 and 22 carat to choose from. What's the difference? 9 carat is the cheapest due to the lower content of pure gold (commonly around 37.5% with other less precious metals mixed in) and as a result is prone to tarnishing over time. 18 and 22 carat are more expensive due to a higher gold content. In general, gold rings can be less resistant to scratches than harder metals and they can wear thin over time.
What's the damage? From £162.36 for a 9 carat gold band to £350.14 for 22 carat.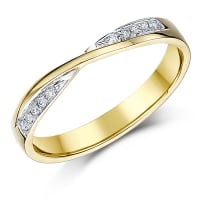 A high maintenance option. White gold is popular but you have to be prepared to put some work in over the life of the ring. It has the attractive, white colour of silver, the prestige of gold and a lower price tag than platinum. The flipside is that the rhodium coating that gives it the desirable colour wears off quite easily. This means regular trips to a jeweller for rhodium top ups.
What's the damage? £174.16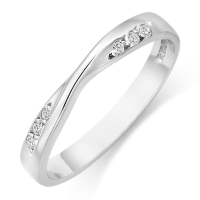 Well, you'll know what silver looks like and as a relatively inexpensive precious metal, it's a popular material for fashion jewellery. Silver is less popular for wedding rings as it scratches easily, has a tendency to wear thin and its sparkling looks will dull over time. Due to its reactivity with the acid in human sweat, expect a silver ring to get a darkened, tarnished appearance over the years. This can be removed, but again, if you buy a silver ring factor in regular trips to a jeweller if you want to maintain the shiny sparkle of its wedding day appearance.
What's the damage? £62.83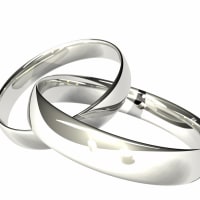 As a member of the platinum family, it shares many of the same properties as its prestigious relative. It's bright white, very hard and a fraction of the cost of platinum. The other main difference is that it's much lighter in weight. Depending on your personal taste this can be an advantage or a disadvantage. As a less common material for mens wedding rings you may have to shop around more to find a shop selling palladium designs.
What's the damage? £270.33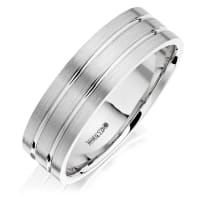 Extremely hard and more resistant to scratches than most metals, titanium has become a popular and affordable option for male wedding rings. It's greyer in colour than silver and so light you'll hardly know you're wearing it. With a matt finish it has a very contemporary feel and blends in well with the titanium watchstraps that are currently in vogue.
What's the damage? £101.27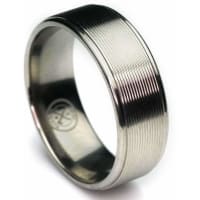 Yes, really. This is an option for the green-minded groom. Our growing environmental awareness means wood has emerged as a material for wedding rings. Either on its own or combined with other precious metals (such as gold or platinum) polished wood can be crafted into a striking wedding band. The downsides are it's far more vulnerable to damage and destruction than a metal ring, it has no intrinsic value and is more difficult to keep clean.
What's the damage? For a white gold ring with an oak inlay – £670.16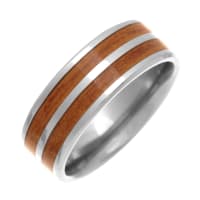 For the design-conscious groom, this metal offers an exciting new world of opportunity. Because when this metal is treated with heat, a black, ceramic-like, oxide coating forms, opening the flexibility to create black and silver coloured mens wedding rings with a distinct contemporary feel. And you don't have to put looks over practicality because as a member of the same family as titanium, it's strong, light and highly scratch-resistant.
What's the damage? £179.81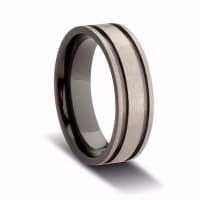 Yes, it's what light bulb filaments are made from but it can also be made into a very hard, durable and scratch-resistant ring. It's not quite as glamorous as the other metals, but it will retain the same appearance for years. However, be warned, tungsten is difficult to resize and in an emergency situation the only way to remove a tungsten ring hastily is to break it (or remove the whole finger!)
What's the damage? £90.39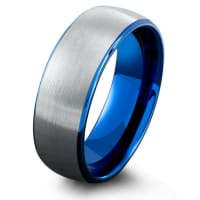 A flexible (quite literally) and versatile option. Haribo rings come in so many colour combinations that even the most flamboyant groom would find it hard to grumble. Cheap and sweet, rings made from Haribo jelly can be stretched to fit any finger. The downside – temptation. Eating your wedding ring could be the first step towards divorce!
What's the damage? Under £1.