The capital of Bulgaria is young, trendy and adventurous. This affordable party city is a must-see for those looking for a weekend with a stylish edge, underground nightlife and very cheap drinks.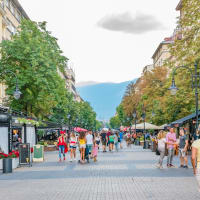 The city's main shopping hub is full of designer stores and trendy boutiques with a Mediterranean vibe. At night the party begins as the boulevard has the largest concentration of bars and clubs, making it the perfect place to start your evening.
Located just outside the city centre, the student town is a vibrant nightlife spot. Among the Soviet-style buildings are some of the city's largest clubs and a lively crowd looking to have a good time. You'll also find plenty of 24/7 restaurants offering Balkan, Turkish and western menus.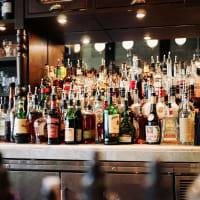 Ranked as one of the cheapest cities in Europe, you can get a pint of beer, glass of wine or mixed drink starting from £1.50 even in the nicer restaurants and bars.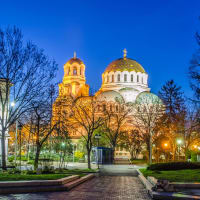 The capital's main parks attract both locals and tourists in huge numbers. Particularly in the summer months, it's a good place to relax while you recover from the night before with a cold beer or fresh coffee and listen to live music performers.
Sofia. Sofia. Sofia. So. Fee. Aaaaaaaah
####Everything you need for a wild weekend in the Jewel of the East
The capital of Bulgaria is an up-and-coming destination for the young, trendy and adventurous. This affordable party city is a must-see for those looking for a stag weekend with a stylish edge, underground nightlife and dirt cheap booze.
####Sofia at a glance:
• In the shadows of the breath-taking Mount Vitosha, Sofia is just a short distance from challenging ski runs, adventurous hiking trails and beautiful natural parks • Boasts a multitude of basement clubs, vibrant bars and impressive stadium venues, so there's something for every musical taste • Sofia regularly plays host to some of the world's biggest acts, including the likes of DJ Tiesto, Massive Attack and Aerosmith. • With beer from as little as 50p a pint and a reputation for some of Europe's hottest women, it's little wonder that Sofia is a top choice for stags
####Things not to miss:
First impressions:
Soak up the diversity of this eclectic city as you arrive in Sofia. Watch as fashionable women strut around, coffee in hand, browsing boutique after boutique, then take a look around the distinctly post-Soviet 'Studentski Grad' ('student town') where you will experience the more down-to-earth hedonism of the numerous clubs and bars.
####Local knowledge:
Vitosha Boulevard – Sofia's throbbing artery This kilometre-long pedestrianised street offers panoramic views of the mountain after which it was named. It consists of Sofia's main shopping hub and is filled with designer stores and trendy boutiques – emitting a noticeably Mediterranean vibe. Enjoy refreshment in the countless cafes and restaurants by day, or head back for beers as night falls and the trendy bars and clubs come to life.
Government Quarter – follow the yellow brick road Follow 'the yellow brick road' to the Government Quarter. The 'yellow bricks' make up the road around this historic area where you can view the imposing Presidential Palace and the majestic Aleksandar Nevsky Orthodox Cathedral (the largest of its kind outside of Russia). If you're into tourist sightseeing, pick up some of the authentic WW2 or communist merchandise as souvenirs in the extensive antique market. This area is also dotted with numerous parks should you wish to stop and take in some fresh air the morning after the night before.
Studentski Grad (Student Town) – Where the music never stops Located several kilometres outside of the centre, Studentski Grad is a buzzing town in its own right and is famed for its encouragement of self-indulgence and excess. It is the base of a large portion of the 100,000 students who study in Sofia, and home to a plethora of popular bars and nightclubs – many of them playing the famous Balkan 'turbo-folk' music and the local variant 'Chalga'. You'll also find plenty of 24/7 eateries offering Balkan, Turkish and western menus.
City centre – the perfect spot to soak up the atmosphere Sofia is a compact city which means you can easily explore it all on your thrill-seeking weekend. Fanning out around Vitosha Boulevard you will find many other roads awash with hidden city centre gems. Quirky craft shops abound on the cool tree-lined roads, nearby you will find a nice spot to sit and sip on strong espresso or feast on perhaps the best pizza you've ever had. Many of the bars and clubs here are underground with just a sign above the door opening into a subterranean grotto where beer, food, music and people mix freely. For an evening of rock music head to Rock'n'Rolla or Maze, or for an evening of chilled vibes head to The Apartment or Lorka.
NDK – the National Palace of Culture If you're looking for a way to spend your downtime in Sofia, head to the National Palace of Culture, an imposing building in the typical brutal Soviet style architecture. In the day, walk through the surrounding parks or head to the sky bar on the top floor to look over the Palace gardens. Clubs underneath the building come alive at night, with Blender and Mixtape the best bet for big bands and DJ nights.
The parks of Sofia – unwind amongst the greenery The capital's main parks attract both locals and tourists in huge numbers, especially in the summer months. The City Garden, adjacent to the stunning Ivan Vazov National Theatre, sees friends and strangers meet amongst the lush vegetation, to enjoy a cold beer or fresh coffee, listening to the varied live music performers day and night, or relaxing to the sound of the cascading park fountains.
####Sofia's best bars and clubs:
JJ Murphy's Irish Pub Sofia's original Irish Pub, JJ Murphy's has been a popular haunt for more than 10 years. With a large beer garden and many TV screens showing international football and rugby, it's a great basecamp to spend the afternoon before heading out to explore the real Bulgarian clubs, or an excellent place to grab a hearty full English to line your stomach for the day head. Serves a wide selection of European beers and whiskies, with friendly bar staff, fluent in English to make you feel right at home.
Rock'n'Rolla Rock Bar Located two minutes off Vitosha Boulevard, this basement bar will keep you coming back for more. Rock'n'Rolla is deceptively large, open most of the week with themed music nights (70s/80s/90s/classic rock/karaoke). Expect dancing on tables and endless shots, to the beat of your favourite rock classics.
Alehouse A brilliant novelty bar with a great twist 'a la Prague'. The Alehouse brews its own beer in this microbrewery come bar/restaurant – all you have to do is choose a table and pour your own glass, as each table comes with its own tap. The Alehouse also features delicious home cooked Bulgarian dishes. The wild boar in red wine sauce is a must try.
Biblioteka If you're seeking a higher end clubbing experience, the Biblioteka is well worth a look. Famed for its incredibly loud pop and dance music and a 70/30 ratio of girls to guys. This venue is located in the basement of the National Library (hence the name). Why not order a bottle of rum for your table and dance the night away with Sofia's most stylish?
Mixtape 5 Enjoy the biggest names in dance music at this awesome club venue, renowned for its showcase of international live DJs and live acts from Rudimental to Massive Attack. A two-room basement hotspot, Mixtape 5 is packed most weekends, with more than 1,000 people turning up to dance the night away. Don't be surprised if you don't re-emerge until after sunrise.
####Food: eat like a local:
You're never more than a couple of minutes from somewhere to eat in Sofia. Moussaka, stews and grilled meat tend to be the local dishes of choice and are often available for very affordable prices in the many cafeterias dotted around the city. Experience the local delicacies in a welcoming setting at Made in Home (Angel Kanchev), a family run restaurant where locally sourced organic veg, meat, fish and dairy are the stars. Soupateria (Slaveykov Square) is a great place to grab a light dish, 24-7, with the national favourite of tripe soup a must try. When evening comes, sit down and unwind in the elegant and contemporary surroundings of The Company (Slavianska Street), one of Sofia's most upmarket eateries, famed for its gourmet menu. Or if you fancy the comforting dishes of the UK and Ireland, head to JJ Murphy's (Karnigradska Street) where recognisable fare like shepherd's pie will provide the comfort of home.
####The best view of the city:
Take the weight off your feet as you climb aboard the cable car running up Mount Vitosha, approximately 20 minutes away via tram. Here you can enjoy the most spectacular views across the city from this snow-capped peak.
####Getting about:
Sofia is well served by trams, metros, buses and taxis – making any journey across the capital a simple and affordable affair. A typical cross-city journey is about 1ly (around 50p). A 10-minute taxi journey should never cost more than 5ly (£2.50). The city centre is also nice and compact, so travelling on foot is generally a good option too. Just remember to take care at crossings, as drivers do not automatically stop for pedestrians.
####Useful phrases:
Zdravey = Hello Dah = Yes Ne = No Molya = Please Dob-REH dosh-LEE = Welcome Blago-dah-RYAH = Thanks Nyamah zash-TOH = You're welcome Suzhe-LYAH-vam = I'm sorry
When in Sofia...
Sofia residents, as with other Bulgarians, shake their head to mean 'yes' and nod to mean 'no'. Got that? No, us neither.
####Staying safe:
Sofia is generally a safe destination, but as a city of two million people you should take the usual precautions. Pickpockets are also known to be a particular nuisance, so keep an eye on your valuables when you're in busy areas.
####Did you know?
Having been founded a hefty 7,000 years ago, Sofia is the second oldest city in Europe.