The Last Kilometerfollows three riders in the race and also El Diablo, the colourful spectator who plays as much a part as the competitors themselves. We've been following the guy who made it Paolo Casalis since we first heard about the film and now it's finally finished the man himself has given us first access to the trailer.
We spoke to Paolo about the film, the race and the Devil.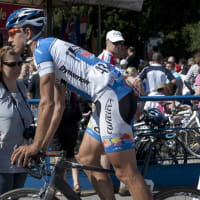 What's your background to film making?
I didn't study filmmaking, and in fact, on my identity card there's written "Architect"
In 2008 I made my 1st documentary movie, called "THE RUNNER"* with a friend, and it was a little success, so this led me into the world of cinema and documentary movies.
I've done a 2nd feature-length, called"Langhe Doc".
While the 1st was a sport movie, this 2nd dealt with environmental and social issues, but after a year I can say it has been successful too.
I'm both director and producer, in the sense that we've established our little movie production house in order to distribute my movies in the best way, in this difficult era for filmmaking
When did you come up with the idea for this film?
I have a great passion for cycling! When I was younger (now I'm 36, still younger than Davide Rebellin!) I did cycling until the elite category.

After, I've continued to watch cycling on tv.
So, when I finished my previous documentary, I told to myself "What could be the theme for my next movie??". And the answer was "Cycling, of course!"
About the movie, I had no thesis to express, I just wanted to give up a portrait of cycling.

So I chose the characters with this idea, and so we have:

–"the young"Ignazio Moser, son of cycling legend Francesco
–"the old"Davide Rebellin, expert rider with many victories and scandals in his palmares,
–"the suiveur", Journalist Gianni Mura, correspondent from Tour de France since Simpson's death on Mont Ventoux in 1967
–"the mad"EL Diablo, a German fan who represents all cycling fans and enthusiasts

How long did it take from idea to reality?
I started to film in January 2011, with BMC's presentation event in Dania, Spain

I finished just last month, with the end of race season for Ignazio Moser and Davide Rebellin

I wanted to film one entire race season.

What was the most difficult part of filming it?
Filming a cycling event is not easy at all!!

You should have 2 helicopters and 3 motorbikes to do the best!
This is why I really thank all the cycling fans (and they're many) and the TV Channels (i.s RAI, Bike Show TV) who gave me a lot of material.
By myself, the most difficult part was staying on a motorbike to film the legendary Paris-Roubaix!

Even on a "soft" motorbike, you can't imagine how hard and difficult the cobbles are!! That evening all by bones were broken, I can't even imagine doing it on bicycle!
How competitive is the cycling world?
It's not an easy world. Riders have to win, to win, to win

I've understood this since the beginning, filming Cadel Evans talking about the upcoming 2012 season (which, unfortunately for him, has been a little disaster)

All the staff, the journalists, the team want the riders to win, and it's not o easy, really.
Moreover, my characters have "additional pressure": Ignazio Moser is the young son on a champion, and people always expect the maximum from him; Daivde Rebellin still have to pay for his doping problems, he wants to demonstrate his value and so he continues fighting at the age of 41, but he has many difficulties even only to find a team or to participate to important races.
Just how mad is El Diablo?
El Diablo is a great person, a great character for a movie! I'm proud of this choice, he really represents the symbol of all cycling fans

I mean, he's mad, but not in the sense we give to this word.
He's just…mad for cycling!
In his life, he's a common person, with a lovely wife, a personal museum… but when the Giro or Tour arrive, he just can't resist!

Staying one entire day and night with him (without speaking, because he incredibly doesn't speak a word of english) waiting for the Giro's arrival, has been an explosion of joy and passion for this sport!
What makes the Paris Roubaix so special?
It is so unique, so "ancient".

Doing it, even only by motorbike, I"ve personally understood this myth.
it's something really difficult to try and finish, it's not a common race.

It's not for everyone, 'cause staying on the cobbles at 45 km can be very, very dangerous

Cobbles sections are like mountains: the peloton came out from each of them and it was exploded in dozens of parts.

It's hard, it's really hard, and surely only great riders can win this race.
What makes them want to go through all the pain?
I've tried to face this question in the 1st movie's chapter:TO WIN

I think this chapter title is the main answer to your question.
Winning (or even only dreaming of victory) gives to Ignazio Moser, to Davide Rebellin, to every pro- cyclist, a unique sensation, It fills them with strength and passion for this sport.
What's the lasting impression of the cycling world
I agree with journalist Gianni Mura, who says that"pic and legend will never abandon cycling".

We're in a difficult moment for this sport (see Armstrong and all the stuff about doping) but I think cycling is something greater than these chronicles: cycling is a passion Cycling is (ad El Diablo says)"the most un-useful and at the same time the most important thing in the world"
Great definition, Didi