One of Europe's most fascinating cities, with a ton of history and culture. All day long there is a strong party vibe, with street performers, bars and great shops across different districts, so be prepared for late nights, good music and lively crowds.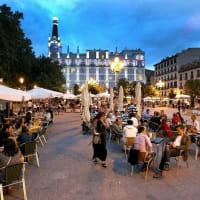 One of the busiest areas in Madrid, this area keeps going until the early morning hours with a mix of late night entertainment. The atmosphere is a combination of ages and styles and a great option if you want to stay in one area to enjoy the nightlife.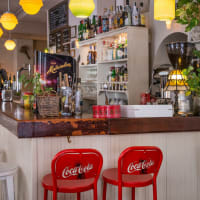 Home to the city's alternative crowd and a perfect blend of modern and traditional. This district is a popular nightlife area full of bars, live music venues and restaurants as well as second-hand stores, bookshops and cafes to explore during the day.
Busy, inclusive open late, Chueca is Madrid's LGBT neighbourhood. As wild as you'd expect, this area is packed with dozens of hip clubs and inexpensive restaurants. The Gay Pride parties, which take place in late June or early July, are famous worldwide.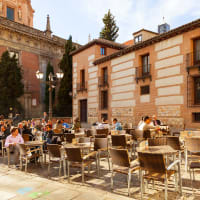 As authentic as it gets, this area is loved for its tapas bars, beer on tap rooftop terraces and restaurants attract hundreds of locals and visitors and it's close to most major must-sees.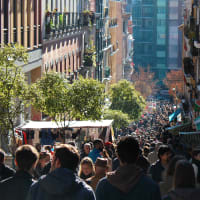 Madrid is home to one of the oldest and most famous European flea markets. At El Rastro, you'll find everything from rare books to vintage clothes. If that's not your thing, visit Calle Serrano, Madrid's biggest shopping street full of designer and high-end shops.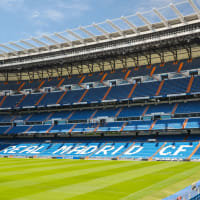 Don't miss out on your chance to catch a game or take a tour of the Bernabeu stadium, home to Real Madrid FC, while you're in the city.
Your insider's guide to a weekend in Madrid
You can 'do' Madrid about a million different ways. Be a tourist and see within seconds why visitors do that thing here – the art collections alone are astonishing. Dig into different barrios and pick and choose to suit your mood, from relentless party to Madrileño bourgeois to well-heeled boho or down and dirty. Go completely local at Las Ventas bullring or a Real Madrid home match. Eat anywhere – delicious is the standard. Madrid is one of Europe's most fascinating and diverse cities, impossible to compare to any other and that suits it just fine.
####Madrid at a glance:
Madrileños (the name for Madrid locals) are nicknamed 'el gatos' because they're out playing till all hours
Take a tour of the Bernabéu and get up close to Real Madrid's record-breaking 10 European Cups and glittering trophy room
Madrid is divided into 21 wildly different districts, known as barrios
Amazing city to visit at Christmas for traditional markets, fiesta, the vast steel and glass Christmas tree and much Spanish excitement
Best selfie in the city is in front of the famous Plaza de Castilla leaning towers
####Local knowledge:
El Rastro This is one of the oldest and most famous European flea markets and a Madrid must. It's right in the centre of Madrid and open from 9am-3pm on Sundays and Bank Holidays. Everything from comic books to movie memorabilia, piles of gadgets and other curious stuff. Go about 10.30am, browse and then do lunch in one of the local cafés.
Real Madrid No introduction needed. See Spain's legendary team play on home ground at Santiago Bernabéu if you can, or at least visit the stadium and take the museum tour.
Puerta del Sol Feeling a bit raggedy round the edges? Soak up a late night's aftermath with a magnificent deep fried calamari sandwich. The stuff of legend and best bought and eaten in Puerta del Sol.
Las Ventas The most famous bullring in the world and the ultimate goal of every young matador. If you don't want to see blood, take a tour instead.
Tableos Madrid is the capital of Flamenco and if you want to see the real thing (not the tourist traps) find an authentic Tableos and give in to the raw, searing emotion – definitely not just frilly frocks and castanets.
Buen Retiro The city's big, beautiful park is a summer favourite for lazy afternoons. Pick up Madrid market food at legendary Mercado San Anton near Plaza Mayor and make like a true Madrileño for an afternoon.
Calle Serrano - beautiful people and serious money Madrid's biggest, brightest and glossiest shopping street and the place to see beautiful people spending serious money.
Plaza Santa Ana – at the heart of the big attractions Don't want to go total tourist but want to see some of the famous stuff? Plaza Santa Ana puts you pretty much at the heart of all the big-ticket attractions like El Prado, Reina Sofia, the Thyssen and the Palace. And if you need a culture-break, dozens of cafés are happy to help.
Lavapiés – the up-and-coming 'alternative' quarter Close to the enormous El Rastro flea market, Lavapiés used to be a bit downtrodden. But these days Madrid's ancient Moorish quarter is up and coming for alternative, artistic, ethnic and something to do 24/7 – it's also a lot cheaper than other barrios and not too touristy.
La Latina – a lively choice for young partygoers Busy, lively and good value, La Latina's brilliant tapas bars are a big draw for young Madrileño and it's close (but not too close) to most major must-sees.
Chueca – the colourful LGBT neighbourhood Madrid's gay neighbourhood is as colourful and wild as you'd expect. Everything's open late, busy and inclusive. Most of the clubs and bars worth doing are in this brightest of barrios.
Malasaña - for bohemian visitors with taste High taste levels, contemporary art and design and a fast-rising bohemian barrio, Malasaña is relaxed, cultured and not big on tourists.
####Best pubs in Mardid:
Fábrica Maravillas They make their own beer here and that taste of Madrid is pretty irresistible to the local crowds that swarm here constantly. Bit different from your average pub but plenty cool and nicely local. www.fabricamaravillas.com
La Lupe de Huertas Madrid's best lads' nights start at La Lupe. Live acts, plenty of laughs, loads of beer and a great party atmosphere. www.lalupedehuertas.com
Oldenburg Belgians do beer like breathing and this is where to find it at its best in Madrid. The selection's amazing and there are some real rare finds – not the sweet tourist stuff you know and don't love. Gets busy and brings in a big, mixed crowd so it's a good all-rounder to start the night.
El Tigre Free tapas with your drink used to be standard everywhere in Spain, now it's only Granada that upholds the fine tradition. The exception is El Tigre on Calle de las Infantas, Madrid. The beer's cheaper than usual, the staff are very friendly and the food is free and fantastic, what more could you want really?
Dubliners When the tapas, sangria and flamenco all get too much and what you really need is a hint of the mother tongue and a pint of stout, Dubliners is happy to oblige. It's got all the usual Irish trimmings and is plenty popular with people who don't speak a word of Spanish. www.irishpubdubliners.com
James Joyce Irish Pub It's an Irish pub no doubt and piles the craic, shamrock and leprechaun tradition high, but all is not as it seems. The local rugby club meet here so it's as much Madrid as it is Mayo and all the better for it. www.jamesjoycemadrid.com
####Best local bars in Madrid:
Fatigas del Querer They say if you want to make like a local, drink like a local. In Madrid that means Las Fatigas del Querer, loads of authentic tapas and the challenge of one of the city's best loved wine cellars.
Il Morto Che Parla The name might be Italian but the melodrama of 'The Dead Man Speaks' couldn't be more dark and sinister Madrid. Fortunately, good music and copious cocktails aren't even slightly doom-laden and you get free popcorn. Good for pre-clubbing drinks.
Cardamomo You can't visit Madrid and not give flamenco a go at least once. The city's stuffed with touristy type places but to see the real talent you have to head for Cardamomo. Traditional flamenco is amazing and if you can resist joining in after a few drinks you have a will of iron. Great girls' night out. www.cardamomo.es
Los Gatos About as traditional as it gets and all the better for it. Fantastic choice of beers, Vermouth straight from the barrel is the house speciality and there's plentiful tapas – naturally.
Matador A local music jukebox and some of the city's friendliest service make Matador a low-key gem. www.clubmatador.com
####Best clubs in Madrid:
Teatro Joy Eslava You can't say you've clubbed in Madrid until you've queued and if you have to queue anywhere it's here. It's the city's oldest club and attracts a huge, mixed crowd with one thing in common: they love to dance. www.joy-eslava.com
Kapital Purpose-built for picky clubbers this seven storey temple to every type of sound and move is hard to fault. Just choose a floor and go for it – then choose another… www.grupo-kapital.com
Café Central One of the city's best known and best loved jazz clubs, most of the contemporary greats have had gigs here. You might not be able to dance but the atmosphere is inimitable and if you want to go a bit old-school for a night this is the place. www.cafecentralmadrid.com
Vanila Get by the bouncers here and you've just gained entry into Madrid society's club of choice. The dress-code is gorgeous, champagne is everyone's favourite drink and the music comes courtesy of top local and international DJs – worth dressing up for. www.vanila118.com
Moma 56 If you're looking for somewhere to really party at 3am, Moma 56 has got it covered. The crowd is young, beautiful and glamorous but the atmosphere is plenty wild and just gets better as the night goes on. www.momafiftysix.com
####Food: eat like a local:
Madrid has plenty of Michelin stars but 'local' here really has to be the most sublime of all snacking – tapas. Best sandwiches are the deep-fried calamari legends round Plaza Mayor. And breakfast doesn't count in Madrid unless it involves churros (like doughnuts only much, much better) and hot chocolate.
Cerveceria La Surena Closest Madrid gets to a chain, this is the place for piles of tapas, low prices, gallons of Sangria and beer by the bucket (literally).
Café del Circulo de Bella Artes Another Madrid tradition is family Sunday lunch. The most gloriously glamorous and fabulous spot to see the chatty Madrileños en-masse, after mass is Café del Circulo de Bella Artes. This is a legend and if you miss lunch on Sunday, go for a drink at the magnificent bar just to see the place.
Casa Labra With it's own unique history – the Spanish Socialist Party was founded here and it was a favourite haunt of Lorca – Casa Labra is earthy, local and loves to cook cod with surprisingly delicious results. www.casalabra.es
Sobrino de Botin Billed as the world's oldest restaurant so who could resist? Close to the Plaza Mayor this Madrid classic specialises in traditional dishes like suckling pig (it's so tender they cut it with a plate) and Castilian lamb. www.botin.es
La Casatfiore Can't resist quirky with a touch of irony? La Casatfiore is perfect. Opera is the soundtrack, the food is classic Spanish (no twists on tradition here) and it all works amazingly. www.lacastafiore.net
####Best time to visit:
Madrid can be a bit sweltering in summer but that doesn't stop it being the busiest time of year. Good for sales, parks and gardens, crowded clubs and eating outside. The Veranos de la Villa all-summer festival is great for live gigs all over the city. Winter weather is cold, but Madrileños just wrap up warm and get on with it. Christmas is colourful, crowded and a great experience.
####Best view of the city:
Take the famous Teleferico Madrid (cable car) from Paseo Rosales to Casa de Camp Park for breathtaking aerial views of the city's parks and legendary plaza.
####Getting about:
Madrid's metro is one of Europe's easiest to work out and takes you just about everywhere in the city – the local bus services pick up where the metro leaves off. Walking is well worth a little effort and most of the barrios are easy to get around on foot. But if you get too tired there are plenty of taxis, unless it's raining.
####Staying safe:
One of Europe's safest cities, Madrid's very proud of its low crime rate. But pickpocketing does happen, so take care in crowds and busy tourist areas.
####Useful phrases:
Hello = hola Goodbye = adios What time is it? = a que hora es? How are you? = como estas? Cheers! = salud!