The greatest new game you'll play this year!
What do you get when you combine the nation's favourite sport with the nation's favourite pub sport? Football Darts, that's what.
The concept is pretty simple. Swap arrows for Velcro covered footballs and take aim at a giant inflatable dartboard.And when we say giant, we mean it – this thing is more than 20ft high, or 200 times bigger than a regular dartboard.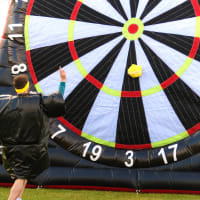 Put your sharpshooting footy skills to the test as you ping shots towards the inflatable board, attempting to stick the Velcro balls to the highest score possible. There's no shortage of games that can be played on here too, with relay races, round the clock and closest to the bull contests thrown in to keep things interesting.
Want to spice things up even more? Why not throw in some drinking challenges as you play? We're thinking dartboard around the world…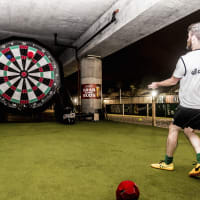 if football darts has piqued your interest...
Here are 4 more unique twists on the beautiful game which are great for stag do ideas!

Zorb Football
Nothing quite like attempting to play the beautiful game while encased in a giant inflatable. Zorb football has it all, whether you play 5 a side or 10 aside, you'll be laughing your way round the pitch. Fouling is somewhat actively encouraged.

Footgolf
Combining our favourite sport with an element of dapper sophistication, it's the absurd and utterly addictive Footgolf. Played on a golf course, you're aim is to kick, pass, chip your football from off the tee and into the football sized pin. And whether you fancy yourself as a Dustin Johnson off the tee, or the finesse of Phil Mickelson round the greens, this hybrid sport has plenty to offer.

Play with a Legend
Ever wanted to test your football tekkers against your old childhood footballing heroes? Yep, there's now a game for that. Storm up the pitch with Darren Anderton waiting in the wings, before offering up a one-two to Perry Groves and squaring it straight into the top left corner. This doesn't have to be a dream. With over 50 legends to play with and a number of venues up and down the country, you'll be sure to find your ideal game.

Giant Table Football
We've all enjoyed a good game of table football in the past, but this time, you get to become one of the players. Strap yourself in, as you and your mates hilariously move across the pitch. If the idea of running the full length of a football pitch leaves you exhausted then this activity could be for you.