##Greetings Firstly, congratulations on getting married to the woman of your dreams, you lucky devil.

Whether you're a groom who wants to get fully involved or just interested in certain aspects, this guide will give you all the essentials, so you can go about enjoying a brilliant day for you and your bride.

Now, get yourself a beer and settle down with us as we take you through everything you need to know.

Your duties and responsibilities
12 months before
• Work out a wedding budget
• Draw up a rough guestlist
• Book wedding & reception venues, entertainment and caterers
• Name your best man and ushers

6 months before
• Book the wedding car
• Book your photographer and videographer
• Buy wedding rings/suits
• Book honeymoon

1 month before
• Buy presents for the bride, best man and ushers, bridesmaids and parents
• Buy gift for your bride
• Write groom speech
• Wear in your wedding shoes

One day before
• Give the best man a list of his duties
• Give the best man any cash to pay suppliers

On the day
• Say 'I do' and 'I will' in all the right places
• Read out the groom speech and then party

Been There, Done That: Quotes from Real Grooms
Craig Freeman
Get involved. "When it comes to the wedding speech, just be nice. Don't try to be too clever or funny. Remember to thank everyone you need to! My general wedding tip as a groom is to be involved. Show an interest, have ideas, contribute. You'll get a lot from it and it will mean a lot to your partner."
Dan Ash
Speech. "I would recommend keeping the speech personal and simple. Lots of people will be putting you under pressure to produce the best speech ever but this is highly unlikely and adds a lot of stress. So my advice is make it personal and not too long as you don't want to have to memorise a lot."
Alex Riehl
Relationship. "My tip is don't let marriage change the fundamentals of what makes your relationship great, see it as an affirmation of them. A lot of people say they have to 'get used' to being married or things change - unless you are living with each other for the first time, there isn't much to 'get used' to. Just carry on doing the same things that keep you laughing and excited to be together."
Lester Getherings
Style. "Grooms, you don't have to keep to a traditional style of wedding attire. Think creatively and let your individuality shine through."
Tom Meadowcroft
Best Man. "Trust your best man - with the speech, with his duties, with the stag do. If you don't think you can trust him to not embarrass you too much in front of all your guests, or not get too drunk when he has stuff to do, then you've picked the wrong man. Of course he will try and make your life uncomfortable on the stag do and in the speech, but if he is your best friend, then he'll do it in a way you feel comfortable."
How to Write the Groom Speech
The groom's speech is an amazing opportunity to thank and acknowledge important people in both your lives, but the knack to pulling it off is to avoid a procession of thanks. So, how do you achieve this seemingly tricky feat? Easy: humour.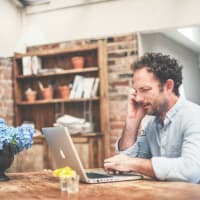 Every speech in the world works far better for having some well-placed, well-judged funnies in there and the groom speech is no different. They want to be entertained and there's nothing entertaining about 20 minutes of saying thank you.
Who To Include:
Now you've got your comedy hat on, the next step is to think about who needs to be included: parents, bridesmaids, best man, ushers, anyone who's made a great effort to be with you, and, of course, your bride.
What to Include:
Strip out all the detail - you're looking for a light, funny and warm overview of people and relationships, we don't want to hear tiny details about each of your friendships with the ushers, or the proposal recounted in real time.
Timing:
You shouldn't be standing for longer than 10 minutes, after this point nobody gives a hoot what you're saying – they're checking out the final scores and posting selfies. That means you should have your speech condensed into about 1,300 words, which should take around 7 minutes to say slowly, with pauses for laughter.
Keep it short, punchy and funny and you have all the ingredients for complete success.
How to Survive the Stag Do
This should be the best weekend of your life. However, your opponent in this scenario is the best man. He wants to give you – and the other stags – a night to remember and, most likely, a night that involves ritual humiliation. To ensure the mutual satisfaction of both parties, some prior thought and cooperation is necessary.
Have "The Chat"
Any conversation named "the chat" is never easy but it's a good idea to let the best man know what your boundaries are and to tell him what you'd like to do.
Stagger it
An essential (and, these days, ubiquitous) precaution is to stagger the date of the stag do to a comfortable distance before the wedding – ideally enough time for any permeant marker moustaches to work their way off the face.
Drinking tactics
Stag nights can be like an alcoholic assault course, a marathon of pints and strange, flaming drinks that account for lost memories and missing eyebrows the following morning. So pace yourself, no one wants to explain to the fiancé that you were found asleep in a club wearing nothing but a tutu.
What, a picture?
Given that employers, bank managers and even your gran might be able to negotiate to your Facebook page, it may be a good idea to impose a no cameras rule on the proceedings as a safety net. Unless, that is, you don't mind people seeing you naked, handcuffed to a lamppost.
Go classy
If you're worried about being covered in whipped cream while dressed in a nurse's uniform, suggest to the best man to have the stag night in an upmarket club or pub where such activities are likely to see you given the boot. And don't forget, you can always skip the drinkathon and have an adventure stag weekend instead
Walking into a tailor's can be a daunting experience. You make your way through the entry only to be confronted by intimidating mannequins, interrogated with hundreds of questions that you don't understand and a truckload of different clothes of various colours, styles and fabrics. But never fear, this guide will tell you everything you need to know.
Style
If you are tall and broad then something like a double-breasted suit could be a great idea. It has real presence and on a large bloke doesn't overpower them with fabric. On the other hand, a slimmer man may want to opt for a single-breasted jacket with slimmer lapels and only a couple of buttons. This has the effect of drawing the eye upwards, giving the impression of height. A result for those of us who can feel the vertical challenge.
Colours
There's nothing wrong with a classic black, grey or navy suit. They're the most versatile colours and can be worn with almost anything for years to come. But if you do look to choose something different a simple rule is this: do as the celebrities do. If you have grey hair, look to George Clooney. Shorter than your average bloke? Have a look at Danny Devito. These men won't hit the red carpet without looking dapper as hell, so take a leaf out of their books.
Fabric
Most suits are usually a blend of wool and silk, but think about the time of year that you're getting married. You don't want a heavy woollen suit in the middle of summer, opt for a bit of linen instead as it keeps you much cooler in the heat.
Shoes
They say a woman can judge a man by his shoes. So it's imperative that you don't wear your scuffed and weathered work shoes as it will ruin your look. Keep your shoe style and colours simple. Black suit? Black shoes. Grey or navy suit? Black or brown. Try to wear them in a little bit before the wedding, so you don't get blisters shimmying round the dancefloor.
You've been preparing and planning the honeymoon for ages and now it has finally arrived. We know it will be incredible, but here are a couple of ideas to go that extra mile for your beloved bride.
Plan for both of you
Decide what you're expecting and remember to plan the ideal honeymoon for the both of you rather than just yours or hers. You won't want to disappoint her by getting this wrong so do your research into what she thinks is romantic.
Call the Experts
After a potentially stressful year of wedding planning, why not let someone else take the strain of those nitty-gritty details such as flight transfer and hotels? You're already a very busy man… having everything taken out of your hands for a small fee is a big weight off the mind.
Add a touch of luxury
For a real indulgent touch on longer trips, take your flight from standard to first class - there's nothing like turning up at the airport expecting to sit in a cramped seat for 10 hours only to be greeted by champagne and a private reclining armchair.