When it comes to wedding speeches most men would rather have panthers gnaw off their thumbs than think about how they're going to cope with writing and delivering heartfelt and engaging wedding speeches. That's why we've put together a number of resources to help the Best Man, Groom and Father of the Bride get their speeches in order.
In this blog post we will cover:

Who can give you the best professional advice.
How you will write your speech.
Getting the confidence to give your wedding speech.

Professional Wedding Speechwriters
Worried about writing a Best Man speech, Groom Speech or Father of the Bride speech? Can't think how to start? Don't have the time? Written one but it's rubbish? Have a browse of our list of professional speechwriters:

Adrian Simpson
"I am a BBC Top Gear and television scriptwriter with over 20 years of professional writing experience. My work has been broadcast on every major terrestrial and satellite channel throughout the UK and beyond. I specialise in writing wedding, private and corporate speeches."

"Every person and every occasion is different. Whether you want to chat over the phone or get rough ideas over to me by email, I can create a speech that has just the right balance between fun, sincerity and emotion."

Blakewill and Harris
"We're James Harris and Marc Blakewill – two very experienced, BAFTA-nominated comedy writers who regularly write for Russell Howard's Good News, and count Horrible Histories and The Weakest Link amongst our many other TV and radio credits. We also write gags and speeches for an array of corporate clients, comedians and impending wedding speakers like yourself."

Craig Morris
"I'm a professional writer with various clients including Staggered and Burn The Toast. I've worked on over fifty wedding speeches for best men, fathers of the bride and grooms. I offer a personalised service, taking great care to get every speech right for each customer."
"I'll help you turn your vague ideas and half-remembered anecdotes into a great speech full of humour, warmth and wisdom."

Darren Ruddell
"I am an award-winning stand-up comedian and comedy writer currently performing on the UK comedy circuit. For the past four years, I have written a large number of speeches for private clients."
I guarantee that no matter how little public speaking experience a client has, they will be relaxed and confident that their speech is unique, well structured, and above all funny."

Seamus Hilley
"I'm a vastly experienced comedy writer with a background in stand-up. I've had my work produced by Channel 4 and have co-written critically acclaimed shows at the Edinburgh Festival. I also have extensive experience of writing speeches for private and corporate clients."

Tony Cowards
Tony is a well respected stand-up comedian with sharp one-liners and hilarious stories. He also writes for various BBC radio shows and is a regular contributor to Viz magazine. He spends more time than is strictly healthy trying out new jokes on Twitter.
"The best joke writer around" – GQ Magazine
Tony can offer you a bespoke speechwriting service tailored to your individual requirements or he can "script edit" a speech which you've already written but which needs "gagging up".
Guide: How To Write Your Wedding Speech
Want to go it alone? We promise* that by the time you've finished reading this article, you'll know how to write your wedding speech.

Grab a brew, take a deep breath, and get some pen and paper – because you're in exactly the right place to get started.
Calm? Composed? Then let's start at the beginning…
When it comes to writing wedding speeches (or indeed writing anything) these are the best words of advice you'll ever get (from James Thurber apparently):

The first draft is just about finishing it. Don't worry if there are mistakes, there will be, but you'll correct them later. The key is to get a rough draft done.

It's amazing but the age-old question of wedding speech nerves disappear when you're sitting on a great speech that you're happy with and all of that starts by simply writing the thing in rough. After that, you practice it, run it past people and re-write it until it's perfect. Then you're confident and you even enjoy delivering it.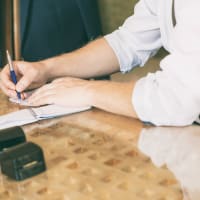 Some Basic Pointers
Your speech should ideally last between five and eight minutes. Even if you're a brilliant speaker 15 mins is the absolute maximum!
Before the big day have a meeting with all the speakers to discuss who's saying what and who is introducing you.
Practice with the mics you'll use and rehearse projecting your voice into the room. It really helps to see the room you'll be speaking in, so you can imagine yourself there when you're practising.
See if the venue has someone who will act as a Master of Ceremonies, or if there will be an MC. If not decide who will introduce the other speakers – it's often the best man.
Classic wedding speech formats
Let's look at the classic format for each of the speeches, in the order they occur in. Ultimately, you can take these and flesh out the points and you'll have a perfectly decent speech (told you this article was good).

Father of the Bride speech
Welcome guests and thank them for coming Welcome new son-in-law and his parents Talk about your daughter and say how you feel Toast bride and groom

Groom speech
Thank father of the bride for his speech Thank all relevant people (consult bride to avoid missing people). These are generally, new Inlaws (possibly for paying), your Parents, Guests for attending and for presents, and people who have helped with the wedding preparations (venue, florists, etc) The essential thing is to talk honestly about how you feel about your wife, your relationship and your future Toast Bridesmaids (optional) Pre-empt best man speech

Best Man speech
Introduce yourself, thank previous speakers Talk about the Groom (and the Bride if you know her) – do this humorously but not destructively Give an outsiders perspective on the couple's relationship Toast the Bride and Groom Possibly read correspondence or hand back over to the MC
So what content do you put in your speech?
You might think that your mind is completely blank but once you've got to grips with the wedding speech etiquette, you'll at least have a rough idea of your content. Then it's a case of doing some research and starting to shape the material. The more people you can get to help with your speech the better it will be.
If you're a Father of the Bride, get your wife and other children involved. You could even ask the Bride what she'd like you to say (you don't have to follow her advice obviously)

If you're a groom speak to your fiancé about who needs to be thanked, ask her mates what sort of things they'd mention – we've even asked brides what they want to hear in your Groom's speech

As the best man, you will probably have two or three good stories that demonstrate what sort of bloke the groom is. But once you speak to other people connected to him you could end up with 10 or 11 good stories to choose from.

Good questions to ask people for best man's speech:
What classic stories can you tell me about him?
How would you sum up the groom?
Has he ever said anything particularly funny?
What is he well-known for?
What makes him angry?
Do they have any funny photos or material that they could send to you connected to the groom?

Speak to the Bride!
You should find out: Where they met,
How they became a couple,
What sort of things they enjoy doing (without getting graphical!)
How the groom proposed – whether he made a mess of it or if he was sweet about it.

Once you've done your research, what is next?

Express your thoughts!
This is the point in the day when you get to express your thoughts and feelings to everyone there– say something from the heart that people will remember.
It might sound obvious but often we often get caught up in what we're supposed to say and forget that this is their chance to tell their best friend, wife, or daughter what they think of them.
This honest statement of how you feel is the sort of thing that can make for the most effective toasts and it's what people will remember.

Once you've got your material
You should then consider the format of the speech. You might want to do something very traditional (introduction, few stories, toast),or you could want to do something more quirky.
A word of warning. If you're going quirky – plan it properly. If you have a lot of photos and videos that you want to use then you need to prepare well in advance - check the venue has the right equipment.
Once you have your material the next step is to sift through it and select the very best stories, the finest
How to present your speech
When writing your speech use a 12 point Arial font, which is formatted to have 1.5 line spacing as this is one of the easiest fonts to read when stood up.

If you do this each page when read out should last approximately one and a half minutes.

If you'd rather write your speech onto cue cards then that's fine but it's better to have a copy of the speech with you written in full on the day just in case your mind goes blank.

Don't forget, your sweat-stained, note-covered speech makes a really nice keepsake/present. If you're the best man or father of the bride why not offer to frame all the speeches and, presto, you've got a simple, but incredibly thoughtful gift.

Don't forget – the classic mistake people make is to try and write the perfect speech at the beginning, don't. Just complete it and then refine it. It's so much easier to re-write something than it is to write it. Good luck.
Get Confidence For Your Wedding Speech

Giving a wedding speech
It has to be one of the most nerve-wracking things that blokes are forced to do at weddings. You've got to get to your feet in front of hundreds of people, deal with your emotions and be hilarious, it's a bit of a tall order.