Albufeira has long been one of Portugal's most popular resorts and it's easy to see why. Located in southern Portugal, this coastal city was once a scenic fishing village. Home to beautiful sandy beaches, an array of bars and restaurants as well as an ultra-modern marina, nowadays tourists flock to the area to enjoy this sunny gem.
Popular with groups of all ages, not only does it boast a beautiful old town with cobbled streets, but also fantastic nightlife so perfect for astag party. With heaps of activities to do, the area is renowned for its water parks but if you're looking for something a little more relaxing, there are great transport links to stunning beaches such as Praia Da Gale.

Beautiful Beaches
As popular as it is for it's party atmosphere, Albufeira is also favoured because of its glorious beaches and incredible weather. Home to one of the largest beaches in the central region, the crystal clear waters and fresh golden sands are the perfect place to recover from a big night. Some of the beaches to look out for include Praia do Peneco, Praia da Oura and Praia da Falésia. Head to toe with sun-loungers, there's loads of activities you can do including jet-skiing and water-skiing.

The Marina
Fast becoming the destination of choice, Albufeira Marina not only boasts all the qualities required for a great time but is also easily accessible. The perfect combination of old town charm and modern luxury, you'll find lots of shops, bars and apartments alongside impressive yachts and speedboats. Plus, there's plenty of sea excursions and activities to choose from.

Local Activities
Traditionally regarded as a beach holiday destination, nowadays Albufeira is becoming known for the amount of amazing things to do and see. A variety of boat trips can be arranged for those looking for something relaxing and thrill seekers will be happy to choose from speed boat tours and water-based activities. There's alsoparty boatswith unlimited drinks for the party-goers and multiple theme parks for the big-kids.

Water Parks
With 3 popularwater parksclose to the centre, you don't need to worry about filling your days. Slide and Splash, Aqualand and Aquashow are suitable for all ages and boast near vertical slides, wave pools, gravity-defying flumes and of course sun loungers for those who just want to catch some rays.
Nights out in Albufeira are not easy to forget - no matter how much drink you consume. With tons of places to drink and even more places to dance, you canbar-crawlyour way through the night. Boasting a range of bars from tacky and themed to cool and chic, endless happy hour deals and friendly locals also add to the great experience.

The Old Town
A night in the Old Town is ideal for those looking to be entertained with live music and gorgeous sunset views. A picturesque central square offers cool cocktail bars such as Sir Harry's Bar and Merlin's Bar, and if you're heading here you certainly won't want to forget your camera.

Sports pubs
Having welcomed British tourists for decades, Albufeira now has its fair shares of pubs and Irish bars. Open until late around the area, you can expect traditional pub grub, TVs showing every kind of sporting event, endless bar games and of course, great drink deals.
When it comes to food, Albufeira has something for every taste and budget. Jam-packed with a variety of cuisines, whether you're looking to grab a quick bite or prefer something special, with over 500 places to choose from, you really will be spoilt for choice. As well as all-day English breakfasts, curries and lots of chips, Albufeira is also home to a number of authentic Portuguese dining options. Plus, food over here tends to be cheaper than in the UK.

Local Cuisine
Portuguese food traditionally consists of chicken, rice, bread and potatoes. With endless authentic restaurants, including the massively popular II Cappuccino and Restaurante Jompra, finding the true taste of Portugal won't be hard. Plus if someone in the group is being fussy, remind them that Nandos is Portuguese. They'll soon be running through the door.

Cheap eats
When people hear the word 'Portugal' mentioned, many often think of 5-star golf resorts with expensive food. However, Albufeira is home to loads of affordable restaurants. There's some great pizzas to be found atLa Pizza Factory, Japanese sushi at Happy Sumo and high quality steak atLoure e Salsa.
There's a whole host of places to stay in Albufeira, from luxury hotels to budget accommodation, ideal for boozy groups. After a day in the sun and an evening indulging, you'll want somewhere close by to rest your head. As well as being ideally located, many of the area's hotels and hostels also offer a double or triple room, which can work out as a cheaper option for big groups.
Your ultimate guide to Albufeira
Albufeira has everything a top beach holiday should have: sparkling blue seas, golden sands and stunning landscapes to explore on foot. Once a quiet little fishing village, it has become one of the top destinations for holidays and short breaks, with plenty of nightlife on the infamous 'Strip', buzzing beachside bistros serving traditional Portuguese cuisine, plus sunshine and scenery galore.

The city of Albufeira has a historical and cultural heritage that demonstrates the spirit and strength of its local population. Beautiful in the summer and just as pleasant in the winter, it's a sunspot that attracts thousands of tourists each year. But even with these large numbers, there are still quiet pockets in which to relax.
Albufeira at a glance:
Albufeira is traditionally a beach destination, but it's also full of historical buildings and culture

A population of around 39,000 swells to 300,000 during tourist season

Home to some of the cleanest beaches in Europe

Popular with windsurfers, while other watersports are available just about everywhere during the summer months

Local knowledge:
Galé – a great spot for sunbathing
Galé is a quiet residential area about 5kms west of Albufeira old town. Three golden beaches and a handful of restaurants, bars and shops make it an ideal place for relaxing away from the crowds.
São João & Montechoro – bursting with nightlife on Albufeira's famous 'Strip'
Albufeira's answer to Las Vegas, the long stretch of road between São João and Montechoro is the place to go for late night bars and clubs. Also known as 'The Strip', every bar and restaurant here is lit by super bright neon lights and attracts thousands of revellers every year.
Old Town - a quiet square in central Albufeira
At the heart of Old Town in central Albufeira is a large square surrounded by local plant life, cafes and restaurants. All the streets leading off the square are filled with shops and stalls selling gifts, clothing, trinkets and local artisan crafts.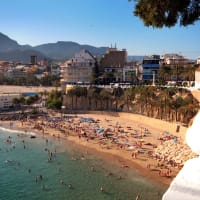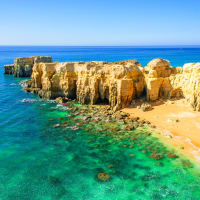 Best bars in Albufeira:
Casa do Cerro, Cerro da Piedade
Step into Casa do Cerro for a touch of exotic Moroccan-style décor and a totally laid back vibe. Drinks are reasonably priced and there's ambient music early in the evening. Shisha pipes in a variety of flavours finish off the night perfectly.
Wild & Co, Francisco Sa Carneiro
In Wild & Co you can enjoy live music from the bar's resident band while indulging in a wide range of beers and signature cocktails. From 1am onwards the stage turns into a dancefloor. With professional dancers, freestyle bartending and themed parties, Wild & Co promises to entertain you every night of the week.
Best clubs in Albufeira:
Capitulo V, Praia da Oura
The best venue for house music in the Algarve, Capitulo V has played host to some world class DJs. Overlooking Praia da Oura beach, it offers an unbeatable selection of cocktails and beers spread out over four bars, two of which are outside.
Food: eat like a local:
Many of Portugal's popular dishes are fish-based due to the country's location on the Atlantic, with a local favourite being salted cod or bacalhau, which can apparently be cooked in 365 different ways. The Portuguese also love their meat too – expect to see roast suckling pig (leitão assado) and pork marinated in wine and garnished with clams (carne de porco à Alentajana). Or for those keen on some comfort food, tuck into cozido à Portuguesa, a sort of hotpot of beef, sausages, potatoes, vegetables and rice.
One of the most popular restaurants in Old Town, Cabana Fresca is known for its spectacular sea view overlooking Fisherman's Beach. As well as delicious traditional Portuguese cuisine, Cabana Fresca's dessert menu is legendary, with mouth-watering treats like their chocolate lasagne and Grand Marnier parfait.
Only a few doors away, Cabana Fresca's sister restaurant Flavours opens from 8:30am until midnight. Freshly-cooked seafood and meat dishes are particular favourites, and all at very affordable prices. Look out for special offers and 'happy hour' deals. Staff are friendly and are more than happy to accommodate large groups, including stags and hens.
Also in Old Town, A Tasca Terraço serves up an excellent platter of fresh seafood, with house specialties including Monkfish Cataplana, Shellfish rice and Dogfish stew.
One of Albufeira's oldest restaurants Casa da Fonte offers lunch or dinner in small garden surroundings. Fresh fish and meat are charcoal grilled and served in a typical Algarvian pateo.
Raising a glass to Portuguese tipples:
A lot of wine sold in the Algarve comes from other parts of Portugal, but the region does produce its own wine, mostly from the Lagoa, Portimão and Tavira areas. Most Albufeira restaurants will only have Portuguese bottles on their wine list. For beer (cerveja) there are really just three national brands that you'll become familiar with: Sagres, Super Bock, and Cristal. There are also various imported beers and lagers but these may be a little more expensive.
After a meal you really should try a glass of port, Portugal's best known drink. Made from a blend of wines, port is available in 'ruby' (a young and full-bodied sweet port), 'tawny' (a lighter port, best served chilled) and 'white' (which is dry and better served over ice as an aperitif). The Algarve is also famous for its spirits and there are two main ones to look out for when you come, Aguardente and Medronho. You'll need a very strong palette though, especially for Medronho, which is better known as 'fire water'.
The best view of the city:
Go to the coast and take a short boat trip to see the beaches and colourful cliffs from the water. Castelo Beach is recommended.
Best time to visit:
Although Albufeira's climate is good all year round, it's probably better to visit between the end of May to the beginning of September. August tends to be the most touristy month, so if you want to avoid the crowds and inflated travel costs then you may want to visit at a different time.
Climate:
The Mediterranean Sea greatly influences the Algarvian climate. Summers are hot and dry and winters are mild with hardly any rain. The Algarve can also count on around 3,000 hours of sun during the year, which makes it a favourable destination for those who fancy working on their tan.
Getting about:
Walking or renting a bike is one of the simplest ways to travel across Albufeira as well as the most scenic. However, if you're travelling far or are in a large group, it's cheaper to call a taxi than to go by public transport.
Staying safe:
Albufeira and the Algarve region in general are quite safe with crime rates in the country some of the lowest on the continent. Petty theft does occur however and it's best to take care of your belongings and keep important valuables hidden to avoid problems. It's also advisable to be careful if walking back to your accommodation late at night, especially in dark and isolated areas. Albufeira has a municipal police as well as the GNR (Guarda Civil Republicana) to ensure public security.