Welcome to Benidorm
With year-round sun, beautiful beaches and delicious cocktails, Benidorm is a haven for hens looking for a sunny weekend getaway. Experience the vibrancy of Spanish nightlife with incredible cabaret shows, 1000s of lively bars and the unique Tapas Alley. Combined with fun and exciting daytime activities, it's the perfect place for a hen party. Here are the highlights of choosing Benidorm for yourhen do.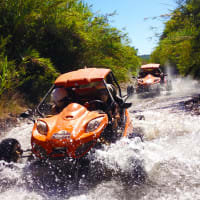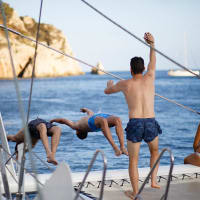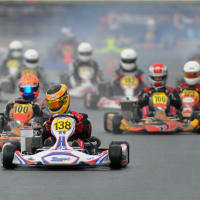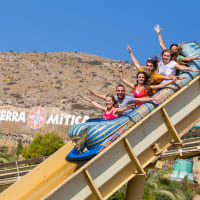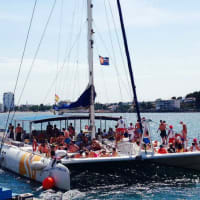 Beaches
Benidorm's sandy beaches and crystal blue waters are the perfect places to cure a hangover. From the more lively atmospheric Levante beach to the more laid-back Poniente beach, both with palm-lined promenades filled with beachside bars and restaurants.

Stag stitch up
A stag do isn't complete without stitching up the stag. Benidorm has it all from the 'classic'handcuffed to a dwarfto the painful back, sack & crack wax where everyone takes it in turns to rip wax strips off the stag. Check out our Benidormstag stitch-upsfor more humiliating ideas.

Day drinking in the sun
No need to wait until the night to get boozy; there are plenty of places to enjoy cheap beer and a party atmosphere during the day. Benidorm is known for its beaches and its nightlife, so why not combine the two and soak up the sun and booze along the promenade. This is where you will find the best places toparty in the dayon your stag weekend.

Water park & theme park
Do something different from drinking in the sun by heading to the largestwaterparkin the Costa Blanca, where there is everything from pools and slides to river rapids. Or, unleash your inner kid and experience high-speed thrills and jaw-dropping rides at thetheme park.


The beaches
Benidorm's beautifully golden sandy beaches and crystal blue waters are its main attraction, the perfect place to sit back and relax with a couple of cocktails. It has some of the best beaches in Europe, including the lively Levante and the more laid-back Poniente, both with palm-lined promenades filled withwatersports, beachside bars and restaurants.

Cabaret shows
Don't miss Benidorm's fantasticcabaret shows. Experience the passion and vibrancy of Spanish dance, music, magic and acrobats for a fun night of Spanish culture. Watch out for surprises, laughs and plenty of cocktails, so sit back, relax and enjoy.

Theme parks & water parks for thrill seekers
Unleash your inner kid and get ready for a day of fun and thrills at thewaterparkortheme park. Enjoy some relief from the heat and head to the waterpark, where you'll never be so glad to be in the splash zone. Head to the theme park to ride daring rollercoasters, experience high-speed drops and get your adrenaline pumping as you twist, spin and speed your way through the park.

Watersports
For a hen weekend that no one will forget, there's more to Benidorm beaches than just sun and booze, so get all the girls onboard to try exhilarating watersports. There's something for everyone from riding the waves incable skiing,wakeboardingorjet boatingwith stunning views of the coastline to the super funfly fishandbanana boatwhere you'll try not to fall off of a giant inflatable banana.

Daytime drinking & show bars
It's never too early for a cocktail, especially in Benidorm where it's not only acceptable - it's encouraged. The beachfront bars are the perfect spots to soak up both the sun and all the drinks. There are show bars full of talented performers and live music, expect a laid-back atmosphere and plenty of drinks. Head to the Rincon de Loix area for entertainment and large sun terraces great for soaking up the sun.

Tapas Alley & the Old Town
If you want to explore authentic Spanish culture and history, head to Benidorm's Old Town. It's a maze of charming narrow cobbled streets with lovely bars, cafes, and shops tucked away. Hidden in the Old Town, Tapas Alley is an entire street dedicated to tapas bars, making it the perfect place to sample tons of different Spanish dishes all in one go.
There is nowhere else quite like Benidorm. If you're up for fun in the sun and non-stop partying with other like-minded Brits, check out ourstag do ideas in Benidorm.
Benidormis a beautiful destination for yourhen weekend, and we're on hand with plenty of hen party ideas to make the most of the warm weather and cheap drinks. With everything you need for an incredible hen party, from the best bars and restaurants to fun activities and entertainment, you can relax knowing everything is sorted.