New Year's Eve. It's a night to get dressed up, party as much as you want and toast the beginning of a brilliant new year. Need ideas on where to go? Here atChillisauce, we send thousands of groups on unforgettablestag dosandhen dosevery year - you could say we're the experts in partying. We've handpicked our favourite New Year's Eve celebrations just for you.
1. Weymouth - The UK's Biggest Fancy Dress Party
Weymouth gets our pick of the very best place to celebrate a New Years eve party in style. Weymouth, famous for its live music scene, its elegant georgian seafront and beautiful harbour that dances with glittering lights of a winter evening, turns on the biggest fancy dress party in the UK every year. The whole town comes alive with a carnival atmosphere that encompasses all generations into a festive extravaganza with big dash of eccentric quirkiness!Official Website.
As with a number quirky seaside resorts the Weymouth locals feel a need done fancy wearing fancy dress, and jump into their icy waters for a swim during the coldest periods of the year. Weymouth'sharbour swimtakes place on Christmas day, however those wishing to partake in such frozen festivities on new years day need not fear, as a short drive up the road in Lyme Regis is their very own re-enactment, called theLyme Lunge!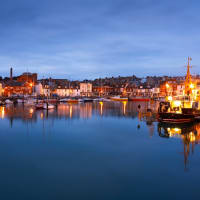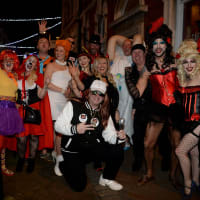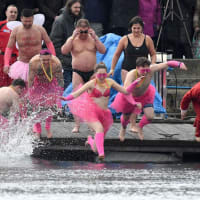 Party in London
When it comes to New Year's Eve, London has it all. With its famous fireworks over the Thames and Big Ben chiming at midnight, it's no surprise that the city is full of fun, creative and glamorous parties. These are our top picks for 2018.

Around the World in 80 Days | Battersea Evolution
Walk Around the World in 80 Days in this celebration of culture and festivity. Discover the ornate temples of Japan, hot air balloons, the hanging gardens of Babylon and an igloo bar lit by the northern lights. Watch Chinese dragons, cirque performers and an incredible DJ or, have fun with bumper cars or the casino. There's a four-course dinner involved, so you can expect delicious food and cocktails from across the globe.

Carnival of Light |Troxy
Enter the Carnival of Light for a spectacular visual display of lights, lanterns and lasers set in a supernatural underwater space garden. Get covered in psychedelic body paint and dance to a huge dance soundtrack of everything from drum 'n' bass to techno. With parades of light puppets and supernatural beings, Chinese dragon performances and talented dancers and acrobats, this is an unmissable experience.

Funk & Soul Circus | The Blues Kitchen
Head on down to The Blues Kitchen's Funk & Soul Circus for a night of well-loved anthems from the past. The Blues Kitchen House Band will be playing special live shows featuring the best from Aretha Franklin, Stevie Wonder, Fleetwood Mac, James Brown and more, and then the resident DJs will pump up the volume until the early hours of 2019.

Last Nights of Havana | Tobacco Docks
Escape the city and be transported to pre-revolution Havana for a Cuban-themed night of delicious cocktails and glamour. Rum is the focus here, with unique Caribbean flavours, but there's plenty of other drinks to choose from. The music combines Cuba's authentic sounds with contemporary London with DJs and live bands, and as the night goes on Latin beats will see you through to midnight.

Masquerade Ball | Century Club Soho
Celebrate New Year's Eve in the exclusive Century Club in Soho. Put on your mask and sip sophisticated cocktails, away from the chaos of the West End. With four floors of bands, DJs and cabaret performers, there's never a dull moment. When midnight strikes, watch the fireworks from Soho's largest rooftop terrace for a great view of the festivities.

Ministry of Sound
The Ministry of Sound are bringing world-renowned DJ, Hannah Wants to the centre of their New Year's Eve party in The Box, guaranteed to be a big hit with bass fans. Joining Hannah in this incredible lineup are Paul Woolford, garage legend, Todd Edwards and newcomer Ben Sterling. There's also top DJ talent over in The 103, Baby Box and The Loft, giving you plenty of variety.

New Year's Eve Spectacular | Southbank Centre
Dance your way through the decades in a night of elegance and entertainment. This New Year's Eve, the Royal Festival Hall will become home to six themed pop-up nightclubs, taking you through the music of each decade from the 20s to today. There are seven bars, twelve DJs, live orchestras, dance lessons and photo studios. When the countdown begins, you'll have a front-row seat to London's iconic fireworks display for an unforgettable night.

Piccadilly Institute
Wear your mask and spend your New Year's Eve at the Piccadilly Institute for the Masquerade Ball. With DJs spread across 8 different rooms, you can enjoy the best in chart hits, R&B, House, Commercial and throwback tunes. Join more than a thousand partygoers in the heart of the West End for a night you won't forget.

Prohibition Party | Secret Location
Immerse yourself in the age of prohibition at this Roaring Twenties-inspired night of glamour and debauchery. In a secret speakeasy location in London, expect live music, DJs on gramophones, silent cinema, dancing troupes and bootlegged booze. Learn to dance the Charleston like the flappers, test your luck at the roulette table in hidden gambling dens or discover cocktail menus hidden in books.

Silent Sounds | Banking Hall
Party into the new year the Silent Sounds way, all with headphones on. Taking over the charming 1930s Art Deco-style Banking Hall, you'll join silent disco revellers for a night of singing and dancing to your heart's content. With three DJs, you can switch between party classics, so you can listen to music you actually enjoy. Plus, fill up on burgers, hot dogs and dirty fries.

Sway Bar
Let Sway Bar make your New Year's Eve special starting with dinner to line your stomachs as you chat with friends and ending with you dancing until the early hours of the morning. A night of talented DJs and classic cocktails in a stylish, lively atmosphere.

The Blitz Party | Village Underground
Step back in time to the wartime glamour of the 1940s at The Blitz Party. Take cover in the Village Underground which will be transformed into a cavernous air-raid shelter full of music, dancing and classic cocktails. There'll be live big bands performing 40s classics and modern tunes remixed in the style of the era. There's even a pre-party dance class with professional swing dancers to show you some moves.

Tiger Tiger
This year, experience Tiger Tiger's legendary Midnight Countdown for yourself. With six unique rooms and live DJs, it's sure to be the clubbing atmosphere you know and love from Tiger Tiger. Travel back in time in Decadia with retro vibes, get all your favourite drinks at the main bar or chill out in VIP areas and booths in the Cloud Lounge or Luxe Bar.
Celebrating outside of London
Want to celebrate outside of London? There are plenty of amazing parties happening outside of the capital, all across the UK. Here we've pulled together our favourites for this year.

Bournemouth | Halo
Boasting to be a party to end all parties, dance the night away at Halo, a nightclub set in an old church. Under gothic arches and grand surroundings, experience incredible fire shows, fun glitter blasts and the DJ talent of Jay Welch to dance your way into the new year.

Bristol | The Square Club
You're invited to step inside the Roaring Twenties for a Gatsby-themed night of dancing and revelry. Get dressed up and start the new year in style with live musicians, performers and a DJ to entertain you, and a casino table to test your luck. Make the most of the free bar and enjoy a lavish feast of canapes and buffets served throughout the night.

Brighton | British Airways i360
Celebrate the new year high above Brighton watching twinkling lights from the British Airways i360. Indulge in an elegant six-course dinner with wine in the beachfront rooms. Dance to classics and the best hits of 2018 with a DJ and entertainment to get the party in full swing. At 11.45pm, take off in the i360 for a midnight flight to start 2019 on a high - quite literally.

Cardiff | Tiger Tiger
Join Tiger Tiger Cardiff for their Cîroc and Champagne Party. With several DJs across two floors, enjoy Kanaloa's tiki paradise, Decadia's retro throwbacks to the 90s and 00s and Lucky Voice's karaoke fun. Expect entertainment from stilt walkers and giant martini glass girls for a night of non-stop partying at one of Cardiff's top clubbing destinations.

Edinburgh | Hogmany Street Party
People come from all over the globe to experience Edinburgh's Hogmanay. It's three days of incredible events and music including the famous street party where, this year, The Mac Twins will be hosting a top music lineup with bands, DJs and street performers. Toast in the new year the Scottish way, with a dram of whiskey as the fireworks light up the sky above.
Rest of Europe
Europe loves to party, so this New Year's Eve let loose and revel in the vibrant festivities of one of these fantastic cities. Here are our favourites.

Barcelona | Race the Clock
Get ready to race the clock as you take part in the Spanish New Year's Eve tradition of Nochevieja, where people eat twelve grapes at the stroke of midnight – one for each bell chime. If you can eat your grapes in time, expect a year of good fortune. If not, at least you'll have had a laugh! After, enjoy an incredible fireworks display at the Plaza de Catalunya to kick off a killer all-night long street party.

Bratislava | Hlavne Namestie
Overlooking spectacular scenery, Slovakia's capital has views of snow peaked mountains and a carpet of green trees making it an enchanting destination to celebrate New Year. Visit the Christmas markets in popular squares, Hlavne namestie and Frantiskanske námestie. Later, head to the Old Town which divides into concert zones full of music, or if you're after stunning city views, head to the Sky Bar.

Budapest | River Cruise
A stunning city of faded grandeur and a spirit of entrepreneurialism, Budapest is, and will forever be, the jewel of the Danube. Stroll the riverbanks and soak up the modern architecture, sitting beside elegant opera houses and historic socialist buildings. See this beautiful city, watch the fireworks and welcome in the 'Szilveszter' from an unforgettable river cruise.

Madrid | Real Casa de Correos
For a night of memorable frivolity, you'll be hard pushed to find a more stunning city than Madrid. Take to the city centre in the streets around the Real Casa de Correos and dance until the early hours. It's famous for its clock on the rooftop turret, the perfect spot to watch the final countdown and welcome in the New Year. Alternatively, hit all the lively bars and clubs on a pub crawl, the choice is yours.

Prague | Party Boat
Prague is a popular destination to experience over New Year with some of the best spots to watch fireworks in Europe. Avoid the crowds and make the most of the city by heading to the top decks of the city's beloved river cruises. Alternatively, try around Charles Bridge, higher up in the Lesser Town, by Prague Castle or on Petrin Hill.

Riga | Freedom Monument
With its stunning gothic architecture, Riga is the surprising nightlife capital of the Baltics, so where better for the biggest party of the year? Colourful Riga and the beating heart of its Old Town is the perfect place to aimlessly wander and enjoy the incredible fireworks display. Head towards the Freedom Monument to immerse yourself in a carnival of incredible noise and colour.

Tallinn | Vabaduse Valjak
The capital of Estonia, Tallinn has for too long been overlooked in favour of more glamorous named cities, but no more. Blending old and new, with chocolate box market stalls, buzzing nightlife and an up and coming restaurant scene, Tallinn is surprisingly affordable making a top place to visit this New Year's. Head towards Vabaduse Valjak for spectacular views of the fireworks.
Outside of Europe
It's not just the UK and Europe either, there are some truly legendary parties happening across the globe every New Year's Eve. Here are some of our top picks for this year.

Brazil | Copacabana Beach
Party your way into the new year on this world famous beach. Millions of revellers gather to celebrate under the watchful eyes of Christ the Redeemer in one of the world's most famous places to party, Copacabana beach. Grab a cocktail and get ready to party on with performers, tourists, locals and street parties that take over this part of town. When the fireworks begin, you'll never want to go home!

Dubail | Zero Gravity Beach Party
Party in laid-back luxury at Zero Gravity's New Year's Eve Beach Festival. With a stunning skyline and the Palm islands in the background, this year Rudimental and Sigala are headlining with their floor-filling sets of energetic tunes. Get ready to dance under the stars and fireworks for an unforgettable night at an exclusive beach club.

Hong Kong | Victoria Harbour Fireworks
A city of spectacular skyscrapers and bustling life, it's no surprise that Hong Kong offers both locals and visitors one of the most incredible New Year's Eve experiences in the world. The fireworks are perhaps best viewed from a boat on Victoria harbour as they are reflected in the glass towers of the island. Enjoy a fantastic cruise with food and drinks before the display, or head into the city centre for a luxurious dinner.

Las Vegas | Voodoo
Las Vegas is full of bright lights all year-round, so what better way to enjoy the New Year's Eve fireworks than by watching them from a rooftop club? Get ready to experience absolute VIP treatment, spectacular views, plenty of champagne, chocolates and party favours. Relax on the balcony with your drink of choice and survey Sin City in all its opulent glory.

New York | Times Square
What could be more iconic than watching Times Square's New Year's Eve Ball drop as the clock strikes midnight? You could be at the heart of the buzzing energy and dazzling lights of New York City, where a million people gather to celebrate together. Expect musical performances, balloons, confetti and colourful fireworks for the ultimate once in a lifetime party.

Sydney | Sydney Harbour Fireworks
Experience Sydney's incredible firework displays for yourself with the iconic Sydney Opera House as your backdrop. Find a great vantage point in the city and watch fabulous pre-show entertainment including aerial acrobatics, water displays and a traditional Aboriginal welcome ceremony. Soak up the warmth of the Australian sun as you ring in the new year on the southern hemisphere.
After the New Year's celebrations, do you have a 2019 stag or hen do to plan? We offer 1000s of activities in over 50 locations across the UK and Europe. Book everything easily, all in one place from cocktail masterclasses to quad biking, nightlife entry and even accommodation. For inspiration, check out ourhen doandstag doideas.