Greetings

Firstly, congratulations on getting engaged to the woman of your dreams, you lucky devil.
You may be thinking "well that's the hard bit out of the way," and in many ways, it is. However, there is still plenty to do. There's the small matter of surviving the stag do organised by your best man, doing your part in organising the wedding (from invitations through to your speech), and, after the bells have settled and hangovers have subsided, you've still got a honeymoon to enjoy.
So whether you're a groom who wants to get fully involved in planning the big day or are cherry-picking your duties, this guide provides all the essential information you need. We take the stress off, so you can go about enjoying what should be a brilliant day for you and your bride.
Now, get yourself a beer and settle down as we take you through everything you need to know.
Contents
►Wedding Checklist
►Best Man Jokes
►How to Buy The Perfect Groom's Suit
►Groom Duties Timeline
►Wedding Booze: Choosing your wedding drinks
►Weddings of The Future
►The Art of Proposing
►How to Write the Groom Speech
►Chillisauce Survey: Your Wedding Drama Experiences
►A Wedding A-Z
►The Modern Honeymoon
►How to Say Thank You
►Surviving the Stag
►Phone vs Wife: 6 Ways to Maintain a Happy Marriage in The Tech Age
►Picking the Perfect Wedding Photographer
►Location Wars
►Groom Fitness Guide: Getting in shape for your wedding
►Wedding Music Charts - Most-Played Ceremony Songs/First Dance
►The Evolution of First Dance
►Grooming Product Listings
►2020 Wedding Trends vs Wedding Fails

Before the day
⃞ Choose the groomsmen and ushers
⃞ Help choose suits
⃞ Attend (and survive) the stag party
⃞ Write and practice the groom speech
⃞ Write and practice wedding vows
⃞ Visit potential wedding venues
⃞ Help send out invitations
⃞ Organise wedding DJ or band
⃞ Organise photographer
⃞ Practice first dance
⃞ Arrange transportation for the wedding party
⃞ Arrange guest accommodation options
⃞ Organise wedding day cash payments
⃞ Attend rehearsal dinner
⃞ Arrange the marriage license
⃞ Book the honeymoon
The morning of
⃞ Get dressed and ready
⃞ Get to the wedding on time (or even better, early)
⃞ Settle wedding day cash payments
⃞ Ensure ushers are in the right places
⃞ Ensure the best man takes care of the wedding rings and licence
⃞ Help make the day as stress-free as possible for the bride
Ceremony
⃞ Greet guests and ensure they are correctly seated
⃞ Watch your wife-to-be enter and take your breath away
⃞ Give your wedding vows and exchange rings
⃞ Celebrate the fact you're officially married!
⃞ Stand to receive congratulations from guests
⃞ Take wedding photos
Reception
⃞ Give groom's speech
⃞ Perform first dance
⃞ Dance and drink the night away
⃞ Depart in private car to room with your wife
Afterwards
⃞ Help send thank you notes to all wedding guests
⃞ Give groomsmen thank you gifts
⃞ Embark on a romantic honeymoon
⃞ Live happily ever after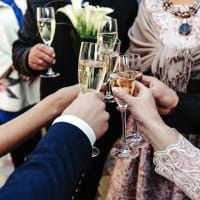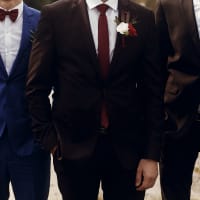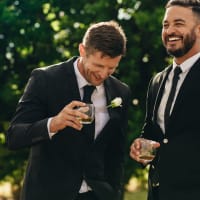 "I've just been told being named the best man is not an award, which makes this acceptance speech a little awkward."

"I need to make this speech quick because my date for the night charges by the hour."

"Weddings are like Brexit, they are on and off again, people sit on different sides, they cost more than you expected and when you leave at the end of the night you probably won't be let back in."

"The toilets are to the rear of the plane, life vests are under your seat and I might not have downloaded the right speech."

"The groom was so worried I might say something incriminating during my speech that he had his lawyers draft this version."
Want more jokes? Course you do! Check out ourmammoth list of wedding jokesin full.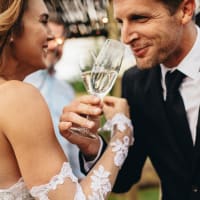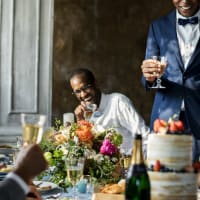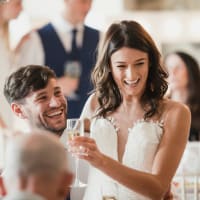 Maybe you wear a suit to work every day, or maybe you only wear them for interviews and other people's weddings. Either way, your wedding suit is the one that counts, so make sure it's a proper departure from your workweek standard – you're the man of the moment, after all.
Moss Bros provides your hit list for a perfect suit, worthy of your wedding day.

Fit is King
First things first: you need to get the right fit. Consider it your framework that everything else hangs on.
The fit you choose should be based on your taste and not the shape of your body – a good suit will be proportioned for each size it comes in. If you like a super-modern look, go for a pin-sharp slim fit. After something more timeless? Look for a tailored fit that defines your torso and lightly tapers through the arms and legs.
In general, you want your suit to feel snug - but comfort is crucial. It should sit flat across your chest and shoulders, easily fasten without straining the buttons and leave enough room to sit or dance without feeling restricted.
Don't know your sizes? You're not alone. You could measure yourself or, even better, get a professional to do it for you (hi – come see us). And on that note, alterations are your friend. A shop-bought suit in the right size will make you look great, but having it fine-tuned to break at just the right point on your shoes or to skim thicker thighs will make you look your very best.

Think Seasonally
The time of year you're getting hitched affects all sorts, from your venue to the colours of the flowers. Same goes for your suit. Neither sweating nor shivering gives off 'I've got this' energy, so choose your suit wisely.
If your big day lands in the summer, go for a lightweight fabric like linen or cotton or something open-weaved like hopsack that'll let heat escape. Look out for unstructured suits that lessen the load with stripped-back linings and softer, unpadded shoulders.
On the flip side, a lightweight suit isn't going to cut it in a draughty church or standing outside for hours of wintry wedding photos – choose a winter-weight cloth, like heritage tweed or a pure wool flannel instead.
In terms of finish, a matte fabric looks beautiful in photos, absorbing light rather than reflecting it. Alternatively, a really good Italian merino wool cloth will have an expensive-looking lustre that'll make you feel a million bucks.

Style It Your Way
So, you've ticked off the fit and the type of cloth, now comes the good bit: the styling choices.
When it comes to colour, navy and grey are can't-fail choices for anyone, being both universally flattering and easy to style with your wedding's colour palette. But if there's ever a chance to push the boat out, it's your wedding day, so consider a rich burgundy or deep green for winter, or a soft shade of sage or camel in warmer months.
Your big day is a big deal, so be braver with your look – it's one you'll want to remember! Take pattern for example: a classic Prince of Wales or a glen check will feel suitably special, while a windowpane check is a bold choice that'll set you apart from your wedding guests. Likewise, the double-breasted suit has had quite the comeback and little beats its confidence-giving power. For those looking for something a little more lowkey, details like angled pockets or a peak lapel might be small but can take a suit from everyday to special day status.
Whatever you pick, it's important you feel comfortable – it should feel like you, but you on a really, really good day. This is your moment to shine, so we encourage you to go for it.
Booking your suits through Moss Bros and get the 5th SUIT FREE
Hire, buy or go custom-made on any five suits and the fifth one is onMoss Bros!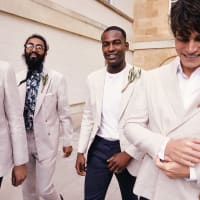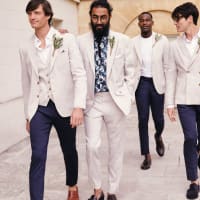 Gents, there's a lot more to getting married than picking a suit. Our research shows that grooms are increasingly involved in the wedding planning process, from budgeting to even flower arrangements. Brides expect their future husbands to get hands-on - so it's time to pull up your socks get to work.
With 12 months to plan a wedding you're ahead of the game, so don't fret. Make time to keep up with the tasks and things should go swimmingly.
Work out a wedding budget
Before anything else, you need to work out how much you have to spend. Consider asking your parents for budgeting advice (they've done this before, after all) and if the pot's a little empty, what you'll do to fill it. Be realistic with your budget and add contingent cash, as there will always be surprise costs. Include all essentials: venue, dress, catering, honeymoon, flowers. Be under no illusion - this list will grow, and it's not going to be cheap!
Plan a rough guest list, research venue options and entertainment
There's no trickier balancing act than drafting a wedding guest list. Traditionally, it's a 50/50 split between the bride and groom, but if your parents have helped to pay you can expect some unprompted suggestions. Since space will be limited it's advisable to lock in your nearest and dearest, then draft a 'B-list' of guests who you can pick from later. Pro tip: note down their addresses, as you'll be later sending invites through the post.

Once you have a rough idea of numbers, picking a venue becomes much easier. You'll need to consider practical elements like how easy it is to reach for guests, before judging the feng shui. Picture yourself there for a moment: does this place reflect you as a couple and the atmosphere you want to create? Don't be afraid to be picky - grooms are allowed to be a little precious, too.
Next, it's onto theevening's entertainment. A live band always works a treat, followed by a DJ who artfully balances club bangers with classics that keep your gran happy. This is your opportunity to wheel and deal: find a mate, or mate's mate, who can perform at a more affordable rate. Name your best man and ushers
Do not underestimate the responsibilities of the best man. Will he stand up in front of a crowd and deliver the speech of all speeches, or will he stare at his shoes and make you look like a plank? Can he organise a proper stag do or will you all end up at the local 'spoon'? Choose wisely!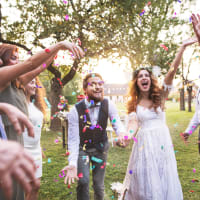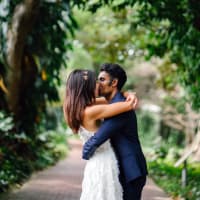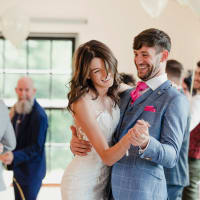 Book your venue, entertainment and caterers
Whether you're going full church wedding or not, try to book the venue as early as possible. Be careful with deposit payments and stumping up cash; check their refund policy and get this in writing before handing over your money. Once you have a confirmed date, get the entertainment confirmed - DJ's, band, performers. If they're good, they'll get booked up fast.
Some wedding venues have their own in-house caterers (making this part a lot easier), but there's plenty of options online if you find yourself in a bind. Check that they can cater to allergy/dietary requests, scroll through their specialities and confirm whether they charge per person or in bulk. It may be more fun (and economical) to consider a buffet, while a set course menu adds an air of sophistication. Book the wedding car, photographer and videographer
Now it's the fun part. Your wedding car is your chance to arrive in style, so feel no shame in dithering between a vintage Bentley or Cadillac Convertible. Note that you may need multiple cars if you plan on ferrying bridesmaids, groomsmen and family, both to the ceremony and reception. A good supplier will provide a driver and allow you to hire for the entire day, starting from as little as £200 per day (plus a £100 returnable deposit).

Note that booking the photographer is no small investment, as they'll be documenting one of the most important days of your life. Do your homework and check out their portfolio, as a good wedding photographer will cost you anywhere north of £500+ for the day. Book the cake and flowers, buy the wedding rings
You and your bride-to-be will have (ideally) discussed all of this by this point, so get cracking placing orders and getting fitted. Remember to keep the rings in a safe place until the big day - they're kind of important. Start planning your honeymoon
There's a lot of pressure in planning a 'dream' honeymoon, but remember: this trip is to relax and enjoy each other's company. Don't feel you need to book a five-star resort in the Maldives if that's not your style or budget (you'll have just planned a wedding, after all). More modern honeymoons have seen couples backpack in Asia, or roadtrip across America - turning traditional getaways into adventures. The only rule is to get the wheels turning in advance, so you can be whisked away once the wedding bells have settled. It's a lot of work to do this while juggling other duties, so remember to breathe!
Warm-up your guests
By this point, it's wise to ask people to "save the date" of your wedding well before posting invitations. As soon as you land on a date, let your nearest and dearest guests know - people tend to book holidays in advance, you see. Like with invitations, many couples send paper RSVPs in the post/in-person to add a personal touch.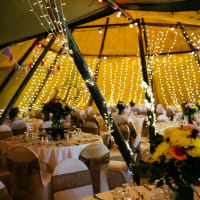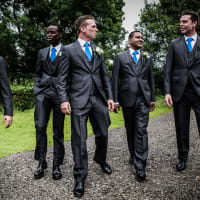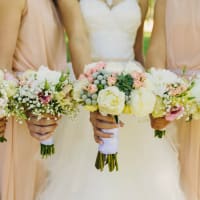 Suits you, sir
While your bride is fulfilling her girlhood dreams and trying on wedding dresses, it's your turn to get dapper. Book in a fitting early and get made to measure - a wedding suit should be worn, not wear you. The most popular option is the three-piece suit, in either black, blue or grey (but if your wedding has a specific theme, go buck the trend). Style tip: black/grey suits go with black shoes, blue suits go with brown shoes. Cufflinks, pocket squares and boutonnieres (flower arrangements worn on your lapel) are essential.
Order wedding stationery
This is where it starts feeling official. Stationery is all the print needed for your guests: from invitations to Thank You cards and directions, which should be sent directly by post. If you've been organised up to this point, you should have details ready to commit to print.
The invitation itself should be simple and elegant, including the name of the guest(s), venue and date. Additional information should be provided on a separate sheet, including a map, suggestions on accommodation, dress code and theme. If you really want to get 21st century with it, opt to put these details on a wedding website and provide a link.
Before ordering anything, make sure to finalise details with the venue - otherwise, you could be in for an awkward reprint. Release your inner Romeo.

This part is all about setting the tone of your wedding. There's no better way to do that than with your wedding readings: short, meaningful passages read after the processional. Most couples choose excerpts from their favourite books, poems and films (actual writing comes in the vows) - whatever you decide, make sure it is personal.
Of all stages in this checklist, the vows require your attention the most. It's a challenge for sure, baring your heart and soul in just a few minutes. That's why it's important to set some time aside and dig deep, jotting down memories and 'deep and meaningfuls'. Don't be afraid to get sentimental - if you mean it, people will appreciate it - and a laugh or two always works a treat. Once written, keep your vows secret. The impact of your beautiful words will only be greater if heard for the first time.
The music is the piece de resistance to your ceremony. As your wife-to-be walks down the aisle and sends your guests to tears, the song is her backdrop: representing your relationship. The one rule is to make it personal.
Send out wedding invitations
A wedding isn't much fun without guests, so post your invitations promptly in the mail. Do not, under any circumstances, rely on email or Facebook invitations - it's lazy. Be efficient in chasing RSVPs, so you can finalise numbers with the venue and caterers. Remember to handwrite the envelopes for a personal touch.
1 Month Before
At this stage, it's important to chase any late RSVPs to finalise numbers with the venue and your caterers.
Write your speech
Grooms are expected to give a speech at the reception dinner, traditionally second (after the father of the bride). Remember, this is a little more relaxed than the ceremony - it's a chance to get people laughing, whilst putting the focus on your new wife. Share cute anecdotes that reveal a glimpse into your relationship. It's also important to thank your new father-in-law following his speech, and to everyone else for joining you on your special day.
Buy presents
Tradition states it's custom get something for the best man and ushers, bridesmaids and parents. It needn't be expensive, but it should resonate. Importantly, do not forget to buy the bride a gift! It sounds a little extra given the whole wedding, but it goes a long way.
Pack for your honeymoon
If you're setting off straight after the wedding, be ready to rock. Otherwise, chill. Wear in your wedding shoes
Given that you'll likely have a brand-spanking-new pair of kicks for your wedding - and they'll be made of leather (or pleather), like any respectable groom - you'll need to 'break' them in so they don't give you blisters. Wear them around the house and get comfortable, so you can confidently strut like Prince Charming down the aisle.
1 Day Before
Give the best man a list of duties for the day
As your right-hand man, your best man will have a big role to play during the wedding. Just before the big day, give him some cash to help pay suppliers and make sure he's got the ushers in tip-top shape to welcome guests and direct them to their seats. Most importantly, ensure he's got the rings in a safe place for tomorrow! Wedding Day
Time to get cracking
Hopefully, by this point, you're not still sat in the bar from the night before. Either way, get a good night's rest, get some breakfast down you and scrub up - it's going to be a long day and you'll soon be walking down the aisle. It's time to relax, enjoy the party and look forward to your new lives together. You've got this.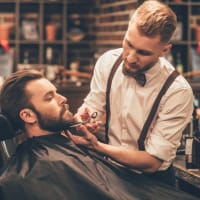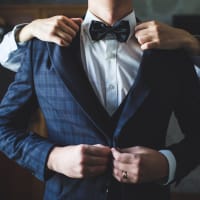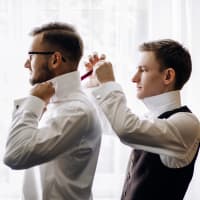 Choosing your wedding alcohol is a bit more complex than choosing between a red and a white. So, here's a few basics to ensure you a smooth ride.
Things to consider
There's a few factors to think about when choosing how much and what type of alcohol you would like to serve. The time and day of the week will influence the amount of alcohol people want to drink. For example, guests at a Friday night wedding are likely to drink more than a Sunday daytime wedding. Also, it is important to take into account your guests preferences, do they shy away from hard liquor and stick to wine or vice versa. Needless to say, your budget is going to affect the type of alcohol you have. If you have a strict budget, it is probably best to steer clear of an open bar concept and perhaps consider a limited bar option (where you offer a set selection of drinks).

Choosing the wine
A useful approach would be organising a wine tasting with the venue, this way an expert will take some of the pressure off your shoulders and guide you every step of the way (and let's face it, trying booze doesn't seem so much of a task does it?).
Where to buy?
A booze run across the English Channel is the best option if you're looking to kill two birds with one stone by taking a pre-wedding break. Any excuse for a getaway right, wine not?! Huge warehouses such as Wine World offer a great selection of beverages from just £2.50 per bottle, not to mention you'll be able to spend a day or two soaking up the sights of Northern France.
How much do I order?
Really, this is entirely up to you! However a few general rules of thumb…looking to serve one drink per guest, per hour of the reception is a good way to handle calculations. In terms of ratio's typically 50% wine, 20% beer and 30% liquor should go down a treat. Also, let us not forget the booze for the toast! Prosecco is becoming more popular for this than champagne, generally 1 bottle per 6 people should suffice. If you're still in any doubt you can always use a wedding alcohol calculator online, yes they do exist!
Evening Booze
The evening is where everyone lets their hair down and dances the night away, so inevitably there needs to be a few drink options to keep the guests in happy, uplifting spirits. We recommend that there is a good selection of spirits and mixers on the ready as well as some beer. If you wanted to spruce things up a bit and your budget allows it, hiring mobile gin bars and Pimm's trucks are a total crowd pleaser and are guaranteed to impress your guests. Lastly, remember to have a good selection of booze that caters for everyone. Most importantly, have fun in the process and don't get too bogged down in the nitty gritty, after all your guests are not coming for a wine tasting!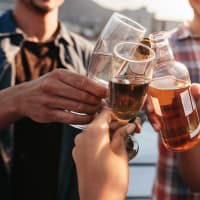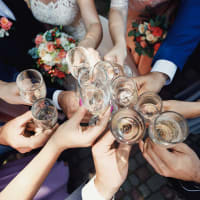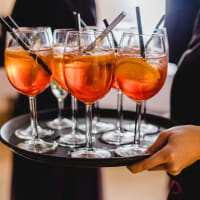 When is the right time to propose? The cheesy answer is, 'you'll know when the time is right'. However, I don't really subscribe to that theory. The boring reality of proposals is there are lots of practical things (like time and money) to consider before popping the question.
For me, deciding to propose was hardly a snap decision. We've been together for six years and have lived together for the best part of four. It may sound painfully unromantic, but it's easy to get caught up in the 'honeymoon period' when everything is still rosy. But marriage is about building and sharing a life together: you need to know that there's a realistic chance of that marriage surviving before you commit.
For us, marriage is something we have openly discussed. It's generally brought on by her teary reaction to friends getting engaged, or after attending yet another wedding. As more and more of our friends get hitched, the prospect of us doing the same would have been an elephant in the room had we not openly talked about it. That, combined with the constant jokes and not-so-subtle hints from her friends for me to 'put a ring on it', has meant it's a topic we couldn't really avoid.

Not that I've particularly wanted to avoid it - my main reason for not proposing up until now is that I wanted to wait until the time was right. As far as I'm concerned, I've known for years that this was the girl I wanted to build my life with: we've moved flats three times and to different cities to be together. But I know how important an actual wedding ceremony is to many girls (including this one) and while I may have previously dismissed it as 'an expensive party', I can see how it serves as a symbol of your commitment to each other. Plus, I do love a good party.
So why now? I'd love to say some kind of impressive work bonus has come to my rescue, but in fact, the necessary funds are actually coming from a bit of money left to me by my late grandmother. It was something of a surprise when the cheque arrived, with a note from my uncle bearing the instructions: 'spend it on something you really like'. There's only so many steak and cheese sandwiches from Subway a man can get through, so I decided my girlfriend was something else I really liked.
So I whisked my girlfriend away for a random trip (which is not something I do often) and disguised my proposal plan under the ruse of visiting family back in Ireland. The window of opportunity wasn't massive, but when the budget airline timetables fitted in perfectly, it seemed everything was falling into place. This was a defining moment that sticks with you and your partner for the rest of your lives - so I had to make it count.

One Ring to Rule Them All
So, decision made, I'm ready to pop the question. I've booked the hotel and even pre-warned the staff about the big moment (telling complete strangers you're going to propose is actually quite cathartic). Of course, there's one major accessory that any engagement needs: the ring. I've heard some people like to take their fiance with them to choose their own ring. It definitely cuts down the risk of forever condemning the woman you love to wear a rock that she hates - but I like to think I know her well enough to get it right.
Just to add to the fun, I've only given myself eight days in which to find one.
The Science of Ring Size
So, the first challenge: find out the size of my girlfriend's ring finger, without having her around to measure it. I'm sure there's a science to this, but no amount of Googling could really make me feel confident about getting this right. The obvious option would be to take in another ring that she wears as a size guide. But there's an inherent problem here: girls don't wear rings on their engagement ring finger unless they're engaged. Yes, I know that girls may also wear rings on the equivalent finger on the other hand, but did I have a clue what rings she wore on which fingers? Of course not. In fact, I challenge you to line up your girlfriend's rings on a table and identify which ones go where.
As I was fumbling about in her jewellery box, it felt like I'd walked into the exam room at school and all I could hear was a nagging voice in my head saying 'you should've paid attention in class'. I even picked up one piece of jewellery and quizzically stared at it, only to later find out that it was a brooch. I then proudly remembered that she wore her grandmother's engagement ring, but had no idea if she was wearing it today or where she kept it. It certainly wasn't in her jewellery box – and even if it was, I knew it was too small to fit on her engagement finger, so walking into a jewellers and saying 'give me a ring bigger than this' didn't seem too helpful.
It soon became apparent that I had never paid any attention to what she wore or what she liked. So my one tip? Pay attention. For the love of God, make sure you pay attention.

Buying the Ring
With only a matter of days remaining before our Ireland trip, I had serious business to do. Did you know that Birmingham's Jewellery Quarter has the highest concentration of jewellers in Europe? To call this area a 'hidden gem' would be an awful pun, but also very accurate.
A stroll around the Victorian streets lined with all manner of retailers is nothing like Peaky Blinders and actually very pleasant (or at least it would be if you weren't racing against time to make the biggest purchase of your life). There are clearly plenty of people who come here just for the window-shopping - most are very inviting.
It took some encouragement for me to actually venture into the first shop. I shouldn't have worried though, as they are clearly all very adept at dealing with clueless men folk who have rarely set foot in such an establishment. Out came a variety of boxes containing lots of rings and gems. All apparently different shapes, sizes, cuts and mounts, but to my eye all just very shiny. I struggled with complex questions such as 'what does she like?' and 'what sort of jewellery does she wear,' but after some coaxing from Debbie behind the counter I narrowed it down to a 'princess cut' diamond. If nothing else, I've learned at least one type of diamond cut.

Trips to more shops followed, but I inevitably returned to the first. I can't say I've ever gone shopping wanting to be 'made to feel special', but they certainly did their best. Call it a canny sales technique, but the staff clearly understand what a big deal it is for most men to buy an engagement ring. Once I got over the initial fear, I actually enjoyed the experience.
There were still some nervous moments, especially when the shop assistant basically said my tracing of the ring size suggested my other half had the fingers of a skinny five-year-old. On his subconscious, hypnotic advice, we plumped for a size larger and for the most expensive diamond he presented. But the important thing was that I'd decided, so just give me the ring and I'll be on my way, right? "Ok sir, that should be ready for you on Thursday afternoon." So Thursday afternoon, 12 hours before I'm due to fly on my meticulously planned engagement trip? So I just need to make an excuse to fit in another 180-mile round trip to Birmingham then. Perfect, what could possibly go wrong?
Nothing, as it turned out. I managed to magic up another mysterious trip to the Midlands and picked up the ring in the nick of time. They can swap it if she hates it, or adjust the size if need be - the main thing was I had a ring to present on bended knee. But what's their refund policy? I didn't dare ask.

What Would Her Father Say?
It's the 21st century - do you still need to ask a father's permission to marry his daughter? Some marriage traditions seem old-fashioned and some have simply fallen by the wayside, but this one still divides opinion. Does it make you a gentleman, or does it make you an archaic chauvinist stuck in a time-warp? After all, it survives from the days when families were 'united' by a marriage, back when parents tactically decided who their daughters would wed - in the business of building dynasties, parental permission was essential.
These days, marriage is very much decided by the couple themselves. If the father refuses permission, would that stop you? Probably not. So it's not really asking for 'permission' I'm after - it's more of a respectful nod towards my future father-in-law.
The other danger with all this is that you might give the game away. You have to remember that this is the sort of conversation that most parents have been expecting, so when you call them out of the blue to take your girlfriend's dad out for a pint, you may well have blown your cover. For this reason, it's safest to leave as small a period of time before seeking permission and doing the deed – you want the window of opportunity for your cover to be blown to be kept to a minimum.

As seems to be the pattern I left it late, with less than 24 hours to go before I popped the question. We were all travelling to Scotland together to attend a family wedding. Love was in the air and all that jazz (although I was very conscious that this may have heightened the chances of him emotionally blurting out my plans).
While the girls took their sweet time getting ready, I had the perfect excuse to whisk dad off to the hotel bar for the talk. After buying beers and making cursory chat about football, I went straight in for the kill.
❝So there's been something I've been meaning to ask you.❞
That was all I needed to say. His jaw dropped and he stared at me, tears welling in his eyes. I'm not ashamed to say it nearly set me off too. My voice was quivering as I stumbled through the big question...
"I'd like to ask your daughter to marry me." It was the first time I'd really vocalised my plans to anyone like this - and the first time that things seemed real.
What followed was possibly the world's most awkward hug. If just asking for the father's blessing is this much of an emotional rollercoaster, I dread to think what actually proposing will be like. Am I glad I asked for his permission? Absolutely. He was delighted I did and told me he had done the same with his own father-in-law. I think I won some respect points. So, one key person won over, now it's just time to see if his daughter is as keen.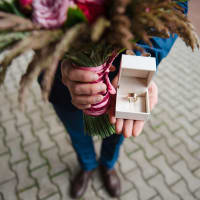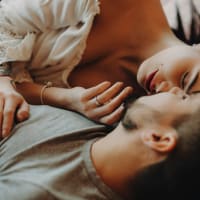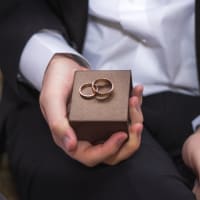 However, as a groom, there is one little responsibility you still have to tick off your list before you can go wild on the dancefloor and pop more champagne bottles than an F1 driver during a winning campaign: the speech.
The groom's speech plays a very different role in the wedding day than others. The best man's speech is the headline act: a ceremonial roast of the groom that has everyone white-knuckled underneath the table. The father of the bride speech is the traditional tearjerker. The groom's speech has to cover all bases - so, how do you do it?
Adrian Simpson, founder of All Speeches Great And Small, says length is crucial when it comes to finding the right balance on the day: "The groom's speech is the one that can run away with you and take on epic proportions if you're not careful.

❝You should really aim for a total word count of 1,400 words, which on the day when read at a steady pace will come in at around the 10-minute mark, maybe a touch longer with stoppages.❞
One tip he gives is to consult with your other speech givers on the day, to make sure the pace of the event stays constant: "The first thing to do is make all the other speakers agree to a maximum word count. The more speakers there are, the less each individual word count should be. You should also make sure that you're not doubling up on any content, so ensure that each of the toasts are given only once. Avoiding repetition is the aim of the game."

Adam 'Shuffle-T' Woolard
Another man who knows a thing or two about good writing is Adam 'Shuffle-T' Woolard.
As well as being the current UK battle rap doubles champion and author of The Advanced Rhyming Dictionary, he regularly works with grooms, best men and other professionals who want to inject their speeches with a little spice. Namely, with poetry and raps.
❝My task with grooms is to sharpen the jokes, anecdotes and heart of their speeches. More often than not it's lots of editing an already existent speech.❞
Adam is as much a comedian as a battle rapper, and sees comedy as a key part of a good groom's speech.

"Any good speech should involve at least some humour," he tells Chillisauce. "Groom speeches are usually a lot of thanking people and that is important because it's genuine. The humour should probably be as natural as it is in conversation. If there's an opportunity for a joke, take it, but don't think you need to be Tommy Cooper."
That said, there is nothing worse than hearing a laboured rhyme or a mumbled joke fighting off the reverb from a handheld microphone. Not all of us are naturally inclined to creative writing, but Adam says that shouldn't put you off from trying to add a few flourishes: "My advice is to start with the thing you want to say and work backwards. Write down in a sentence what you want to say and then rhyme it and set it up as best you can. Use words in your normal lexicon, don't force unusual words to fit a rhyme and buy a rhyming dictionary."

Having performed on stages all over the world, with videos racking up millions of views on YouTube, Adam also had some tips about connecting with an audience - because what's the point of writing a killer speech if you can't sell it?
❝Overdo it so it feels jokey and serious, don't under-do it so it looks like you're terrified or embarrassed. If you need paper, that's fine, but keep it on the table if you can, or it creates a barrier between you and your audience. Gesticulate as much as you can; if there is imagery in your writing (which there should be), let your body reflect that. Don't worry if you shake. Most people shake, the gesticulations will help to mask this. Finally, look at who you're talking to.❞
So much of weddings are about tradition. That's part of the joy of them, fitting your relationship into a mould that is bigger than the two of you, celebrating your love in a way that millions have done before, and millions will do again. However, that doesn't mean you should be pushing square pegs into round holes. When it comes to writing your groom's speech, think about the person you are, and the marriage you want to have - funny, silly, creative, poetic, heartfelt. Whatever. If what you write feels natural, then you won't go far wrong.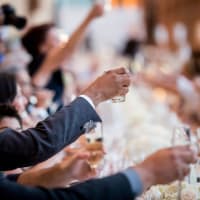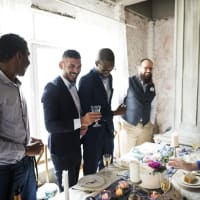 Getting hitched doesn't always go off without a hitch: from uninvited guests to outfit nightmares, weddings can be prone to a little spectacle. Curious to learn more, we interviewed over 5,000 people about drama on their wedding day. Be prepared for some shocking revelations!
Fallouts
Weddings aren't all kumbaya. Over half of the people in our survey experienced an argument of some sort.
Over a third (34%) of respondents fell out with friends, while one in five (21%) fell out with family members.
When asked to state the main reasons why, the following issues topped the list:
Invitation issues (e.g. not allowing a plus one) - 42%Drama initiated at the ceremony (e.g. due to seating arrangements, bringing children when asked not to, wearing white) - 39%Hen party drama - 28%
Remember that while you may have valid reasons for stirring the pot, it's best to keep it to yourself (or at least until after the ceremony) - this day is about the bride and groom, not the bone you have to pick!

Fistfights
On occasion, these arguments get violent.
Nearly one in ten (9%) of people revealed that they had to break up a fight at their wedding. The main culprits? Cousins (67%), followed by uncles (56%) and friends (44%).
Perhaps it's time to put a cap on the open bar?

Fumbling
It's widely expected that newlyweds'consummate'their marriage on their wedding night, but our survey reveals a less sexy truth!
Over half (51%) of married couples admitted they did not get down to business on the night, with most choosing to wait until the next day (79%).
When asked the reasons for their abstinence,most blamed alcohol (67%), followed by tiredness (55%) - or a combination of both!
Our survey also revealed eye-opening results on themost popular wedding songs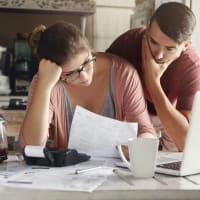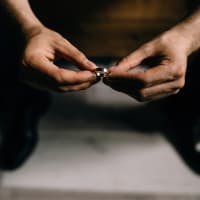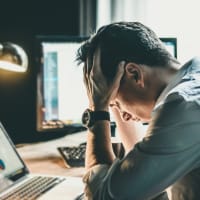 A is for Alcohol:
A wedding without booze is no wedding in our book. Whether a simple selection of craft beer and wine (don't forget bubbles for toasts) or an open bar, alcohol is essential.
B is for Bride:
Some wedding traditions need to get woke and we're all about disrupting the conscious-coupling machine. But the bride-as-centre-of-attention is one institution you don't mess with. Let your future wife be the star of the show.

C is for Ceremony:
This is when the wedding gets real. The ceremony is the time to share anecdotes, read a line from your favourite poem or song, and partake in rituals like saying those all-important 'I dos'.
D is for Dancing:
We're not talking about doing the cha-cha slide, but more traditional dance missions, should you choose to accept them. These include the first dance with the bride, followed by you dancing with her mother and she, her father. Whether waltz or something utterly unconventional, practice your moves beforehand, as all eyes will be on you.
E for Exes:
Should they (and their plus-ones) be invited? It depends. This potential minefield requires careful navigation and consensus between partners. Be open and honest about your feelings, especially if children from previous relationships are involved.
F is for Food:
Wedding days are more marathon than sprint. And endurance requires fuel! Since photos are typically taken before the reception, you likely won't have time to feast until dinner. Stash a snack in your suit, like a protein bar, to help get you across the finish line.
G is for Groomsmen:
Your best mates, brothers (and the bride's), and extended family members are the go-tos for groomsmen. They need to be willing to suit up and take on tasks like offering emotional support, planning your stag do and (bonus!) dancing with the single women at the reception.
H is for Honeymoon:
You want this. You need this. You deserve this. Your honeymoon is all about chilling together as you embark on your next phase of couplehood. Make contingencies when planning your wedding (budget, time off work) so you can at least escape for a short jaunt (or 'mini-moon') in the days after you get hitched.

I is for In-laws:
When it comes to your partner's parents, you need to have them in mind. Find ways to include your in-laws during the wedding planning (especially if they're paying), spend time with them on the big day, and if issues arise, confer with your fiancée before taking action.
J is for Jitters:
It's perfectly natural to have a case of the feels. Getting married is a big deal! Share your fears with your fiancée or go for a pint with your groomsmen (it's part of their gig) to get stuff off your chest.
K is for Kids:
Mini-mes in tuxes and tulle are oh-so-cute. Until they melt down (hello, Prince George). Hire a babysitter and create a dedicated 'kids zone' at your reception to keep the wee ones engaged with treats, toys, or even a movie.

L is for Limousine:
Live a little and splurge. Relax in a vintage Bentley, swanky Rolls Royce, or a basic black stretch limo to travel between venues in stylish comfort.
M is for Music:
Your wedding music is essentially the soundtrack to your new life. This is not the time for Spotify playlists. Hire a DJ (discuss 'must' and 'avoid' songs beforehand) and plan how the day will unfold. Consider: something romantic or meaningful for your first dance and crowd-pleasing hits on the dancefloor to get everyone grooving, from your sulky teenage cousin to gran.
N is for Nuptials:
You so fancy! This charming word (with French/Latin origins) simply means 'wedding'. Like 'fiancée', you don't get to use it for long, so impress her with some romantic wedding speak while you can.

O is for Officiant:
The person who performs your ceremony can be anyone from a civil servant to someone religious. Even a friend can get ordained and officiate your wedding (Benedict Cumberbatch has done it). Just make sure licences and paperwork are up to snuff so your marriage is actually legal.
P is for Photography:
Let your guests do it for the 'gram. You, however, should hire a pro photographer to direct and capture every moment. Make sure to print and frame some pictures to share with family.
Q is for Quiet Time:
Weddings can be stressful, so carve out some quiet time with your bride-to-be before the main event. Plan a romantic picnic or pop open some Champagne at home and celebrate one-on-one.

R is for Ring:
Even if you don't plan to wear a ring every day, you'll still need a basic band for the big day. You can't go wrong with classic gold; titanium, tungsten and stainless steel are edgier choices.
S is for Stag:
Your last days of singlehood will likely involve hanging with the lads on a weekend away, full of activities involving drinking and shenanigans. Refer to our guide on 'Surviving the Stag' (p. x) for how to get through it scott-free.
T is for Tuxedo:
Unless you're ultra-stylish or leaning into a theme, it's okay to keep it classy with a traditional black tux, white shirt and bow tie. Inject personal style with cool socks and cufflinks.

U is for Ushers:
Their role is literally in the word: to usher guests to their seats. Groomsmen might take on this task at smaller weddings. A good rule of thumb: Have one usher for every 50 guests.
V is for Vows:
Writing your own vows? Or sticking with the standards (love, honour, cherish)? Either way, keep the tone consistent with your partner. Don't share goofy or embarrassing anecdotes if her vows are filled with heartfelt emotions.
W is for Wedding Planner:
Food, venue, music, photography—even planning a small wedding can be a beast. Outsource! A wedding planner can take care of logistics, while managing your needs, 'nice-to-haves' and most importantly, budget.

X is for X-Rated:
After an emotion-filled event followed by lots of imbibing, there's potential for things to get a little off colour at the reception (think x-rated jokes, expletive-laced speeches, naughty photos). Set the ground rules with your Best Man as (tactful) enforcer. Remember: everyone has a smartphone and it takes mere seconds for embarrassing content to spread on social media.
Y is for Yes:
Your wedding day is one of the biggest milestones you and your partner will share. So embrace this time and say 'yes' to little extras or upgrades—like hiring a planner or splurging on a dreamy honeymoon—to make the occasion all the more memorable.
Z is for Zero Regrets:
No wedding will go off without a hitch, but you should have zero regrets when you've settled into wedded bliss. You can't control things like the weather, traffic, or other inevitable issues threatening to derail your day. How you roll with those hiccups can transform them into funny anecdotes that become part of the unique wedding stories you'll share with your new wife in the years to come.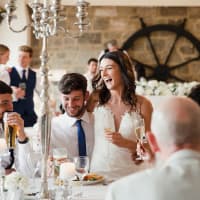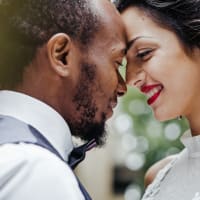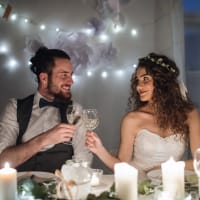 Just like weddings themselves, honeymoon traditions are changing fast. Couples are trading all-inclusive resorts in classic destinations for more intrepid travels in exotic corners of the globe.
❝I've dealt with many a honeymoon, and they are definitely trending towards adventure first, then finishing with somewhere sunny.❞
Your honeymoon isn't the time to relive your backpacking days bunking in hostels. But most couples are looking for something a little more exciting than munching on club sandwiches by the pool of some identikit chain hotel. This is the one holiday you'll be talking about for the rest of your lives — so wouldn't you rather tell people you slurped daiquiris in Havana or went on safari in Tanzania, rather than vegged out at some cut-and-paste all-inclusive?
The honeymoon (like the wedding) should be a reflection of who you are as a couple. And an expert travel agent is always a smart investment to tailor the perfect trip for the pair of you — especially if you're planning something more adventurous than Paris or Rome.
Keen to spice up the first few weeks of married bliss? Here are five modern honeymoons you'll never forget.

Sri Lanka and the Maldives
This island nation just south of the Indian coast is one of the world's hottest honeymoon spots, home to a treasure trove of rainforests, beaches and mountains. Sri Lanka is still relatively untouched by mass tourism, making it a blissful (and budget-friendly) place to visit. Couples can spot elephants and leopards, marvel at 2000-year-old temples and explore tea plantations that blanket misty peaks, fringed on the coast by unspoilt sand.
Sri Lanka's proximity to the Maldives is a huge plus for honeymooners looking for a slice of luxury: think turquoise water shaded by swaying palm trees, white beaches and cabins on stilts, accessible only by boat - in other words, heaven on earth. For couples who want a classic honeymoon with a dash of daring, the Sri Lanka-Maldives double-header is ideal.
❝Sri Lanka is one of our top destinations.❞
Erin says. "Being so close to the Maldives, it gives couples the perfect excuse to have an incredible cultural experience then go flop and drop on a beach for a few days afterwards.

In between Japan's intoxicating contrast of ancient temples and space-age technology lies an experience as vivid as you'll find on any honeymoon. It doesn't deliver many poolside piña coladas, but it does dish up a time-carved culture brimming with shrines, spas and sushi by the trainload.
Tokyo is Japan's beating heart. Navigate narrow streets crowded with whisky bars, high-end boutiques, noodle counters, relaxing onsen bathhouses and more Michelin-starred restaurants than any other city on earth. Choose from a smorgasbord of five-star hotels for a little luxury, or book an authentic ryokan inn to be immersed in authentic Japanese culture.
Other romantic stops on your Japanese honeymoon include Kyoto — home to historic temples, bamboo forests and mouth-watering kaiseki tasting menus — as well as the tiny, tranquil island of Miyajima outside Hiroshima and the serene lakes that ring mighty Mount Fuji.
❝Japan is such an incredible country,❞
Erin says. "There is something for everyone, no matter your interests.
For newlyweds keen to relax after racing around Japan, you're not too far from Southeast Asia's premier island resorts. Ko Samui in Thailand, Hạ Long Bay in Vietnam, Palawan in the Philippines and Bali are all top choices.

If it's good enough for Prince Harry and Meghan Markle, it's good enough for you. The royal couple jetted off to various countries in Africa for their honeymoon, followed by a trail of adventurous newlyweds.
The Southeast chunk of the continent contains most of Africa's most romantic getaways — among them Namibia's sun-drenched dunes and salt deserts, Tanzania's world-class safaris across the Serengeti, and the vines of the Cape Winelands beyond the rugged coastline of South Africa's Cape Town.
Then there's no shortage of glam (and great value) resorts off the East coast of Africa, where you can put your feet up after all that adventure. Zanzibar — an archipelago of spice islands just off Tanzania — is fast becoming a honeymoon hotspot for its sparkling white sand. The large island of Madagascar is brimming with as much wildlife as the lemurs in that animated kids movie would have you believe. While further out, the Seychelles and Mauritius are two tiny pieces of paradise in the Indian Ocean.
❝Africa is not a classic honeymoon destination, but the adventure it offers is pretty irresistible," Erin says. "I had a couple do a camping safari tour that finished in Zanzibar, so we extended their stay there and upgraded their accommodation to something a little more luxe before flying home.❞

New York has attracted honeymooning couples for decades, and although new brides still love playing out their rom-com fantasies in the Big Apple, many newlyweds are setting their sights further afield.
Road trip Route 66 to see the real America (all those directions will be a great test of your marriage!). From Los Angele, escape to the vineyards of the Napa Valley, the cacti of Joshua Tree, or the rollercoasters of Disneyland. Embrace hipsterdom in cutting-edge West Coast cities like San Francisco, Seattle and Portland. Or head north of the border to Canada, where the Rocky Mountains house some of the most jaw-dropping alpine scenery on the planet.
Many couples wriggle some sand between their toes at all-inclusive islands resorts on Aruba, Jamaica and the Bahamas. But the Caribbean offers honeymooners way more than just those well-trodden paths. The old-world glamour of Cuba is more open to visitors than it has been for 60 years. Cancún sits on Mexico's Yucatán Peninsula, sprinkled with golden beaches and ancient Maya ruins. Central America is a wonderland of forests and coast, and even the colourful colonial streets of Cartagena on the Colombian coast aren't out of reach.
The combination of big-name destinations, five-star accommodation and a bevvy of exotic escapes cements North America's reputation as a dream modern honeymoon.

The honeymoon is a break before real life kicks in — bills, mortgages, kids (gulp) — and growing numbers of newlyweds are looking to cash in with a longer holiday.
Many newlyweds unwind on a so-called 'mini-moon' straight after the craziness of the wedding, before planning a trip of a lifetime that lasts months rather than weeks. Round-the-world flights can be great value here, especially if you take the chance to splash out on business or first-class seats. Nothing says honeymoon like a glass of bubbly as soon as you sit down on the plane… and a bag stuffed full of duty-free to indulge in at the other end.
❝Round-the-world tickets are also becoming a really big honeymoon trend because they are such great value for money," Erin says. "I had a honeymoon couple take long-service leave and go do Egypt, Europe, New York, St Louis, Cuba, Peru and then home for about £3,000 for all the flights, which was pretty bloody spectacular.❞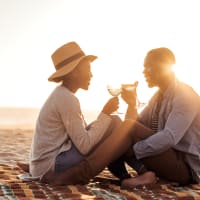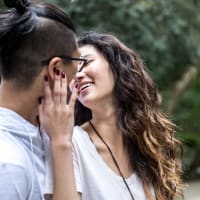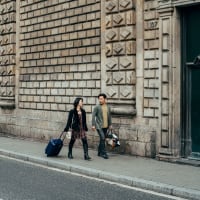 Whether they're part of the bridal party or simply those who have travelled to attend and to share in your happiness, it's difficult to know how best to thank those who have been part of your nuptials.
Here are Chillisauce's top tips on how to show your gratitude for everyone involved in your wedding day.

Messages of Love
Traditionally, grooms' speeches have been used as a sure way to tick off thank you's, but keep the list succinct to those who really matter. No one wants to sit for 20 minutes while you thank everyone on the guest list (and more people besides).
There are more subtle ways of showing your appreciation to all your friends and family with sincerity and flair. Printed thank you cards or personalised thank you messages left on top of place settings can be a good way of reaching out to your guests. It lets them know how you feel about them being there without waiting until weeks or months have passed after the event.
Or, if you're suddenly conscious of the number of trees you're killing in the process, perhaps consider positioning chalkboards with handwritten messages of thanks in various spots around your venue as a visible reminder throughout your day of what it means to have all the people you care about under one roof.

Wedding Favours
Wedding favours are a chance to give a little back to your loved ones. Yes, they're there as your guests because they want to be, but a small token of appreciation for all the expense and effort they've gone to attend goes a long way. But what works best as a memento of the day?
This is where your creativity really comes into its own, unleashing your playful side and showing off your personality as a couple. Food and drink are always a winner, with items like mason jars filled with homemade preserves or whisky miniatures being popular choices. More left-field ideas include Lego figurines or even small gumball machines. Why stop there?
With the rise of anxiety-inducing news coverage of the climate crisis and the advent of climate activists Greta Thunberg and Extinction Rebellion, wedded couples are consciously turning to increasingly more eco-minded gift giving. Given the volume of waste a wedding generates, you can go some way to reducing its environmental impact (and easing your conscience at the same time) with low carbon gifts. Think small individual succulents, potted herbs or natural soaps. Or in lieu of physical gifts, you could alternatively make donations to reforestation schemes to sponsor tree planting.

Bridal party
It's becoming increasingly popular to give gifts to the members of your bridal party. After all, your best man and groomsmen have dedicated time and money to organising your send-off into married life with a stag do you're unlikely to remember, not to mention performing duties on the big day to ensure it runs smoothly.
To show your appreciation for their help and support, a small gift to say thanks for things like agreeing to the stress of public speaking can relay meaning without getting too soppy. Some ideas are more hackneyed than others, for instance, hip flasks and cufflinks (not that there's anything wrong with either of them, mind).
For something a little different, though, how about sunglasses, monogrammed wallets or even personalised casks of whisky? It all depends on your budget, of course.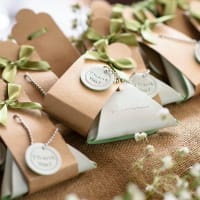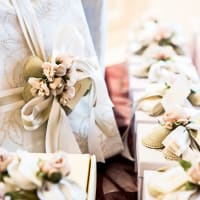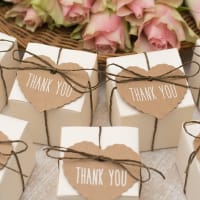 Your stag should be one of the best weekends of your life. However, your opponent in this scenario is the best man. He wants to give you – and the other stags – his version of a night to remember: one that involves ritual humiliation, borderline-legal activities and, more than likely, copious amounts of groom-to-be nudity. To ensure the mutual satisfaction of both parties, some prior thought and cooperation is necessary.
Stagger it
An essential (and, these days, standard) precaution is to stagger the date of the do to a comfortable distance before the wedding. Hilarious scenes involving naked stags running to the church carrying sawn-off railings might make for a good TV cliché, but you don't want it happening in real life.
Damage limitation: have "the chat"
Any conversation named "the chat" is never going to be easy, but it's a good idea to let the best man know what your boundaries are. "I chose a best man who I've known since I was a kid, and who knows I'd kill him if he left me chained to a lamppost," says Ben, a soon-to-be-married 28-year-old. "We spoke about the limits of my endurance before the event and it passed without major incident. No male nudity, no comedy strippers, no problem." The flipside of 'the chat' is that the best man, incensed at being asked to relinquish some control, might decide to go all out and unleash stag night Babylon. If that happens, well, hey, perhaps you picked the wrong guy.

Revenge is in the air
"Do unto others as you would have them do unto you," said a wise man in the Bible, and there's a lesson in there for all prospective stags. If your best man is returning the favour, think back to his stag night. Whatever you did to him, he'll want to give it back ten times worse. So if you let rip on his stag night, some serious buttering up may be required.

The secret weapon
If you suspect that your pleas are going in one ear and out the other, it may be time to unleash the secret weapon. Tell the best man you will be inviting your new father-in-law along, or her brother, or your granddad, or even the best man's father. Basically, anyone who's likely to be mortally offended at staggish excess or runs the risk of having a coronary when the stripper shows up. No matter how much your stag longs to see you in a compromising situation, he won't want to actually ruin future Christmases with the wife's family.

Go classy
If you're worried about being covered in whipped cream by a granny in a PVC nurse's uniform, suggest to the best man that you have the stag night in an upmarket club or pub, where such activities are likely to see you given the boot. And don't forget, you can always skip the drinkathon and have an adventure stag weekend instead.
What, a picture?
In today's web-addicted world, you can barely pick your nose without someone filming it, posting it on YouTube and LOL-ing at you in the comments. Given that employers, future employers, bank managers and even your gran might go onto your Facebook page, it may be a good idea to impose a no cameras rule on the proceedings as a safety net. We've heard of stag-dos where people's phones have been collected at the beginning of the do and returned at the end - bit extreme, but worth considering.

Drink like a man
Among the many expectations placed on a groom-to-be, one of the hardest to shirk is the notion that you should drink your body weight in booze on the stag do. In today's hard-drinking culture, stag nights can be like an alcoholic assault course: a marathon of pints, shots and strange, flaming drinks that account for lost memories and missing eyebrows the following morning. On your stag do, with an epic drinking session on the cards, how can you make sure you're still standing at the bitter end? Drink responsibly boys - nobody wants to tell the bride that the groom found himself sozzled on a dual carriageway wearing nothing but a tutu.

Eating is not cheating
Food helps to slow down the body's absorption of alcohol, meaning less chance of an early trip to the sub's bench. The NHS recommends a pre-drink meal that's high on carbohydrates (such as pasta or rice) or fats, so considering starting the evening in an Italian restaurant. Eating peanuts or other snacks while drinking is a good idea too. Important note: if you do have a pre-stag meal, remember the curry rule. It may be the 'manly' option, but eating heavy, stodgy food will make for a lethargic, farty group of stags (and no one wants that).

The white stuff
It's not just an old wives' tale – a pre-sesh glass of milk prevents irritation of the stomach lining and helps drinking stamina. Annoyingly, the same logic does not apply to White Russians.
Tactical water
Drinking a glass of water between drinks is a good way of keeping hydrated and preventing yourself from getting drunk too quickly, but – top tip alert! – avoid fizzy pop as the bubbles speed up the absorption of alcohol into your system. Downing the occasional water might line you up for a bit of stick from the rest of the party, but you can just tell them it's neat vodka and they'll think you're superman. Plus, when they pass out you get to write stuff on their face.

The old switcheroo
Your stag party will want to see you down as many drinks as possible, but that doesn't mean you can't apply a little sleight of hand to help you keep upright. If you're being overloaded with more booze than you can drink, why not stash the spares somewhere inconspicuous, or pass them to a sympathetic accomplice for disposal? A well-placed potted plant may be useful for ditching unwanted shots too, but be sure to ham up the performance by slamming your glass down and pulling a face afterwards.

Don't mix the grape and the grain
It's likely you'll become acquainted with the lesser-visited regions of the top shelf during your stag, but try and limit the amount of different drinks you take. Different drinks contain different chemicals which, when combined, can cause worse hangovers as your body has to work overtime to deal with all the various substances.Check out our list of hangover cures
Chained to the railings
It's the stag night prank that sends shivers down the spine of every groom-to-be: being stripped naked and tied – or worse, chained and handcuffed – to railings in public. Sure it's a cliché, but you can be certain at least one of your party will be toying with the idea. So what do you need to know if you find yourself with your bits blowing in the wind? Follow our three-point plan and you should be fine.
Employ a mole
Tell a trusted member of the stag party that under no circumstances do you want to end the night with your little fella swinging in the wind. A sympathetic voice among the mob could be an invaluable resource. In the event that the prank goes ahead anyway, have a mole on the inside – an accomplice who'll return to the scene in 30 minutes and free you.

Take out insurance
Before you set off for the night, write the number of a local emergency locksmith on your arm in permanent marker. Your mates will probably have taken your mobile with them, but there's a chance you could ask a kind passer-by to dial the number and hand you theirs.

Take it in good humour
If it happens to you, it's going to be deeply, deeply embarrassing, especially because there's bound to be some shrinkage from the cold. But just remember that every passer-by or policeman knows exactly what has happened and probably sympathises deeply. And with all that time on your own, you'll have plenty of opportunity to think of how you're going to get your revenge.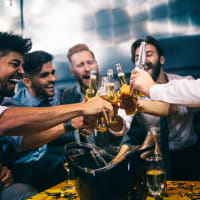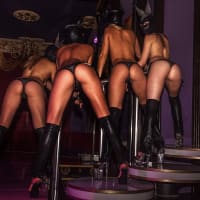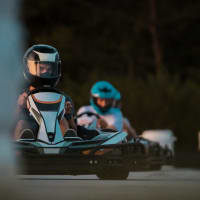 Your wedding is one of the biggest days of your life and you will have made every effort to look as dapper as possible. You'll want your wedding pictures to be spot on, from the moment guests arrive to when they stumble into taxis home. There are literally thousands of wedding photographers on the net, but there's a knack for separating a good hire from a great one.
We know you're busy sorting everything out, so here's a few quick tips to make sure your wedding album is shot to perfection.

Look for a professional, from start to finish
When it comes to wedding photography, consistency is key. Can your hire do a great job from start to finish? Always ask prospective photographers to show you a portfolio of shots from two recent weddings (the whole day) so you can size them up, instead of just their best images. If towards the end of the day the shots are blurry because the photographer got into the wedding whisky and joined in the hokey cokey, it will have to be a no.

Be prepared to spend
Let's get down to dosh. A wedding photographer is important and not something to scrimp on - around 10% of the budget is standard. It sounds like a lot, but when you think of the whole picture (pardon the pun), you're investing in making memories for long after the wedding bells have settled.

Find a people person
When meeting your candidates, ask yourself these things: are they assertive enough to seek out great moments, cajoling enough to coax relaxed smiles and natural stances from guests, and calm enough to have a positive impact on proceedings? Also, do they ask you plenty of questions about what you want, and are they a good listener? If you've answered yes to all of the above, chances are you're onto a winner.

Build a relationship and cover your bases
Once you've made your decision, build a solid relationship with your photographer. Think of them like a workplace colleague: the more you get along, the better you'll work together. Next, confirm things like the booking process, style and tone, the day's agenda and a contingency plan in case he or she falls sick - and don't forget to read the small print!
Finding the perfect wedding photographer is no easy feat, but follow these tips and your wedding pictures will earn a proud place in your album for years to come.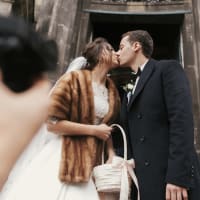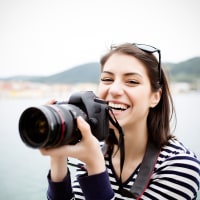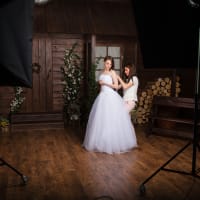 The single most important decision in any wedding plan is the venue. It dictates the tone, feel and size of your big day. Given its significance, it's hardly surprising how much of a battlefield this decision has become. As with all peaceful negotiations, compromise is key - and it may even save your marriage before it's even begun.

Neutral ground
A modern wedding is less about uniting two people from the same village. Thanks to globalisation and increased mobility, marriages are increasingly bridging two cities, if not two countries - or even continents.
It raises the question: where do you get married? It's surprising how quickly choosing a suitable venue becomes a balancing act between what you want and the expectations you can realistically place on your families and friends.
By choosing one location over another, you're going to have to decide which side of the wedding party is going to have to travel (what can be a considerable distance) to be with you on your wedding day. How do you resolve what could quickly become a bitter argument?

One solution is to choose an entirely neutral location. This could be somewhere located in between your hometowns, ensuring no one family has to fork out more than the other on travel to be with you on your big day. Or, if you're intent on a more intimate wedding with fewer attendees, foreign weddings are still in vogue and will cut down on numbers. That Italian wedding venue overlooking the Amalfi Coast is sounding more and more tempting, right?

Winner takes it all?
It's hard to not overstate the word 'compromise.' It's everything when it comes to marriage. It's no longer just about you and what you want.
You're becoming part of a unit and decisions affect both of you now. If a neutral venue is not a viable prospect, compromise will be needed to avoid your wedding planning sessions becoming the Hunger Games.

Suffice to say, if one of you folds on where you think the wedding should be held, it's by no means a defeat. In any healthy relationship, this 'give' should result in a 'take.' By showing some flexibility in your position on the venue, you should gain some capital when it comes to making a compromise on something else. Maybe you really want your favourite band to play at the wedding reception? Or the vintage Volkswagen camper van you always wanted as the wedding car? You're holding the trump card now (but don't overplay your hand).

It's not just about you
Once you have a firm thought on the location of the venue where you'd like to get married, it's time to see if it will pass the litmus test for your guests.
Yes, it's a decision you have to make as a couple to ensure you have the most memorable day possible (it is your wedding, after all), but it also has to pass muster for your family and friends.

Wherever you choose, most guests will have to travel. Of course, you won't be able to please everyone (and nor should you) but will it be excessively expensive to get to the secluded barn you've chosen? Is there a range of (affordable) accommodation nearby with enough beds for the majority of those who want to stay over afterwards, if needs be? And of course, if you've chosen an outdoor venue, say in a forest or overlooking a beauty spot, can Granny reach it in her mobility scooter without the risk of getting bogged down in mud if it rains? No? Back to the drawing board, then.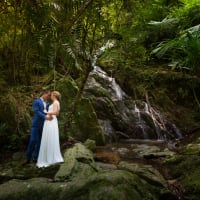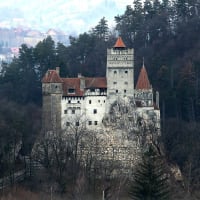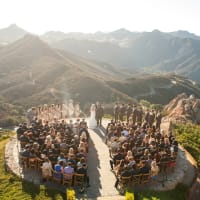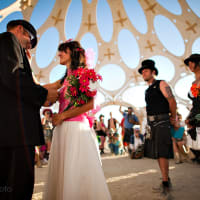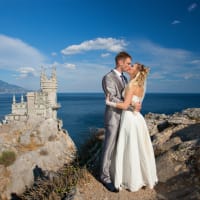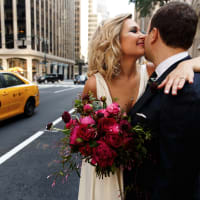 From ballads that reduce everyone to tears, to disco tunes that get granny on the dancefloor, weddings wouldn't be quite the same without a proper soundtrack. We interviewed over5,000 married peopleon their music choices, identifying the top songs blasting out of wedding speakers right now.
Top Wedding Ceremony Songs
Initially, all respondents were asked what they chose as their ceremony song to walk down the aisle to. The following 10 were the most popular choices:
A Thousand Years by Christina Perri –13%
Thinking Out Loud by Ed Sheeran –11%
Here Comes The Sun by The Beatles –9%
Your Song by Ellie Goulding –9%
Marry You by Bruno Mars –88%
Tale as Old as Time from Beauty and the Beast –6%
I'm Kissing You by Des'ree –6%
Iris by The Goo Goo Dolls –4%
Shallow by Lady Gaga and Bradley Cooper –3%
Songbird by Fleetwood Mac –2%
Top First Dance Wedding Songs
When asked what couples chose for their first dance song, the following 10 tunes rose to the top of the list:
Perfect by Ed Sheeran –14%
Rewrite The Stars by Zac Efron and Zendaya –12%
All of You by John Legend –8%
Thinking Out Loud by Ed Sheeran –6%
Your Song by Elton John –6%
Shallow by Lady Gaga and Bradley Cooper –5%
Chasing Cars by Snow Patrol –4%
Marry You by Bruno Mars –3%
Make You Feel My Love by Adele –3%
At Last by Etta James –2%
Two fifths (40%) took dance lessons in preparation for their first dance, while 7% took it a step further and prepared a flashmob with family and friends.
Our survey also revealed eye-opening results onwedding drama and bedroom habits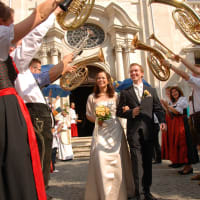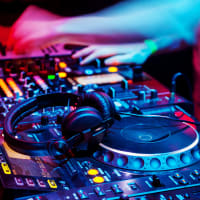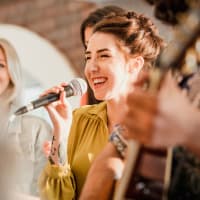 Wedding dances date all the way back to 16th-century European royalty. Guests would honour their newlywed king and queen by gliding across the ballroom, as the couple sat and politely watched. It was a tradition full of pomp and ceremony, reserved solely for the aristocracy.
It wasn't until centuries later that cutting shapes became more widespread. The working class started to put the focus of dancing on the newly married couple (who typically hosted weddings in the bride's family home, rather than lavish ballrooms). What type of dance? In 1800s England, even the waltz was considered scandalous.
In her book Etiquette, published in 1922, author Emily Post observed:
❝On leaving their table the bridal party begin the dancing—or possibly join the dancing which by now has started in the living room or wherever the wedding group received. The bride and groom dance at first together.❞
For decades, traditional wedding etiquette prevailed: the first dance took place at the reception, shortly after dinner. As time passed, the first dance song became more reflective of the here and now. Long before the Internet and music-streaming services, couples found inspiration from the silver screen. Baby boomers gravitated towards romantic songs from films: Frank Sinatra's The Way You Look Tonight from Swing Time, Unchained Melody and Etta James' At Last, featured in Sun Valley Serenade dominated wedding halls for decades.

As the Internet became mainstream, tech started opening brides and grooms to a new world of inspiration. Slowly but surely, wedding receptions began to break free from buttoned-up convention. Couples started choosing more unconventional ballads like rock and country, such as Aerosmith's wildly popular I Don't Want To Miss A Thing.
It wasn't until the last decade that the first dance was totally turned on its head. Sure, plenty of brides and grooms still awkwardly shuffle side by side on the dance floor, but others are making the first dance a full-on choreographed performance, underpinned by months of professional lessons.
Browse through YouTube and you'll see romantic waltzes that morph into flashmobs of bridal attendants and groomsmen dancing in formation, and full-on recreations of scenes from movies. Social media undoubtedly amps up the aspiration to become a viral sensation.

When a British couple performed an African-inspired routine at their wedding (reflecting the groom's Nigerian roots) it netted more than eight million views. More importantly, the wedding guests went wild witnessing this marriage of culture and tradition - a prime example of how more and more couples are putting their individual stamp on proceedings.
Even modern-day royalty is making surprising choices. Digging into their reams of data, Spotify predicted Prince Harry and Meghan Markle would select one of Sheeran's on-trend songs for the first dance at their 2018 nuptials. Instead, the newlywed Duke and Duchess of Sussex got their groove on to Whitney Houston's '80s pop hit, I Wanna Dance with Somebody (Who Loves Me). And although Beyonce's 2008 marriage to Jay Z was largely a secret, insiders say the couple's first dance was to a song they created together: Crazy in Love.
These recent choice perfectly capture our times. The first dance should ultimately, and personally, reflect the relationship between the bride and groom: whether it's slow and sensuous waltz or inviting your nearest and dearest to join you in a flashmob.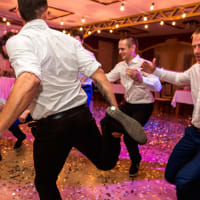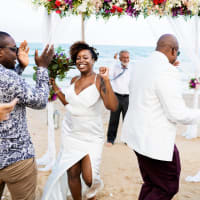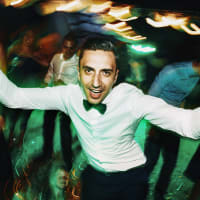 1) Harry's Face Wash with Peppermint
Providing a deep clean by buffing away grime and dead skin that can clog pores. But the best part is that it's gentle enough for everyday allowing for a comfortable shave. The other best part is the refreshing rush from the eucalyptus and peppermint. Win-win-win.£6

2) Facial Fuel Energizing Scrub
Sloughs away dead surface skin cells and other impurities, containing a natural, invigorating blend of Caffeine and Menthol. A staple before shaving to help break down tough facial hair and minimize ingrown hairs and other skin irritations related to shaving.£19.50

3) Gillette SkinGuard Sensitive
Gillette's first razor specifically designed for men with sensitive skin and razor bumps. Its unique SkinGuard is positioned between the blades to shave hair and guard skin. It works to minimise tug and pull and cut hair at skin level, preventing irritation and ingrown hairs.£9

4) BB Tinted Moisturizer Broad Spectrum SPF 35
A time-saving daily moisturiser which instantly improves appearance and replenishes hydration, helping for a more even skin tone. This lightweight, multi-functional formula has a hint of colour that provides a natural finish, and SPF 35 protects skin against UV rays that can cause the skin to age prematurely.£38
5) The Alfriston Beard Balm
The ultimate in beard care, containing Moringa and Broccoli seed oils that will nourish, soften and tame your beard to make it the best it can possibly be for your special day! Not only does it work wonders for your beard it will leave you smelling sweet all day long.£32
6) The Bergamot & Rose Geranium Beard Oil
Has an alluringly spicy and herbaceous floral fragrance with a rich, earthy element. It is strong enough to last all day without being overpowering.£32
www.thebrightonbeardcompany.co.uk