If you and your mates are struggling to decide on a stag do location, then you've come to the right place. We've made a list of the top 10 stag destinations in the UK to give you some inspiration. From the sandy beaches of Newquay to the wild clubs of Newcastle - your stag group will be spoilt for choice!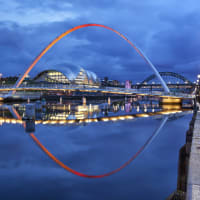 Best For - Paintballing, quad biking and wild nights out
With tons of stag do activities and thousands of bars and clubs, Newcastle really does have the whole package. Get the adrenaline pumping with a round of paintballing, or beat your mates in a go-karting race, but make sure you don't tire yourself out before the evening - it's sure to be a big one. Newcastle is renowned as the party capital of the Northeast, and with such low drinks prices, it's easy to see why.
Check outactivities,nightlifeandaccommodationin Newcastle.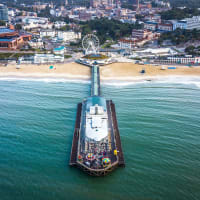 Best For - Jet skis, boat parties and bar crawls
Bournemouth is a British seaside town that packs a real punch. With over seven miles of sandy beaches, it's the perfect place to test your water sports skills or relax on the shore with some fish'n'chips and a locally brewed ale. Then, as the evening rolls in, you can enjoy Bournemouth's buzzing selection of late night clubs and trendy watering holes. Its a British stag destination with a taste of the Mediterranean.
Check outactivities,nightlifeandaccommodationin Bournemouth.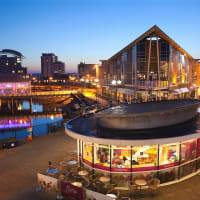 Best For - Welsh games, clay pigeon shooting and sports bars
Cardiff is one of the top destinations in the UK for stag dos because of its party atmosphere and up-for-anything locals. Its wild nightlife attracts hundreds of revellers to its bars and clubs every weekend. Your stag party can spend the day trying one of our many group activities, before heading down to St Mary's Street or Park Street to get the booze flowing. You'll spot several other stag and hen parties on a night out in Cardiff but with so many places to party, there's plenty of space for everyone.
Check outactivities,nightlifeandaccommodationin Cardiff.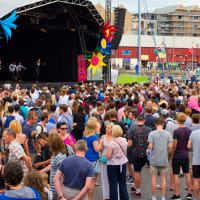 Best for: Cider, trendy bars and a vibrant music scene
Bristol is often regarded as the unofficial capital of the South West, with an enormous selection of restaurants, bars and clubs spread across the city. Head here to enjoy the city's vibrant music scene and gulp down some local ciders in one of Bristol's many classic British pubs. It's the perfect location for a 'proper mint' weekend.
Check outactivities,nightlifeandaccommodationin Bristol.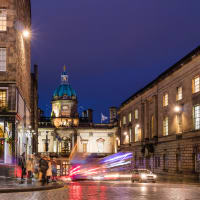 Best For - Highland games, white water rafting and scotch whisky tours
A city fuelled with lively bars, late-night clubs and tons of Scottish charm, Edinburgh is a notable favourite on the best UK stag destination list. Despite its large personality, Scotland's capital is compact in size and easy to get around on foot (making it perfect for stumbling home in the early hours). With five distinct districts, each packed with restaurants, pubs and great activities, they'll be something for every stag party in this vibrant city.
Check outactivities,nightlifeandaccommodationin Edinburgh.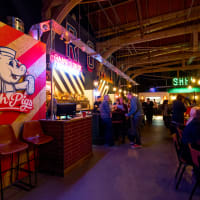 Best For - Dirt buggies, assault courses and comedy clubs
Nottingham is a stag do favourite and it's easy to see why. Renowned as the home of Robin Hood, the city is just as action-packed as his legendary tales would have suggested. Think assault courses, dirt buggies and bubble football - you're in for an exciting stag weekend. Then, in the evening you'll want to check out the city's buzzing nightlife with late-night clubs, lively bars and massive venues that are perfect for big groups. Nottingham will provide a great British stag weekend from start to finish.
Check outactivities,nightlifeandaccommodationin Nottingham.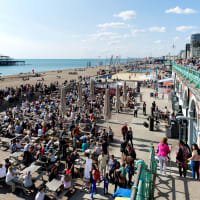 Best For - Fish'n'chips, festivals and seafront nightlife
Brighton is a vibrant city known for its anything-goes attitude and cosmopolitan vibe. They city-by-the-sea has everything: great nightlife, seafront activities and a chilled-out atmosphere – the perfect ingredients for a great weekend away with the lads. It's a first choice destination for many stag groups and, if you're planning a summer stag do, then it really doesn't get much better than Brighton.
Check outactivities,nightlifeandaccommodationin Brighton.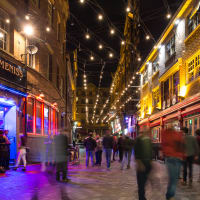 Best For - Hovercraft racing, quad trekking and party bus nightclub tours
When it comes to a great stag do, Liverpool ticks all of the boxes. The lively northern powerhouse has fantastic food, an amazing music and nightlife scene and of course Liverpool FC - it was even named the European Capital of Culture back in 2008. Plus, Liverpool can be one of the best places to take a big group on a budget, especially as drink prices are so low. What more could you want for your stag weekend?
Check outactivities,nightlifeandaccommodationin Liverpool.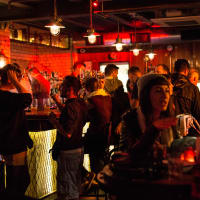 Best For - Clubbing, bar crawls and music gigs
Manchester has it all: great music, lots of football and tons of top stag do activities making it the perfect destination for a great UK stag weekend. Plus, with hundreds of pubs and clubs spread across a dozen districts, you'll be spoilt for choice when the evenings roll in. Try heading to Deansgate, one of the city's most popular places to party, or check out the cool Northern Quarter for a craft beer and a burger. Manchester is bursting with great stag do ideas.
Check outactivities,nightlifeandaccommodationin Manchester.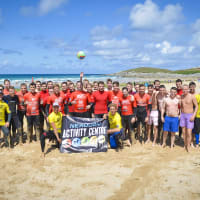 Best For - Surfing, deep sea fishing and pub crawls
Newquay might not be the first place you think of when planning your stag weekend, but the Cornish town is becoming increasingly popular with stag parties. There's countless stag do activities in the UK's top surfing destination. Why not get your mates to try deep sea fishing, or don a wetsuit and enjoy the Cornish sandy beaches? After an action-packed day, Newquay is the perfect place to party with an excellent selection of lively pubs and bars. You don't have to dig deep to realise there's a real buzz about the place.
Check outactivities,nightlifeandaccommodationin Newquay.
For a little more inspiration, check out our list of the beststag destinations in Europe.
The perks of UK trips
So, you've got no excuse. A UK stag do guarantees exciting new experiences and never-ending memories. Even better, it doesn't have to break the bank as there's a whole host of drinks, food,activitiesand accommodation deals to be had. For some more inspiration, why not take a look at ourdestinations page. Plus, train companies have now made it even easier to plan a weekend away anywhere in the UK with affordable prices and regular rides. Every year we send over 160,000 people away on adventure packed events to over 100 locations throughout Europe and the UK. We've created some great partnerships in throughout the UK, allowing us to provide you with unrivalled knowledge, fun and the best value. Planning a stag do is an exciting time and a UK stag do combines new sights and new parties on a more local scale.
A know-it-all
At school, no-one liked a know-it-all but when it comes to booking a trip, it's always nice when someone knows the area. As the leading stag party organiser in the UK, we understand that planning such a big event can be daunting. That's why we visit our destinations, checking the providers, taking part in the activities and ultimately make sure everything meets our high standards. We've created fantastic relationships with our suppliers so that you can have a fantastic and stress-free trip.
Life's short & the world's wide
There's nothing better than Britain in a heatwave for your pre-wedding booze-up. Home to some of the coolest nightspots you'll find,Londonis a vibrant metropolis, bustling with culture, oozing style and party central 24 hours a day. Take part in adrenaline rushing activities inBournemouthor party until the sun goes down inCardiff. Whether you want a day of adventure activities and a blistering night on the town or prefer to take it easy and relax, we've got a wide range of locations to suit every style, taste, budget and stag. For some more inspiration, why not take a look at ourdestinations page.
Fail to prepare, prepare to fail
When organising a stag weekend, it's important that all the lads are on the same page. It is crucial to double-check everyone is booked onto the activities, nightclub entry and in the hotel (no-one wants to be told they can't join in on the day), and be sure you make it to your travel arrangements on time. When booking your travel arrangements remember;

Drinking is frowned upon on coaches

You can drink on mainline trains but not trams, tubes or DLR (applies to London)

If booking trains or coaches, always check the refund/adjustment policy (some sites only give you a few hours to make any amendments)

If you choose to drive, remember that it's most likely going to be a boozy-weekend and driving home on a hangover isn't advised

If anyone in your stag party is flying from another country, make sure to show them our list of the rules and regulations
The important bits
Every city is different and the 'Rowdy Lads Weekend' is one expectation you don't want to live up to. When heading away for a stag weekend, make sure to keep as well behaved as possible. You don't want anyone stumbling off too drunk or ending up behind bars for the night.
Get protection
Oh, don't be so crude. Seriously though, we advise that you protect all of your finances. If you're heading abroad on a stag weekend away, make sure your accommodation is booked through an ABTA company. ABTA require organisations to work in line with strict financial practices so you know that your money is safe. When it comes to activities, we've worked with our suppliers time and time again and your money is equally safe with them.
What's next?
So, what are you waiting for? AtChillisauce, our team of experts are more than happy to work with you in order to create the perfect stag weekend away. Whether you have a rough idea of what you'd like or want us to do all the planning, we can create a tailor made package to suit every stag and his men. Get in touch today or visit ourstag do destination pagefor more information.