Only 2 hours from London, this vibrant and bustling city is ideally situated between the mountains and the Mediterranean sea . The Catalan capital of Barcelona is one of the most popular European destinations, filled with thousands of eateries, tons of culture, famous sports arenas and boasts one of Europe's best nightlife scenes withtrendy bars, late-night clubs and large venues that are perfect for big groups. This makes it perfect forstag trips,hen partiesandgroupson a bar crawl. Plus for those feeling a little more adventurous there's an entirefestival calendarthat includes some of Europe's largest and best outdoor music events!
The locals here love drinking, dining, and enjoying the combination of relaxed Mediterranean lifestyle and all with the vibrant buzz of a party city. Furthermore, with a warm climate all year round, there's no other way to live; Barcelona enjoys average temperatures of 28°C in the summer and a mild drop down to 14°C in the winter months meaning you can pretty much plan a visit at any time of the year!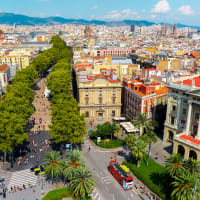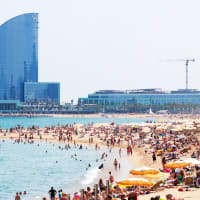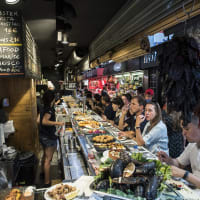 Barcelona has a rich and diverse culture and a very long history dating back to Roman times and this can be seen with in not only the architecture but the cities bohemian culture. Founded in 200 BC by Roman Barcelona, it has seen its fair share of struggle for power, and to this very day Catelonia remains in the midst of political dispute.
So you'll be well served on a cultural visit to Barcelona, but best of all is the nightlight and food, of which there is endless choice and here we try to cover the best of it.

Port Olimpic
The Olympic marina is well worth a visit. Designed for the 1992 olympics, Port Olimpic is an upmarket hotbed of activity, both during the day for the beaches, restaurants and water sports but also in the evening for the large choice of bars and nightclubs and the casino.

Las Ramblas
One of the best-known areas of Barcelona is Las Ramblas, a bustling tree-lined boulevard in the heart of the city. The pedestrian-only street is busy day and night with eccentric performers, restaurants and a host of lively bars and clubs. Make sure you also check out the La Boqueria market, situated just off Las Ramblas. It's been voted as the best market in the world (more than once!).

Gaudi's Architecture
You'll spot the works of famous Catalan architect Gaudi, throughout Barcelona. Although he died over a century ago, his masterpiece the Sagrada Familia, is still being worked on - its an icon of Barcelona. You can also see his quirky, colourful buildings like Casa Batlló and La Pedrera while exploring the city. For some great views of Barcelona, catch a metro up to his famous Park Güell - you can see the whole city from up there!

Barcelona's Beaches
Barcelona has multiple golden sandy beaches - it's said to have the best urban beaches in the world, in fact! Head to Barceloneta beach for an afternoon and explore its palm-lined promenade full of beachside shops and cafes. Or, if you want to escape the crowds for an afternoon, visit the quieter Bogatell beach - it's a favourite with the locals.

Gothic Quarter
Get lost in the narrow, cobbled streets of the Gothic Quarter (or The Barri Gòtic), one of the oldest and most popular districts of Barcelona. You'll find independent restaurants, cafes and boutique shops among the winding alleyways. Make sure you keep an eye out for pickpockets though, they tend to flock here due to the large tourist crowd.

Montjuic Castle Cable Car
Take a ride on the Montjuic Castle cable car and enjoy aerial views over Barcelona and the surrounding landscape. Aim to ride the cable cars at sunset if you can, to enjoy the best view of Barcelona's skyline against the Mediterranean sea.

Nou Camp Stadium Tour
Barcelona is a city that's full of football fans, so why not soak up the atmosphere with a tour of Barcelona FC's enormous home stadium. Visit the changing rooms, the president's box and even run onto the pitch like a real Barca player.

Exclusive Bike Tour
Get your mates on an Exclusive Bike Tour and take in the tops sights of Barcelona - it's the quickest and easiest way to see the city as a group. An expert tour guide will lead you around and show you some of the city's best sights like the beautiful Parc de la Ciutadella. Plus, you'll get a complimentary beer at the end, what more could you want?
In Barcelona, you eat dinner late and go out even later, so nights won't start until midnight - but they'll carry on until the sun comes up. It creates an incredible, late-night clubbing scene, which attracts many visitors to Barcelona. Make sure you put in a bit of effort when trying to get into Barcelona clubs, no shorts, flip flops etc. as the clubs can be pretty strict on dress codes.

Club Catwalk
Make sure you don't miss out on a night at Club Catwalk. Spread over two floors, this popular club has a rooftop terrace that overlooks the city. As well as two large rooms which play host to a huge variety of musical genres, including House, Pop and Techno.

Les Enfants Club
Having opened its doors in 1963, Les Enfants is the longest running club in Barcelona - so it must be doing something right! The atmosphere at this venue is super chilled, with two rooms playing a feel-good mix of disco, soul and dance floor classics.

Shoko
This Japanese style nightclub is located right by the beach on Barcelona's lively nightlife strip. It has an outdoor terrace with views of the sea and is renowned for putting on awesome themed parties. Shoko also hosts international DJs during big nights, such as Rawliquor, D-Wayne and Nouveaubeats.

Moog
This two-storey nightclub is open 365 days a year, so you'll always have somewhere to go out when visiting Barcelona. It hosts some of the best DJs in the industry, performing a mixture of techno and electronic music, which is super popular in Barcelona.

Guiriness Comedy Club
For something a bit different, visit the Guiriness which is an English speaking comedy club! Where better to have a laugh at somebody else's jokes, but the fancy dress might need to wait or you'll quickly become the main act.
Catalans eat late, with lunchtime falling around 1.30-4pm and dinner between 8.30-11pm. A lot of shops even shut during the afternoon to allow residents to have a lunchtime siesta (how nice?). Also, remember that lunch should be your biggest meal - if you're waiting till 10 to eat dinner, you're going to want to pack in a decent portion at lunchtime.

Tapas and Pintxos
Technically speaking, the locals don't eat Tapas but Pintxos which is a Basque-style of tapa . You can find many pintxo bars all over the city and what you'll find so great about these bars is that you don't even need to order; just grab a plate and help yourself!
Check out the El Born district where the food is known to be particularly delicious. This style of dining is the perfect way try some local delicacies like patatas bravas, padron peppers, seafood and chorizo. Plus, as the plates are small, you can have a taste of everything.

Food Markets
Barcelona is renowned for its food and so any foodie visiting will be spoilt for choice. We encourage a stroll around some of the many food markets that are dotted around the city but probably the biggest and best known is the Bocqueria food Market, a sight to be seen and easy to get to being located just off La Ramblas.

Fine Dining
Whilst Barcelona is famed for its cheap eats there's an equal choice of high end restaurants including two double Michelin star eateries : Enoteca Paco Pérez and Miramar.
Deep pockets!

Paella Cooking Class
A Barcelona travel guide wouldn't be complete without paella! So embrace the city's famous cooking culture and either dine out, or go full service and make your own authentic paella dish on an interactive cooking workshop.
On a tight budget? When staying in Barcelona, there are a lot of comfortable and affordable accommodation choices and if you're just looking for a cheap place to dump your bags, a dorm room in a hostel is maybe your best bet.
If you want to splurge on somewhere a bit more impressive, you'll also find a lot of stylish hotels in the more popular areas like Las Ramblas, but in either case Barcelona has an excellent public transport system, with a metro that rivals London's tube, so you'll have no problem getting around wherever you choose to stay.
Staying in a central barrio means most attractions are in walking distances with taxis available for those a bit further but, for tourists staying a distance away the metro provides reliable means of getting from place to place.
As for staying safe in Barcelona, there is a high level of petty crime including pickpocketing, especially around La Rambla and on the beaches at night. Be on your guard at all times and keep valuables stashed away out of sight!
In Barcelona the locals also speak Catalan so assuming you know a little Spanish don't be surprised if you don't recognise what they're saying. If however you can speak Castellano then reply in this and the locals will soon understand that you wish to speak in this dialect and not Catalan.
Hello- Hola
How are you?- Como estas? Que tal?
What time is it?- A que hora es?
Where is?- Donde es?
Una cerveza por favor- A beer please

A lot of them also speak English, so remaining true to the English stag reputation of failing to even so much as attempt to try and speak some of the native language, we do not expect you to learn any Castellano prior to your trip!