Looking for an adventurous stag do idea? Want to unleash a little bit of friendly competition between the lads? Whether you're looking to head off on a European weekend away, or want to stay a little closer to home, there are loads of activities that will make this stag do one to remember. From white-water rafting to tank paintballing, we take a look at some of the most exciting and unusual adventure stag do ideas that you can book online. Boys will be boys, ey?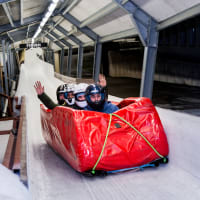 We've all been there - you're watching the Winter Olympics. Someone makes a mistake. You shout, 'That's rubbish,' while holding a burger and pint. But, now you can test your own strength at aBobsleigh Run.This adrenaline-fuelled stag do activity will have you reaching speeds of up to 80km per hour, but can you keep last night's beer down? With panoramic views as you race down, you can even say you did a spot of sightseeing.
Pros:Test your speed, skills and nerves while you rally up a little friendly rivalry
Cons:Prepare to scream like a baby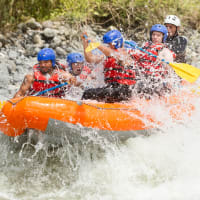 Can you work as a team when it really matters? And no, being a wingman on a night out doesn't count. Power through the waves and reach high speeds in the rapids, during aWhite Water Raftingactivity. Soak in the sights, race through the water and remember to hold on tight. And, after 2 hours you've earned a beer, right?
Pros:It's an experience that cannot be recreated
Cons:Prepare to get wet
Exclusive Catamaran Cruise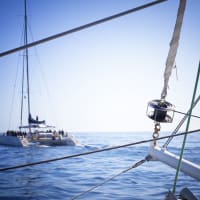 Ever looked at those weekend millionaires and just wondered how they do it? Well, we say, if you can't beat them, join them. Relax onboard aprivate chartered boatwhile the captain and his crew do all the work. Indulge in a little local shopping - on the on-board bar, that is. Soak up the rays, take in the views and cool down in the sea.
Pros:Live the high life as you pretend the boat is actually yours (we won't tell, if you don't)
Cons:You do have to give it back…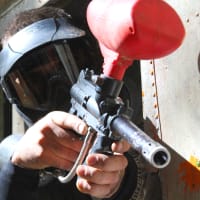 You've heard of paintballing - but have you heard ofTank Paintballing?That's right, we're talking about a real tank that has been converted with 40mm paintball cannons. Take on your rivals as you drive across hills, turns and obstacles. Who dares wins?
Pros:Paintballing from a tank - we don't need to say anything else
Cons:It can be pretty annoying, when you realise that it was just a game…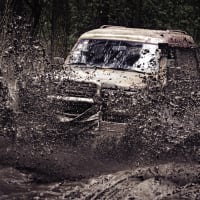 Unleash your man power behind the steering wheel as you take on4x4 drivingin the ultimate stag do adventure activity. Big engines, big banter and even bigger driving challenges will take you through your paces as you attempt to stay bonnet up. This macho stag weekend activity is sure to be a hit with the lads.
Pros:It's simple - men love cars
Cons:Your missus will probably roll her eyes more than once when you're still reliving the story 5 months down the line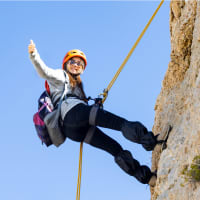 Fancy the idea of throwing yourself off a wall, dangling in mid air before making your way down for a cold, refreshing pint? Then you're gonna love this fun, action-packedabseiling. With specialist equipment supplied and an expert safety talk provided, this nail-biting experience will separate the boys from the men.
Pros:It's just like being in an action film
Cons:You're not really Jason Statham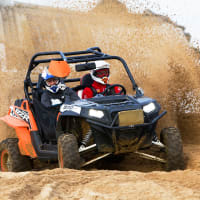 Don't worry, this isn't some weird take on the classic Disney film, Aristocats. InsteadArgocatsoffer stag parties a monster driving experience on all terrain. Set off on the purpose-built course and power through anything in your way. Mud? Tick. Fun? Tick. A Macho feeling? Double Tick.
Pros:A great stag party idea for those looking for something different
Cons:You'll get very muddy so take spare clothes if you're planning on hitting the bars straight after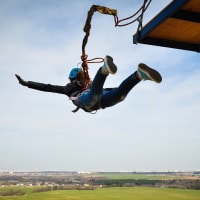 Are you brave enough to take the leap of faith in one of ourbungee jumping. Head up higher than ever before, and jump with only a piece of elastic holding your weight. Don't worry though as you'll be in safe hands. As one of the most popular, thrill-seeking activities in the world, if you chicken out, it's your round tonight…
Pros:Bungee jumping feels even better than when you wake up after a heavy sesh, without a hangover
Cons:If you've had a big night before, spectators may need to watch out
If you're after real adventure on your stag do, thenCanyoningis a great idea. From swimming, rock scrambling, tombstoning and climbing, you'll be put through your paces in this wet and wild activity. Walk through waterfalls, scramble around rocks, climb over caves and jump into open water. And all set in fantastic scenery. It's stag-gering.
Pros:You can laugh at your mates as they fall against the rocks. (It's allowed to be funny, until they really hurt themself, right?)
Cons:You have to wear a wetsuit. And no-one looks good in a wetsuit.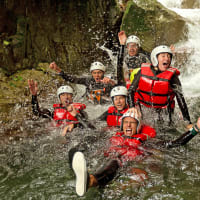 Coasteeringis a great stag weekend idea. Challenging and action-packed, this activity requires great mental and physical strength - and that's just getting the wetsuit on! Make your way along a rocky coastline by swimming or climbing, jump into the sea and best of all, your mum won't be there to tell you off. At least hopefully not.
Pros:See coves and coastline like never before in this dangerous and unique stag do idea
Cons:Even though you think it, you definitely won't look like Spiderman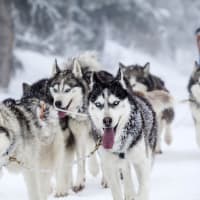 They're man's best friend and now you can take the reins in aDog Sledding. Learn how to be a 'Musher' in this unique opportunity. Experience a challenge as you get grips with your brand-new 4-pawed drive. If you're looking for an unusual adventure, then it's got to be this.
Pros:You've definitely earned your beers
Cons:You'll be surrounded by dogs, so if you're more of a cat man, it might not be fun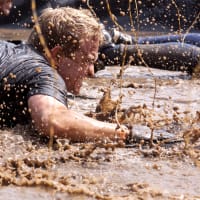 The perfect combination of teamwork and competitiveness, anassault courseis one of the best ways to get a stag weekend started. After all, there's no better icebreaker than light rivalry. Take in some fresh air, get some exercise and expect lots of sweating.
Pros:It's more adventure than sporty so you don't have to worry about aching the next day
Cons:There's always one who goes overboard with the self-bragging rights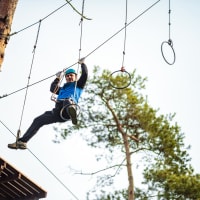 Release your inner Tarzan with ahigh ropesstag do activity. Swing through the air, grab onto ropes and jump past obstacles; this thrill-seeking adventure is not for the light-hearted. Egg your mates to go higher, and how about a classic school boy prank? Push the stag or pretend his harness has broken. A cheap but endless laugh.
Pros:You can exaggerate the story when you tell it back home
Cons:If you suffer from vertigo, you'll be left holding the bags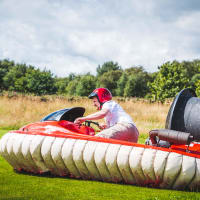 Hovercraftingis a great stag party idea and will separate those who can walk, the walk and those who simply talk, the talk. Think women drivers are the worst? Well, this activity will really put your skills to the test.
Pros:Most of the lads probably haven't done this before, so for impressive stag do fun, look no further
Cons:It's hard. And, you may just risk looking like a fool.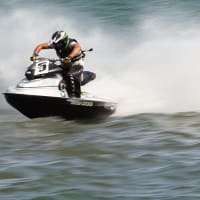 Create an unforgettable stag do and head out on ajet skiexperience. As one of the biggest adrenaline-pumping water based activities that you can do, don't forget to take in the beautiful views.
Pros:Boys and their toys. No explanation needed
Cons:You'll want to buy one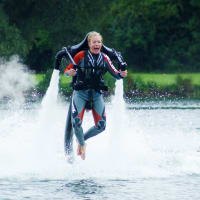 Is it a bird? Is it a man? No, it's a stag on his stag do.Flyboardingis the ideal adventure stag do idea and will make for a great story at the wedding. Strap the board to your feet and prepare for the jets to fire up. As you begin to fly into the air, the ultimate test of whether or not you'll remain upright, begins.
Pros:You'll feel like an actual God
Cons:It's a massive bump back down to reality when it all finishes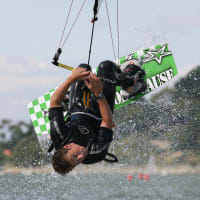 Kite Surfingis an action-packed sport combining windsurfing, surfing, snowboarding, wakeboarding, sailing and skateboarding. So, if your stag thinks he's got it all, look no further than this adventurous stag do activity.
Pros:This exciting sport is packed full of new things to learn
Cons:It can be difficult to pick up and falling back into the icy water isn't appealing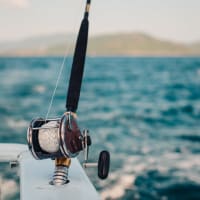 Fancy something different for your stag do weekend? Trysea fishing.Jump on board and head out to sea. You'll need your sea legs and plenty of patience but it's a great activity for catching the rays and reliving funny stories from years ago. Then as your line's start to pull, compete for the biggest catch.
Pros:It's a great bonding session for all the lads and there's plenty of room for a cool box
Cons:Hangovers + choppy waves = puking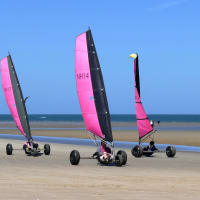 If you're looking for a group activity that probably hasn't been done by many of the group, then check outLand Yachting.Get comfy in your vehicle as you power along the sand using a sail. You'll need lots of wind to really get going - but keep the boyish jokes to yourself.
Pros:This fun, adventurous activity will you give you some time out to take in the views
Con:Individual carts make talking difficult
Looking for an unusual adventure for a stag do trip?Paddleboardingis a hit with all ages and fitness abilities, but not everyone will take to it like a duck to water. Guaranteed as a great laugh, the friendly sporting atmosphere will no doubt turn to a competition, quicker than you can say 'BEER PONG'.
Pros:It's easy on the stomach after the night before
Cons:Simple to learn but hard to master, you'll more than likely fall in