Looking for unusualstag do ideas? Booze, partying and falling over is certainly all well and good – I mean you could do a lot worse than fall over in one of ourtop stag destinations– but with more and more grooms opting to add personal touches to their wedding, why should the stag do be any different? Here's a look at some offbeat staggery, from Monster Truck driving to Oil Wrestling.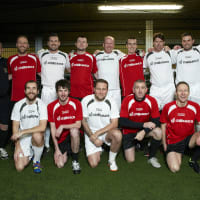 Just imagine, you're having a kick about with your mates then all of a sudden your footie heroes come to join! With the likes of Arsenal's Perry Groves, Tottenham midfielder Darren Anderton and England's eight times capped Kerry Dixon available, you'll be sure to find a famous player from your club.Play a full matchwith them on the pitch and then relive their best moments over a few drinks.
Pros: once in a lifetime footballing experience, grab a few beers with your footballing hero.
Cons:its the most expensive stag idea on the list and they'll almost definitely embarrass you on the pitch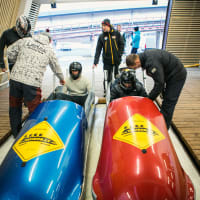 Have you and your mates ever fancied being in Cool Runnings? Head on over to Riga and brace yourself for the ride of a lifetime with an adrenaline-fuelled blast down an Olympic track - reaching speeds of 80 km per hour. Thebobsleigh runwill test your speed, skills, and nerve surrounded by panoramic mountain views.
Pros:race on an Olympic track with stunning mountain views and blow away the worst of hangovers
Cons:you'll scream like a little baby.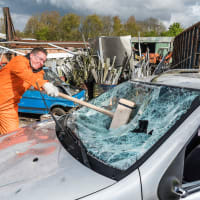 This is the ultimate anger management activity!Car Smashgives you the opportunity to smash a car to bits at a scrapyard. You can choose between an array of demolition weapons including sledgehammers, baseball bats and golf clubs. Whatever you choose, make sure to unleash all your fury.
Pros:only time in your life you'll get to smash a car into little pieces and its cheaper than an anger management course
Cons:you might still have anger management issues.
Zombie Bootcampis a hardcore, breathless activity that will have you running around an abandoned warehouse and scrambling for cover as you take on the "infected". Expect blockbuster style makeup and professional actors – it really is a must for all horror fans and adrenaline junkies.
Pros:an authentic immersive experience and you get to stab and shoot zombies!
Cons:the zombies don't hold back, you may get hurt and it will make The Walking Dead look like a stroll in the park.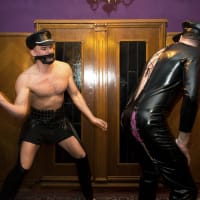 Amsterdam and its infamous Red Light District go hand in hand with an epic stag do. There's nothing better thanstitching up the stagduring his bachelor party and this is the ultimate way to make a mockery of him in front of the prying eyes of Red Light punters. Slug down a cold one and get ready for the show as you place your stag in a sex window dressed up in crazy costumes including arsesless chaps and the classic gimp suit. Hilarity is guaranteed.
Pros:you get to embarrass the stag.
Cons:you might end up seeing more of him than you'd ever wanted to.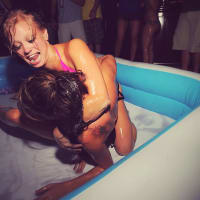 Head to London and get ready to grapple. It may be tempting to be chivalrous to these gorgeous ladies but trust us, if they see even an ounce of weakness, they'll snap you like a twiglet. Get into your swim shorts,oil yourself up,and jump into the ring while your mates cheer, and jeer from the sidelines. This is definitely a workout you won't forget in a hurry.
Pros:I mean, it's pretty self-explanatory - oil, wrestling and girls...
Cons:you'll definitely lose.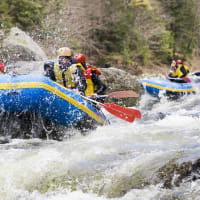 When we saywhite water rafting,we're not talking about bobbing around a man-made course in Northamptonshire; we're talking about whizzing through mountainous valleys and Olympic courses. Get kitted up, hop into your raft, and get ready for the ride of a lifetime. Race down kilometres of rapids, plunge pools, and lagoon-like waters while soaking in the sights of forest, mountain tops, and dramatic riverside banks, paddle in hand – hold on tight!
Pros:unique, exhilarating and amazing views.
Cons:there's a small chance you capsize and lose your trunks in front of all your mates.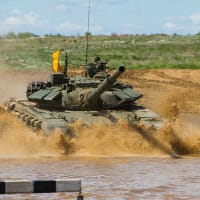 Batten down the hatches in a genuine tank, specially converted with 40mm paintball cannons that fire from the turret of the tank. This exclusive event allows you to cross challenging terrains – think steep hills, sharp bends and big obstacles – using only your periscopes to engage in some serious warfare as youtake on opponents in identical tanks.
Pros:you literally get to shoot a tank from inside a tank!
Cons:you're stuck in a pretty small space with a group of men - it's probably not going to smell great.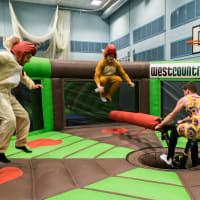 Proud of your hometown? Then celebrate everything your region is famous for with an intense day of quirky games. Go head-to-head with your mates with a series of knockout style events including theCider Run in Bristol, Haggis Rolling in the Highland Games and a sheep rodeo in Wales, as well all kinds of other crazy shenanigans. You can also choose whether to do this event indoors or outdoors, whatever suits your group best.
Pros:you'll get to have some good light-hearted fun with your mates.
Cons:head-to-head challenges mean that someone will end up being a sore loser.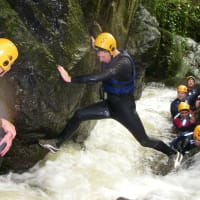 If you're the adventurous type, why not test yourself with a unique action-packed expedition.Explore gorgesby climbing through waterfalls and jumping into rivers. It's an adrenaline-fuelled day where you can be surrounded by nature and escape from the bustle of the city. Some say it's the ultimate hangover cure!
Pros:a great break from the city, pubs and clubs, but you'll feel like you've really earned those beers. Good group bonding experience.
Cons:you will get very wet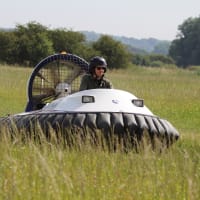 Enjoy the strange sensation of floating above the ground in a one-of-a-kindhovercraft.With no brakes, you'll need to quickly shift your weight to manage your speed, not to forget the hair-pin bends and tight corners. Fly around the track in this rare vehicle and set the fastest possible time.
Pros:it's impossible to fall out and you'll get pretty cool photo opportunities!
Cons:only one at a time so be prepared to stand around
Jumping behind the wheel of afull rally-spec carbeats the humble go-kart any day. You'll be put through your paces by a fully qualified instructor, taken through how to handle the car in rally conditions and given a crash course in controlling handbrake turns, skid control and Scandinavian flicks.
Pros:you get to chance your arm at being Colin McRae for the day.
Cons:you're more likely to drive like an old lady given how powerful these cars are.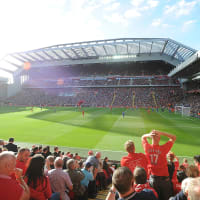 Treat your stag and plan your weekend around his favourite football team. Experience the big match atmosphere of watching the beautiful game in person, withtickets to see two top teams in action.You'll be guaranteed seats together, as well as access to the high-end hospitality areas, while you watch some of the biggest stars in football at the most prestigious and atmospheric stadiums across the UK.
Pros:you'll get to see your favourite team in action sitting with all your mates on the half way line
Cons:can get quite pricey and we can't make any guarantees on the result.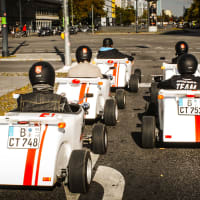 These miniaturesmean machinesare a great way to explore a city and, with the help of your guide, you'll be sure to see all the main attractions the city has to offer. You'll get a rundown of the machines, before heading out onto the streets and soaking up the sights from a truly unique perspective.
Pros:you get to take to the streets in fly, miniature modded cars and its a great way to see the city
Cons:there's no way you'll actually look as cool as you think you do.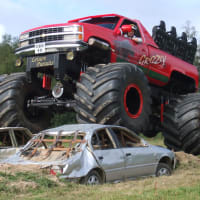 The opportunity to drive the biggest and baddestMonster Trucksin the UK doesn't come along very often. With this activity, you'll get the chance to get behind the wheel of'Grizzly'- an American beast with wheels that are almost six feet high! There's also a collection of smaller but just as thrilling powerturn buggies and rally buggies. You'll navigate these machines across a variety of terrains and you might even get to crush some cars beneath your mighty wheels.
Pros:you get to drive a massive monster truck over cars!
Cons:you'll have to find a way of getting into the cockpit.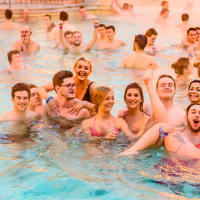 Soothe your aching limbs atBudapest's stunning ancient thermal spa.Take a dip in the huge pools and feel the toxins literally flow from your body. As well as the huge central fountain, there are several steam rooms, saunas and spas at different temperatures. It's one of the most popular attractions in the city, and for good reason too!
Pros:the perfect hangover remedy: baths, bikinis and beers.
Cons:no cannonball diving allowed.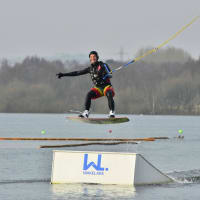 A bit like snowboarding on water,wakeboardingoffers an adrenaline rush for you and a good laugh for spectators - unless you're one of those annoying people who picks it up straight away. If you can stand, you'll be towed around at speed, but it stops if (when) you fall. Once you've got the basics – or if you're a pro – you can even have a go at ramps and jumps.
Pros:you get to watch your friends fall over in the water and if you manage to stay on your feet you'll feel like a rockstar
Cons:you will also fall straight into the water.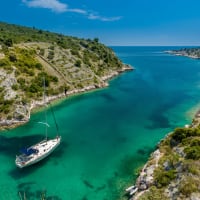 This once in a lifetime activity lets you take in the sights from on boardyour very own luxury yacht or speed-boatas you dance, drink and soak up the atmosphere. It's a must-do attraction in Croatia, especially as Hvar is becoming ever more popular and fashionable. Whether you want to cruise around the islands or take to the seas with a chilled-out trip along the dramatic coastlines, the exclusive boats give you control.
Pros:a private boat, drinks on board and the sun - what more could you want?
Cons:you might end up at the gym to prepare for the inevitable photo shoot.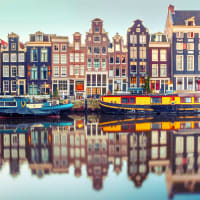 See all the sights of Amsterdam from a properly different perspective. Thiscruiseallows you to explore the Venice of the North's picturesque city centre canals while enjoying unlimited drinks. There's even the chance to plug in your phone and play some tunes as you go, making it the perfect way to see a little more of the city while still partying!
Pros:perfect start to the evening on a private boat with unlimited drinks, can't think of a better way to see the famous city canals.
Cons:there's always one guy who has the worst taste in music but never gives up AUX cable.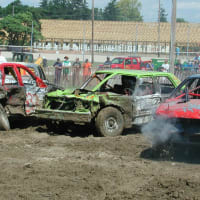 Like dodgems on steroids,Demolition Derbyis a high-octane event that lets you and your fellow drivers skid around the dirt track, crash into cars, cut each other up and give your old bangers a real hammering. This is extreme driving like you've never experienced before. Expect flying metal, clouds of smoke and burning rubber as the rulebook goes out the window in this battle for motorsport domination.
Pros:you get to fulfil your Grand Theft Auto dreams and you'll get to demolish a car - nuff said.
Cons:you'll probably wreck your car after 3 laps.
Need some more inspiration?
Take a look at our other incredible stag do ideas, which can be tailored to your group. We offer over 7,000 stag do activities in more than 70 destinations across theUK and Europe. Everything has been reviewed and rated by other stags to help you decide what to do. Or if you still have no idea, get help by talking to one of our expert stag advisors.